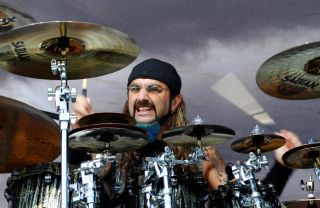 © Scott D. Smith/Retna ./Retna Ltd./Corbis
Move over Mike Portnoy, there's a new kid in town…and confusingly, he's also a Portnoy.

Check out this video of Mike rockin' Avenged Sevenfold's 'Nightmare' with his 11-year-old son Max. Take a look for yourself below, but it looks like he's picked up a few tips from his old man.
You can see Portnoy Sr with Avenged later this year when the band launch a co-headline tour with Stone Sour in October.