Mark Tremonti's 2015 guitar practice routine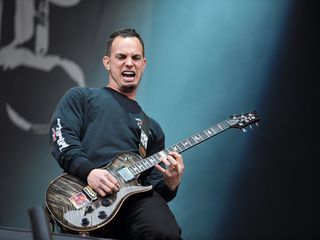 Introduction
Mark is an eternal student of the guitar and because of this, he gives some of the best playing advice you'll hear anywhere. Here, we take four techniques that Mark has been working on this year and assemble a practice routine worthy of the man himself...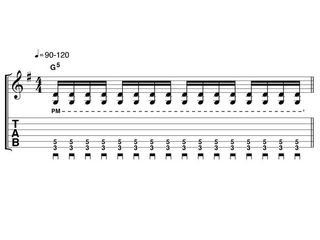 Down-picking
This fiendishly simple, yet monstrously tough exercise is all about repetition, accuracy and stamina. Start at a manageable speed and get gradually faster.
Mark: "Whenever I do clinics, I ask people to do the down-pick challenge with me. It's easy to get mentally, but not physically.
"After 30 seconds, people lose stamina. It's like working a muscle. If you do that three times a day until you burn out, you'll notice your downstrokes improve. They are the essence of speed-metal rhythm playing."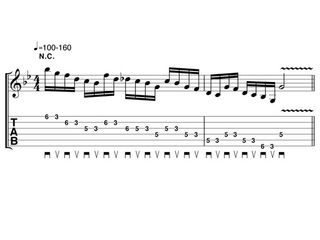 Alternate picking
This lick is designed to help you get away from picking the same number of notes on every string, thus honing your accuracy when playing less uniform lead lines.
Mark: "I remember what Zakk Wylde told me: 'Pick everything!' I was never a 'pick everything' kinda guy - I would use pull-offs here and there. But for practising, Zakk's approach is really great, because by the time you come back to playing your normal songs, you'll be completely nailing it."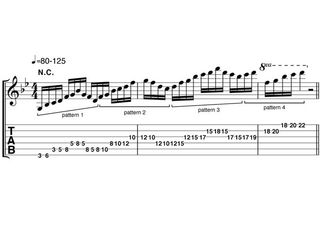 Pentatonic warm-ups
This lick is based around a 10-note phrase that crosses the whole fretboard as it recycles, so each 10-note pattern will help you anticipate the next.
Mark: "Usually, I'll fly through pentatonic shapes at 140bpm and try to pick the most awkward spots, then continue through those shapes. I won't think about where I'm going, I'm just trying to survive! Then I take it up with the metronome. Joe Bonamassa inspired me to work on more of that stuff."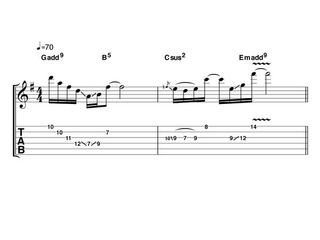 Inventive lead
You could easily wail over this progression using G major pentatonic, but landing on a chord tone on every change will sound sweet and help prevent note clashes.
Mark: "People overlook following the chord progression [and] hitting [notes from] the chords. As simple as it sounds, for many years I didn't know what that meant. If the chord goes from here to here in the rhythm, then hit that perfect note when it changes, get off it and go back to the main scale."