Ernie Ball Music Man DarkRay: What is it?
The idea for an electric guitar or bass to have onboard effects alongside tone and volume controls is nothing new. When Vox was at its most eccentric – when pop-culture was at its most eccentric, late '60s – it had classic electric guitars with built-in effects such as the Starstream and Ian Curtis favourite the Phantom VI.
But the concept has enjoyed mixed fortunes. Perhaps its most notable success was the aluminium-clad DL-OR that Hugh Manson built for Muse's Matt Bellamy; with Z.Vex Fuzz Factory and MXR Phase 90 phaser pedal circuits incorporated in its electrics, it showed what could be achieved with the right approach.
Other ventures, such as Gibson's Firebird X, were less fortunate. But such ill-starred models should not stop progress. There is always another way. Even now, in the golden age of pedalboard curation, we are presented with an electric bass guitar that puts effects right there at your fingertips, and it combines the talents of two of the bass world's most esteemed companies.

Ernie Ball Music Man x Darkglass Electronics: This is quite the collaboration, and it has resulted in the DarkRay, an EBMM StingRay augmented by Darkglass's circuitry. Disregard the business synergies for a second, this makes perfect sense. Here you have the StingRay, one of the most iconic bass designs of all time, with a Darkglass two-band preamp with two distinct dirt circuits – named Alpha (distortion) and Omega (fuzz) – for on-board grit and thunder. It's very cool.
Like your regular ocean-going StingRays this, too, has a select hardwood build, a roasted maple neck affixed to the body with a five-bolt joint, an 11" radius ebony fingerboard, 34" scale, 22 stainless steel frets, and Custom Music Man with Clover button tuners. The bridge is typically sturdy, a Vintage Music Man top-loader with a steel bridge plate and vintage nickel-plated steel saddles.
The finish, of course, is high-gloss Obsidian Black (Graphite Stone is the alternative), all the better to make those colour-coded LEDs pop on the gain control. How cool is that? An onboard gain control, sitting right there beside the usual Volume, Blend, Treble and Bass pots.
There's also a three-way blade selector switch that might initially cause some confusion; the DarkRay is a single-pickup affair and has one of those oversized neodymium humbuckers sitting at the base of the egg-shaped pickguard. The selector switch is for choosing between the Alpha and Omega distortion types and using the bass with the preamp only.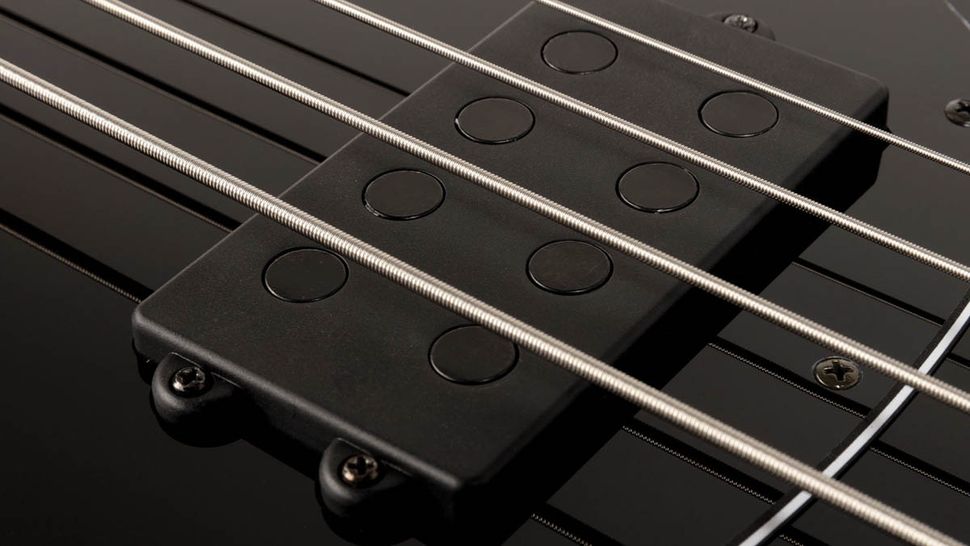 Ernie Ball Music Man DarkRay: Performance and verdict
There is naturally a lot of excitement surrounding the Darkglass preamp and its two dirt circuits but what the DarkRay does first and foremost is remind you of how tactile the StingRay chassis is, and by extension, much of the current Ernie Ball Music Man lineup. This too has had its roasted maple neck treated with the house special sauce of special wax and gunstock oil and feels similarly amazing.
Allied to the StingRay's famously balanced proportions, it makes for a supremely approachable instrument with an addictive, player-flattering ride. Again, that tactile element is extended to the hardware (black, naturally) which has a matte feel.
Also consider...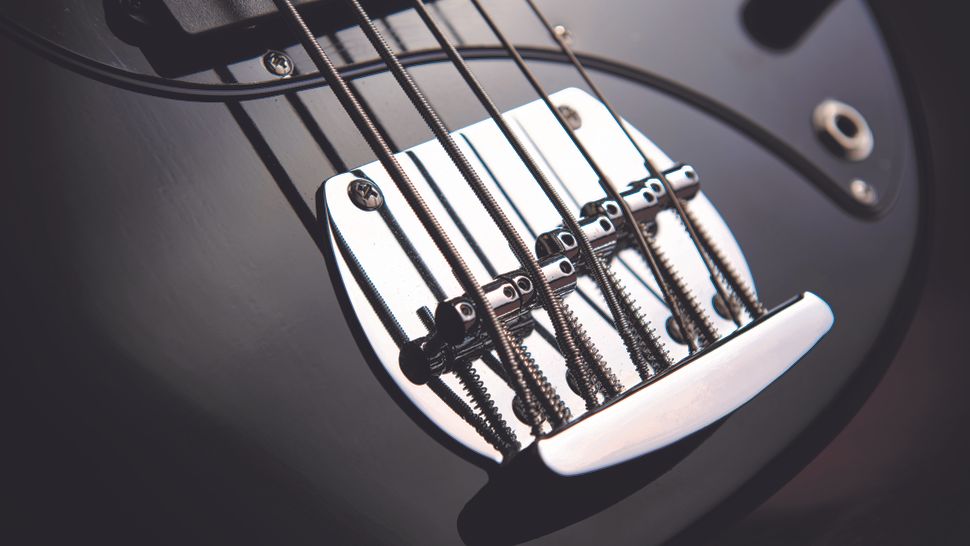 • Ernie Ball Music Man Stingray HH Bass
The StingRay HH is a truly fantastic bass. Not only does it look truly stunning, but it produces an equally stunning variety of solid sounds to die for.
• Darkglass Electronics Microtubes X Ultra
You can add dirt to your tone the old-fashioned way, except, as a DI-cum-EQ with compression and distortion, the Microtubes X Ultra is one innovative stompbox.
• Sterling By Music Man Stingray 34PB
The StingRay34PB sounds just as you'd expect from a Ray, providing all the grit, punch and bite associated with the model, but at a far more accessible price.
But approachable isn't what EBMM and Darkglass were thinking when it came to some of the sounds you can tease out of the DarkRay. Of course, set it at 'preamp only' and you have a powerful active StingRay, with an EQ more than capable of hollowing out the mids for a lithe, electric bounce, or for creating a low end that feels like it could sink a freighter.
The sky is the limit. Except, it's not. There's more. We have two distortion types. So, dial in something awesome sounding and then give it teeth via the Alpha mode. This is more classically distortion, and no matter how hard you drive it, the gain doesn't weaken your sound. Subtle settings will reward you with a little heat in the signal; dime it for Motörhead.
The Omega, meanwhile, will give your sound a thick pelt of fuzz. Again, the definition remains impressive and there's plenty of travel on that dial, accommodating old-school players and sonic extremists alike. Furthermore, you can mix both dirt tones via the blend control – truly, a godsend.
For pros and serious amateurs, the DarkRay is a fun twist on a classic four-string that has all the playability and core tonalities of the originals but with a practical onboard dirt solution for rock and metal. And hey, it's not cheap, but it'll save you the price of two high-quality distortion pedals.
MusicRadar verdict: A StingRay with big sharp teeth and hair, the DarkRay's dual-distortions augment a tried and tested recipe, turning one of the bass world's most supremely playable instruments into a bona fide face-melter and bringer of low-end thunder.
Ernie Ball Music Man DarkRay: The web says
"The DarkRay is built with serious players in mind, and it boasts the reliability and playability that such musicians demand, even if they hardly use the effects. The reality is that once a player plugs in and experiments with these modes, they will find it nigh-on impossible to put the bass down."
Bass Player Magazine
Ernie Ball Music Man DarkRay: Hands-on demos
Ernie Ball Music Man
Patrick Hunter
Amos Heller
Andertons
Ernie Ball Music Man DarkRay: Specifications
MADE IN: USA
BODY: Select Hardwood
NECK: Roasted maple, Bolt-on, five bolts
SCALE: 34"
FINGERBOARD: Ebony, 22 stainless steel frets
PICKUP: 1 x Neodymium humbucker
CONTROLS: Custom Darkglass two-band active preamp with two distinct distortion circuits (Alpha and Omega); volume, gain, blend, treble, bass, three-way distortion selector (Preamp Only, Preamp + Alpha Distortion, Preamp + Omega Distortion)
HARDWARE: Custom Music Man tuners, lightweight with tapered string posts and ergonomic clover design, Vintage Music Man top loaded steel bridge plate with vintage black plated steel saddles
WEIGHT: 8.8 lbs
LEFT-HANDED: No
CONTACT: Ernie Ball Music Man