Under the microscope: Gibson Kalamazoo KG-14
Introduction
Meet the budget classic that saved Gibson's neck, survived the dust bowl of Depression-era America and played a role in the very strange life of Satan's guitar hero…
The Great Depression of the early 1930s hit America hard. No-one was spared, from dirt farmers to sportsmen such as 'Cinderella Man' James J Braddock, to the car plants in Detroit.
Things were so bleak that the Gibson factory in Kalamazoo, Michigan cut back on guitar production to make wooden toys or anything else that could keep the workers employed. Ironically, at a time when the guitar was beginning to eclipse the popularity of the piano, accordion and banjo, few could afford to buy a quality Gibson instrument.
The fact that the company survived America's toughest decade at all is down to Gibson's president, a brilliant businessman named Guy Hart...
Hart beat
Holder of the big job between 1924 and 1948, Hart's legacy has been obscured by later president Ted McCarty (he of Les Paul, SG, ES-335, Flying V fame).
Only true vintage geeks will even know the man's name, but his decision to pull together a new budget range of archtop and flat-top guitars - plus banjos and mandolins - kept Gibson afloat when the rest of America was struggling to keep its head above water.
Hart's solution was the affordable Kalamazoo range, the source of the beautiful KG-14 flat-top acoustic you see on these pages. Of course, we romanticise stripped-down blues machines, such as the KG-14, as a porthole into sinister deals down at the crossroads and raucous nights in a back-road Delta juke-joint. Hart was just thinking in dollars and cents. In the early 30s, a Gibson L-1 acoustic was $37.50. The new KG-14 cost just $12.50.
Despite its humble origins, the KG-14 has gained some exotic status since being linked with the exploits of 'King Of The Delta Blues Singers', Robert Johnson. Every aspect of Johnson's life, death and musical ability has been debated.
If we believe the legends, this founder member of 'The 27 Club' was a drifting ne'er-do-well that traded his soul with the Devil himself for jaw-dropping guitar skills and wasted the lot on whiskey, woman and a bloody good time, before howling his way into the afterlife. And that's before you even start squabbling about what guitars he played.
In the picture
In the only two photographs of Johnson that exist, he is pictured with different flat-top acoustic guitars. One shot finds him clutching what appears to be a Gibson L-1. That's the opinion of experts, trainspotters and the Gibson company.
In the other photo doing the rounds, Johnson is cradling what many believe to be a Kalamazoo KG-14. It's tough to confirm, but the fingerboard inlays are in the same position as our example from Vintage 'n' Rare. So it could be true.
Fellow guitarist and friend Johnny Shines remembered that Johnson owned an archtop Kalamazoo, but it was lost or damaged, possibly in a fire. It was then replaced with a flat-top Kalamazoo. "It might be the one that we bought in Steele, Missouri," recalled Johnny Shines years later.
This backs up the theory that the reason Johnson's tone varies so distinctly between his recording sessions in San Antonio, Texas in 1936 and the following year in Dallas, Texas is that he played an archtop the first time round and his new flat-top on his second visit.
Dressed for success
It seems likely that an itinerant musician such as Robert Johnson would be drawn to the Kalamazoo brand.
Affordable and reasonably robust - Johnny Shines claimed they didn't use guitar cases, they slung them on their backs - it produced a decent amount of volume, which was essential in the barrelhouses where blues musicians found their audiences.
Beyond any supernatural connections, the KG-14 just looks the part. It has the elements we associate with the tough tales of Delta blues: a sunburst finish playing host to the orange celluloid 'Firestripe' pickguard, so called because it looks like dancing flames; top-only body binding; and the stencilled headstock logo. The top is spruce. The back and sides are mahogany.
The KG-14 was closest in size to the early 30s L-0 model. At 14.75 inches across its widest point, it came with a natural finish mahogany top, mahogany back and sides with a bound top and back, unlike the single-bound KG-14.
The Gibson had a tortoiseshell pickguard for some added eye candy, but the headstock logo was still painted on Kalamazoo style.
Originally priced at $35, it was discontinued just as the KG-14 was making its debut, but came back in 1937. It was later reduced to $25 - still twice the price of the Kalamazoo.
Identifying the KG-14
In the absence of a serial number, the guitar you see here is pegged as a 1938 model, backed up by the tapered headstock shape, a feature peculiar to models made between 1938 and 1940.
The black buttoned open tuners are a Kalamazoo feature. Gibson branded flat-tops, such as Robert Johnson's L-1, generally had white buttons.
In classic 30s style, the KG-14's mahogany neck has a V profile. Gibson wasn't the only brand to use this neck shape. Martin, Stella and whoever else was still in business commonly shaved their necks to the same profile. In the mid-50s, the V profile would be applied to Fender's Esquires, Telecasters and Stratocasters, something that Eric Clapton spec'd for his signature Strat.
As Eric will no doubt back up, the V shape fits snugly in the palm, but it also provided stability at a time when truss rods were still a premium appointment. Although the idea had been floating around for a few years, the first real truss rod patent was applied for by a Gibson employee, called Thaddeus McHugh, in 1921.
When you consider that the first Fender Esquires didn't have a truss rod, it's no surprise that budget acoustics either had none or just a rudimentary T-bar installed to stop the headstock and body from meeting one another.
Climbing the ladder
In other spec news, the rosewood 'board with its simple dots plays host to 19 frets, 14 of them clear of the body, but it's what's going on inside the KG-14's soundbox that really gives this guitar its voice.
If you could wander around inside it, you'd see that the KG-14's top and back are supported with strips of wood. Nothing unusual about that, you'd think; all acoustics have some form of bracing. Well, the Kalamazoo features an old-school arrangement called 'ladder bracing', which gives it a unique voice.
The Kalamazoo brand was as dead as Dillinger by 1942, as Gibson went back to producing high-quality kit for the jazz crowd and the emerging bluegrass and country scene.
The name was revived briefly in 1965 for a range of budget electric guitars and basses, such as the SG-shaped KG-1 and KG-2, before being dropped again in 1970 when Gibson began offering low-cost Japanese-made versions of its Epiphone stuff.
Kalamazoo kudos
Given its lowly status back in the 30s, it's ironic that guitars such as the KG-14 are the inspiration behind acoustic guru Bill Collings' new Waterloo range.
Determined to bring back "the voice of these Depression era guitars", Collings echoes the aesthetic vibe of old pawnshop prizes, such as the Kalamazoo KG-14, and offers authentic features like ladder bracing. A Waterloo guitar costs around two grand, but then Vintage 'n' Rare has tweaked the price of the KG-14 up from $12.50 to £1,995.
"The guitars had simple appointments and weren't built from the most gorgeous wood," Bill Collings comments on his company website.
"They didn't sand the braces. They didn't clean up their excess glue. They were made quickly and were all about function. Some great guitars were made that way and ended up in the hands of the most influential players of the day."
None were more influential than Robert Johnson, but he isn't the only icon who crossed paths with Gibson's brand. Have another listen to John Fogerty's words on Creedence Clearwater Revival's '69 beauty Down On The Corner. Picturing a Southern jug band, Fogerty barks out: "Poorboy twangs the rhythm out on his Kalamazoo..."
Vintage snobs may scoff at this old budget guitar, but the CCR namecheck ramps up this great survivor's already stellar cool factor further into the stratosphere. So if you need the perfect guitar to fit in "down on the corner", or as the clock strikes midnight at a Mississippi crossroads, the Kalamazoo KG-14 is your Huckleberry.
With thanks to Vintage 'n' Rare Guitars in Bath for the loan of the Kalamazoo KG-14.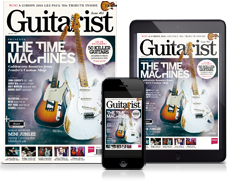 The magazine for serious players
Subscribe and save today!