GEAR EXPO 2023: This year has been shaping up to be another great year for the hardware synth, with all sorts of models being released, and in all shapes and sizes. If you are in any way a synth fan, then you have an exciting year ahead with almost too many choices, but don't worry, our definitive guide below reveals the runners and riders.
We've gathered all the latest hardware synth news and homed in on the most exciting releases. There are new synths, synth emulations and even the odd classic that is making a comeback - and one that stretches the very definition of the word 'synthesizer'!
It's time, then, to discover the best hardware synths of 2023 so far...
Intellijel Cascadia
One of the very few hardware synths announced at this year's NAMM show in April, Intellijel's Cascadia is a small box with big promises, and one that has already got both the modular and wider synth communities very excited.
Cascadia is a desktop, semi-modular synth that sits in a footprint about the size of a laptop. Intellijel has managed to pack a lot into this small space including very flexible oscillators, a lot of connectivity and a huge amount of modulation.
The synth boasts flavours of both East and West Coast synthesis, and while it has over 100 patch points, there's a logical connectivity and colour standard so you shouldn't get lost if you are new to modular (and semi-modular), or if you want to dive deeply into the synth.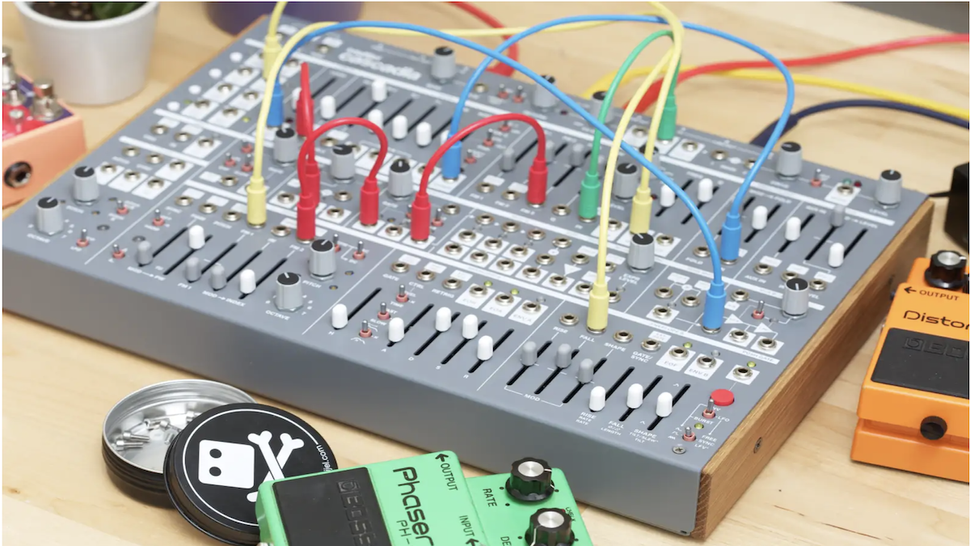 Cascadia looks like it has enough power, connectivity and features to appeal to the hardcore modular synth community, but an encouraging approach and workflow that could see it adopted by a wider fanbase.
We can't wait to get hold of one for our review, which shouldn't be long as the synth is now shipping and costs $2,149. There's more information from the Intellijel website.
Korg/ARP Odyssey full-size kit
Alongside the Moog Minimoog, the ARP Odyssey is the classic monosynth, a highly sought after machine, originally available in three versions, and released between 1972 and 1981.
In 2015 Korg and ARP joined forces to release a remake of the classic Odyssey, complete with three colours to represent the original machines. However, that was a mini version, and only 86% of the size of the original. A limited edition full-size Korg/ARP Odyssey did appear but quickly sold out. There was huge demand for this full-size version, however, so rather than re-release another limited run - which would have defeated the point of the word 'limited' - Korg has decided to release a build-it-yourself full-size Odyssey instead.
It's not the first time Korg has done this - the MS-20 kit was released in 2014 - and, don't worry, you don't need to be an electrical engineer in order to assemble it, as the ARP Odyssey FS Kit doesn't require any prior technical knowledge or soldering skill on the part of the user.
The familiar spec sheet includes the Odyssey's switchable sawtooth and square waveforms, pulse width modulation, oscillator sync, ring modulation and pink or white noise. Connectivity includes both 1/4-inch jack and XLR outputs and an audio input jack - try connecting the headphone jack to the audio input to apply self-feedback.
CV, Gate and Trig jacks are here, too, as are MIDI In and USB MIDI ports. 1/4-inch and mini patch cables come supplied.
Released in 1972, the Odyssey was ARP's answer to the Minimoog, with its slider-based interface making it extremely tweakable. It was embraced by two generations of musicians - the proggers and rockers of the early 1970s (Edgar Winter, Tony Banks and Joe Zawinul), and the new wavers of the 1980s (Devo, Ultravox and Gary Numan) - and remains hugely popular today.
Available in limited numbers, the ARP Odyssey Kit is out now priced at £1,699/€1,899. Find out more on the Korgwebsite.
Sequential Take 5 v2
Not a completely new synth announcement or release, rather an update to an existing one - and a great one at that - the Sequential Take 5. We're big fans of the original Take 5, a synth that takes the core ingredients of the legendary Sequential Prophet-5 - hence the '5' in both names - and fires them on an all-new journey for the 21st century.
Sequential has updated the Take 5 via an OS v2.0 software update to make it an even more attractive proposition. Among other tweaks, the update doubles the amount of preset storage so you get 128 new presets plus eight new banks of locations to store your own creations.
There are synthesis additions, too, including Envelope Repeat - this lets you loop your Decay, Attack and Delay stages. There's also a new Slew parameter that can be applied to LFO1 and LFO2 for smoother, more organic modulations.
New scales have been added (to make 65 in total), and an Oscillator 2 Filter Bypass feature enables you to do just that for what Sequential describes as "a uniquely layered timbral experience".
The update is immediate and free so head right on over to Sequential now.
Waldorf M 16-voice synth
Waldorf's M synth was released in 2021 acting as a great hybrid synth, combining, as it does, digital wavetable oscillators with an analogue amp and filters. It was quite limited with an eight-voice polyphony limit, but a boost to this is enough to get the synth a place in this roundup.
Yes, the good news is that the 16-voice Waldorf M has just landed, and we think that double the playing power means it easily deserves re-appraisal. This is especially so in the competitive world of synthesizers, where eight extra notes can mean the difference between a 'buy' or a 'pass by' and, more importantly, a much bigger dent in your budget.
If you're an existing user of the Waldorf M, we can confirm that you add these extra voices to your current rig via an expansion board. You can fit this yourself and, as the video below demonstrates, it doesn't look particularly difficult.
Those existing 8-voice owners will have to pay €699 to upgrade their M synths to the full 16 voices, while the full 16-voice machine now costs €2,308, making it neither the cheapest nor most expensive 16-voice poly out there (and it's way cheaper than Waldorf M's bigger sibling, Quantum). Either way, we think the Waldorf M is still a great synth contender in 2023, and even more so now with these extra voices.
As we said in our review, it's the "ultimate modern, yet authentically realised, take on a classic approach to synthesis".
Find out more on the Waldorf website.
Expressive E Osmose
We first heard about Expressive E's Osmose more than three years ago, and were beginning to think it might never actually appear. However, this year the first units have started to ship, with early adopters starting to receive their units, and pre-orders for the next batch already being taken.
And the early impressions are very good indeed. This MPE-compatible polyphonic synth could well live up to all the hype.
Osmose promises the benefits of an MPE controller in a familiar keyboard form factor, the theory being that this will enable existing players to get good results without having to adapt their technique too much.
As previously reported, you get three dimensions of control on every single key, enabled by the patented AKA - Augmented Keyboard Action - technology.
To get the most out of this, Osmose also contains Haken Audio's 24-voice EagenMatrix sound engine, which it developed for its Continuum Fingerboard. This combines digital, additive, FM, virtual analogue and spectral synthesis, with some physical modelling thrown in for good measure.
Check out Flying Lotus trying out the Osmose in the video below.
As you'd expect, Osmose can also function as an MPE MIDI keyboard, offering polyphonic aftertouch, a multichannel MIDI mode and global pitchbend control from every key. You can set it up as a standalone controller, too, so it can be used away from your computer.
You also get a selection of macro controls, giving you further scope to adjust timbre, texture and harmonics. A mod wheel and two continuous pedal inputs are included, and you can configure the sensitivity of the keyboard's 3D control to your liking.
Despite rising costs and economic uncertainty, Expressive E is committing to a $1.799/€1,799 retail price for Osmose, "within the limits of allocated stocks". It comes with 500 presets that are suitable for use in multiple genres.
To celebrate Osmose's release, Expressive E has created a series of artist videos featuring Flying Lotus, AR Rahman, Jean-Michel Jarre, Mike Dean, Cory Henry, André Manoukian and Tarik Azzouz discussing their experiences with the keyboard.
You can find out more and place a pre-order on the Expressive Ewebsite.
Roland SH-4D
Here's one we've already had under the review microscope at MusicRadar, and it's another synth from Roland that explores the company's vast back catalogue of classics.
The SH-4d is a five-part groovebox, with four polyphonic synth channels and one multitrack drum machine, and comes equipped with various emulations of vintage Roland gear. Its sound engine makes use of a mixture of virtual analogue, digital synthesis and sampling in order to offer a spectrum of sounds that range from vintage gear emulations to modern tones and an array of percussive kits.
The SH-4d offers 11 synthesis modes - for everything from VA to wavetable - available individually for each of the four synth parts, plus a multitude of sequencing features, but the user interface is neatly laid out in a way that makes these fairly easy to navigate.
The SH-4d's rhythm track is more than just another TR emulation. This polyphonic section hosts full drum kits of 26 parts. Each part layers two individual drum samples. The range here balances not only an assortment of classic Roland sound and staple drum tones, but also melodic tones and synth waves.
Possibly more than any other recent Roland device, this really feels like a well-thought-through and complete package, and one that offers a whole range of functions for both studio and live users. It also sounds phenomenal. The faux analogue elements are rich and hefty and sound bang on the money when put side by side with their vintage counterparts.
Being able to pair these with the interesting digital modes, and flexible drum design tools is a real treat, and users will likely get a lot out of this one box before even considering integrating it with a DAW or additional gear.
In our review we concluded: "Roland has released a lot of retro-inspired gear in recent years, but this is something truly new and exciting. A real sonic playground."
SH-4D costs around £549. More info from Roland.
Arturia PolyBrute Noir
OK, not quite a full-on release, more a different-coloured version of an existing synth, but the original PolyBrute is an amazing synth. And having it in black? Well, yes please.
The PolyBrute is a fitting flagship for Arturia's analogue synth range, offering a beautifully characterful sound and lots of well-designed features. Released a couple of years ago, the instrument has now being given a reboot (reBrute?) with the limited-edition Noir version.
This differs from the standard model by offering "a slick black exterior, complete with colourful accents, luxurious dark wooden appointments, and signature ionised parts". So yes, it looks a bit different.
Like the standard PolyBrute, the Noir version has six analogue voices, each of which comprises waveshaping VCOs, dual filters and modulation. You can morph between each preset's two 'sonic states' with the multi-axis Morphée controller and Morph knob, the keyboard is velocity-sensitive with aftertouch, and there's a ribbon controller.
Other features include a modulation matrix, three digital stereo effect engines and sequencing options.
We placed the PolyBrute in the top tier of analogue polysynths in our review, so it stands to reason that the PolyBrute Noir will be an equally impressive performer. And if black synths are your thing, you've just been given another reason to buy one.
The PolyBrute Noir is available while stocks last priced at €2,699. Find out more on the Arturia website.
Waldorf Quantum 2
Another Waldorf recommendation for the year ahead, and another Waldorf upgrade. (But, hey, Waldorf makes great synths, so why not?)
Released in 2018, Waldorf's Quantum was a bona fide supersynth. Each of its three oscillators could draw on one of five synth algorithms - including the classic Waldorf-style wavetables - and you got both digital and analogue filters. A wealth of modulation possibilities was included, too.
Now we have the Quantum MK2, a reimagining of the original synth that tweaks the already powerful formula in a variety of ways.
First up, you now have 16 voices of polyphony to play with. This has been achieved by combining the eight analogue filters with the digital dual multimode filters. A new set of allocation modes enables you to control what goes where.
You also now have polyphonic aftertouch. Quantum MK2 is the first instrument to feature a 61-key version of Fatar's TP8/SK keybed, and enables you to assign aftertouch parameters on a per-key basis. As such, there's huge potential for expression.
If you want to take your control a step further, you can also play the Quantum MK2 using an MPE controller. Just plug one in via the USB port and you should be good to go.
Sample storage has been increased, too - from just 4GB to a whopping 59GB. This will come as great news to those who want to take full advantage of Quantum's granular and multi-sampling engines, and gives sound designers much more room to flex their creative muscle.
Quantum ships with 2GB of sample content and presets from the likes of Richard Devine, Howard Scarr, Reinhold Heil, BT, Matt Johnson, Joerg Huettner, Kevin Schroeder, Sascha Dikiciyan, Kurt Ader, Mike Huckaby and Thorsten Quaeschning. You can also transfer sounds to and from Waldorf's Iridium synth - in fact, we're told that the latest Quantum firmware has been combined with the Iridium firmware to create what's known as the Waldorf Synthesis Platform.
A few design tweaks have been made to Quantum, too - improved mounting of the touch display is said to mean wider viewing angles for example.
Quantum MK2 is out now priced at €4,819. Find out more on the Waldorf website.
Suzuki Omnichord
And finally it's time for something completely different… or the same. The Suzuki Omnichord was thrust back into the spotlight earlier this year when Gorillaz' Damon Albarn revealed that the beat for Clint Eastwood, one of the band's biggest hits, is powered by one the machine's its auto-accompaniment presets (Rock 1, in case you're interested).
Now the Omnichord is not just back in the spotlight but coming back into production.
"We have been receiving requests to resurrect the Omnichord for a long time," says Suzuki. "And this year, to commemorate the 70th anniversary of the founding of Suzuki Musical Instruments Manufacturing, we will reproduce the Omnichord! It is scheduled to be released around the fall of 2023."
Sadly, that's all we know at this stage - we're still waiting on specs and a potential price.
Between 1981 and 1999 there were multiple iterations of the Omnichord, so Suzuki has plenty of inspiration to draw on. Whether its reboot will be a faithful emulation of a specific model, a 'greatest hits' package that includes the best bits of various models or a completely new design remains to be seen.
As instruments go, the Omnichord might not be up there in terms of power compared to some of the others in this roundup, but we're no less looking forward to its comeback, so watch Suzuki's Omnichord page for more details.
---
Looking for more great new gear? Get all our roundups, news, features, tutorials, tips and more at our Gear Expo hub page.