The best new DJ gear of 2018
10. Rane Seventy-Two mixer
The Future Music/Computer Music/MusicRadar Best in music tech 2018 polls received thousands of votes, and we're now ready to roll out the winners. The nominees were what we considered to be the personalities and gear that have excelled in 2018. Here, we present the best new DJ gear of 2018.
Taking up positions 13 to 11 are:
13. Pioneer DJ DDJ-SX3
12. Reloop Kut
11. Audio Technica AT-LP1240-USB XP
Kicking off the top 10 we have the Rane Seventy-Two mixer...
We say: The Seventy-Two 2-channel control and performance mixer features a full color touchscreen interface, stackable Serato and Flex FX, plus expressive playback control via eight multi-function trigger pads. This mixer has loads of possibilities for pro, club and scratch DJs.
9. MWM Phase
We say: Impressively, two remotes capture your turntable's rotation information and wirelessly sends this information to a receiver. The receiver then processes the information and applies it to the digital signal it generates to send it to your setup. A great solution for performers.
8. Pioneer DJ XDJ-RR
We say: The premise of the device is simple: it takes the fundamental features of Pioneer DJ's widely-used CDJ-2000NXS2 setup and puts them in a lightweight and portable chassis, so you can practise with it at home before taking it out to parties and gigs.
7. Pioneer DJ DDJ-SB3
We say: Scratching used to be a DJing technique that took years to perfect, but with Pioneer's DDJ-SB3, it's as easy as pressing a pad. This new controller - which updates the DDJ-SB2 - offers a feature called Pad Scratch, which was created in collaboration with DJ Jazzy Jeff. This enables you to initiate eight of his trademark scratch techniques - the scratch is automatically matched to the track's BPM - which can be used in isolation or in combination with your own scratching.
6. Audio-Technica ATH-PRO7X
We say: The ATH-PRO7X professional DJ headphones combine the comfort and low-profile style of an on-ear design with powerful 45mm drivers capable of handling 2,000 mW of input power. This combination gives DJs accurate high-fidelity audio reproduction from a pair of headphones that are comfortable to wear for the entire set.
5. Rane Twelve controller
We say: The Rane DJ Twelve is a motorized control turntable that brings an accurate, true-vinyl performance experience to digital music software. The Rane Twelve should feel instantly familiar to any DJ who has played on a vinyl turntable before, but adds hot-cue and track search capability at the sweep or touch of a finger.

4. Native Instruments Traktor S2
We say: Whether you want bass-heavy breakdowns, steppy synths, or peak-time rewinds that define your style, this DJ unit has everything you need to make your mix happen. Craft sets on two decks and get creative with easy-to-use tools like looping, beat syncing, and club-grade effects.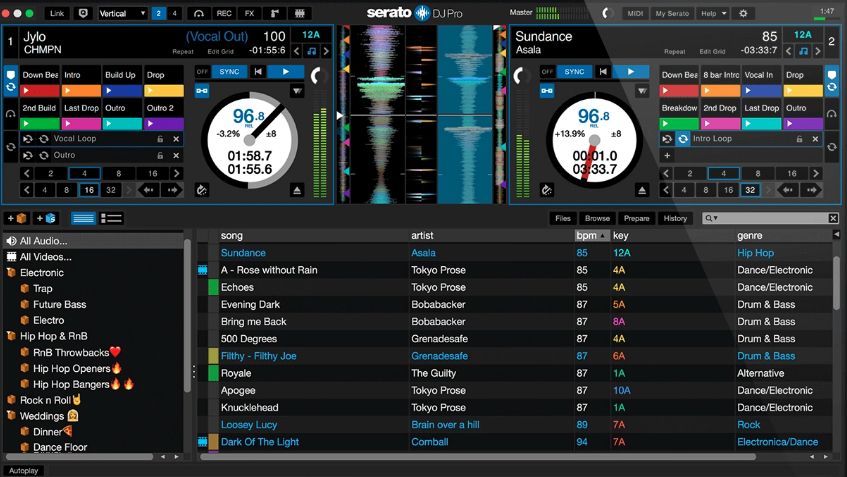 3. Serato DJ Pro
We say: One of the world's most popular DJing platforms has been updated to what is effectively version two and now comes in both Pro and Lite guises. The big news in Pro is the new Practice mode. This switchable view allows you to mix two tracks together with no hardware connected, so you can test out your sets anywhere without the need of a controller connected.
2. Pioneer DJ DDJ-1000
We say: The device has a familiar look to it, and features the same jog wheels as you'll find on Pioneer's CDJ-2000NXS2. There's also an On Jog display that displays track information, saving you from having to look at your laptop.
14 Beat FX are included, while the 16 multicoloured performance pads can be used to trigger Hot Cues, Pad FX and Keyboard Mode, which can be used to play a Hot Cue at different pitches. This gives you the option of using your sounds to play musical phrases.
Winner: Native Instruments Traktor S4
We say: Of most interest on the S4 is the new 'Haptic Drive' jogwheels. These are high-torque motorised platters which offer a high level of tactile responsiveness for beat matching, adjusting beat grids and scrolling through tracks. It's difficult to explain exactly what these are like in use, but suffice to say we've had our hands on them and the technology is really impressive.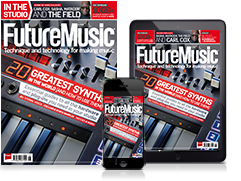 All-access artist interviews, in-depth gear reviews, essential production tutorials and much more.
Get the latest issue now!