The 17 best blues guitarists in the world right now
17. Eric Gales
The MusicRadar/Total Guitar Best in guitars 2017 polls have received over 136,000 votes, and we're ready to roll out the winners. The nominees were what we considered to be the guitarists and guitar gear that have excelled in 2017. Here, we present the best blues guitarists of 2017. First up we have Eric Gales...
2017 highlight: A seemingly perennially underrated player, Eric Gales finally got his dues this year with the release of Middle Of The Road. The album title refers to staying out of trouble rather than the content, which is rammed with some of the most inventive pentatonic playing you're likely to hear this side of Eric Johnson.
The MusicRadar Best in guitars awards are brought to you in association with Allianz Musical Insurance - the UK's Number 1 Specialist Instrument Insurer
16. Laurence Jones
2017 highlight: Clapton and Fleetwood Mac producer Mike Vernon hailed Liverpool lad Laurence Jones as "the future of blues" while working on last year's Take Me High. And take him high it did; Jones's star is ever-rising following support slots with Vintage Trouble and fellow nominee Kenny Wayne Shepherd.
Laurence Jones and Mike Vernon on why Take Me High is the future of blues
15. Ash Wilson
2017 highlight: A hot new name on the UK blues scene, Ash Wilson released his debut Broken Machine this year, chock full of gained-up riffs, fuzz-laden solos and crystal-clear picking alike. A contemporary blues artist to watch.
14. Ben Poole
2017 highlight: By his mid-20s, Ben Poole has already received acclaim from six-string legends Jeff Beck, Gary Moore and Richie Kotzen, and his razor-sharp playing has seared across Europe this year. We have high hopes for the next effort from Mr Poole.
13. Kris Barras
2017 highlight: Away from his Southern-tinged output, the UK's Kris Barras has had a side career as a mixed martial artist. Fortunately, his licks punch as hard as his right fist, and accordingly, his Gary Moore-informed playing has been winning audiences over across the country. The USA will surely be next.
12. Joanne Shaw Taylor
2017 highlight: JST's supreme talents were given a big stamp of approval when Led Zeppelin/Aerosmith/Joe Bonamassa super-producer Kevin Shirley came on board for last year's hugely accomplished Wild, recorded in Nashville's iconic Grand Victor Studios. The Black Country blueswoman played her largest UK tour yet this year, and hits the US in early 2018.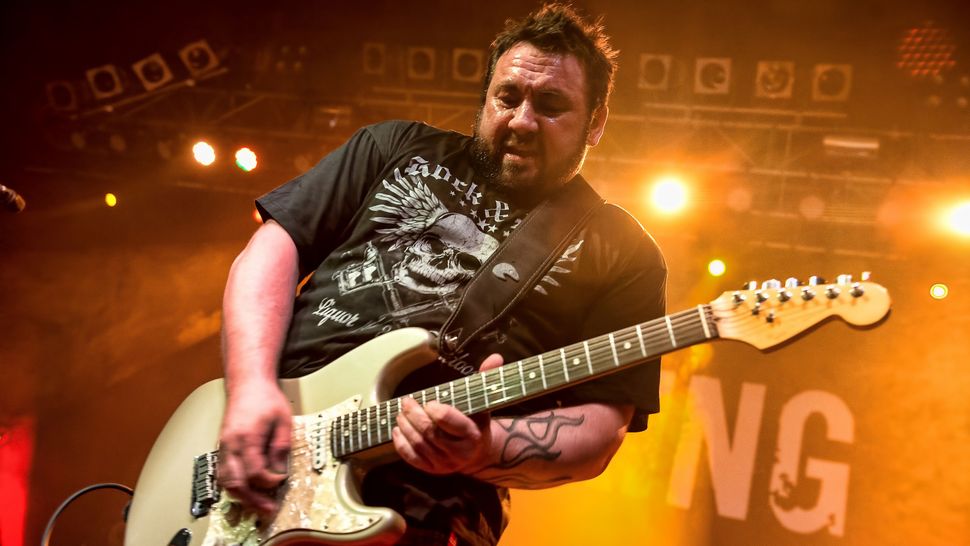 11. Alan Nimmo
2017 highlight: The Glasgwegian rockers' guitar-toting frontman might first catch your eye with his onstage attire - there's no mistaking that kilt - but it's his melodic rock-infused Les Paul solos that will leave a lasting memory, and this year's Exile & Grace was the best example of King King's hard-blues sound yet.
10. Samantha Fish
2017 highlight: This Missouri native has had a bright 2017, releasing Belle Of The West and catching the attention of guitarists around the world with her incendiary brand of heavy blues. She's a keen pedal user, too, and her mid-song delay tweaks provide moody atmospherics to offset the fiery licks.
9. Walter Trout
2017 highlight: The New Jersey bluesman has experienced a remarkable return to form since his liver transplant in 2015, charting his diagnosis and recovery on Battle Scars, but latest effort We're All In This Together shows a lighter side to Trout, and features a truly staggering array of guest stars, including Kenny Wayne Shepherd, Randy Bachman, Eric Gales and Joe Bonamassa – all of whom spar with the lead man in spectacular style.
8. Jonny Lang
2017 highlight: Mr Lang looked back to his blues roots this year, dialling in an aggressive lead attitude that echoes Robert Johnson and Howlin' Wolf. The resultant album, Signs, ended up being a real return to form, equal parts blues and soul, but all song-led.
7. Erja Lyytinen
2017 highlight: Finland's premier slide ace and all-round killer player, Erja spent this year promoting new album Stolen Hearts and, funnily enough, performing a host of pop and rock classics as part of Finnish TV show Tähdet, Tähdet (Stars, Stars). Yet whatever she turns her hand to, she handles it with typical swagger and faultless playing.
6. Derek Trucks, Susan Tedeschi (Tedeschi Trucks Band)
2017 highlight: Slide maestro Derek Trucks told us this year's Live From The Fox Oakland was "one of the best shows we've ever played as a band", and based on the recorded evidence, we'd struggle to disagree. Trucks and his co-headliner Susan Tedeschi have been on blistering form this year, and we can't wait to see what 2018 holds for the most exciting partnership in blues.
Derek Trucks' top 5 tips for guitarists

5. Jared James Nichols
2017 highlight: With no pick and a single-pickup Epiphone Les Paul, JJ has found himself at the forefront of the US hard-rockin' blues guitar scene. Black Magic dropped in October, and found Nichols in his heaviest-hitting territory yet, with his wild, untameable solos always a highlight.
4. Kenny Wayne Shepherd
2017 highlight: Ol' Shep followed up his collaboration with Stephen Stills, The Rides' Pierced Arrow, with Lay It On Down, which was typically chock-full of massive Strat sounds and hugely expressive, vocal solos. The Louisiana picker continues to go from strength to strength.
3. John Mayer
2017 highlight: What's left to say about this six-string lothario? Mayer conjured plenty of headlines this year thanks to his numerous collaborations with PRS (most notably a suspiciously Strat-shaped guitar), and a touring stint with Grateful Dead offshoot Dead & Company. That's all in addition to new album The Search For Everything, which offered another slice of sultry vocals and outrageously smooth, toneful playing.
2. Joe Bonamassa
2017 highlight: The king of modern blues had a vintage year, touring up a storm and reigniting the Black Country Communion fire. The recorded results oozed Led Zep and highlighted JoBo's strengths in every possible nook and cranny of the genre to which he's devoted his life.
WINNER: Tyler Bryant
2017 highlight: If you land an opening slot on Guns N' Roses reunion tour, you must be doing something right, and Tyler Bryant & The Shakedown did just that this year, following it up with an utterly convincing blues-rock debut. At just 26 years old, the future of the genre is in safe hands with this Texas native.