The 15 best record producers in the world right now
10. Andrew Watt
The Future Music/Computer Music/MusicRadar Best in music tech 2018 polls received thousands of votes, and we're now ready to roll out the winners. The nominees were what we considered to be the personalities and gear that have excelled in 2018. Here, we present the best music tech personalities of 2018.
Taking up positions 15 to 11 are:
15. Tommy Brown
14. Paul Blair
13. Cole M.G.N
12. Mattman & Robin
11. Louis Bell
Kicking off the top 10 we have Andrew Watt...
2018 highlight: Longtime Post Malone collaborator Andrew Watt has been a busy man this year with a string of production credits for the likes of Cardi B, Rita Ora, Future and 5 Seconds of Summer to name but a few.
9. Joseph Mount
2018 highlight: The Devon-native and founder of indietronica band Metronomy has very much been a driving force in the production of Robyn's long-awaited eighth studio album, Honey.
8. Nate Wonder
2018 highlight: One half of funk duo Deep Cotton, Wonder has been a major part of the production team that went into creating Janelle Monae's third and hugely successful album 'Dirty Computer'.
7. Chuck Lightning
2018 highlight: The other half of funk duo Deep Cotton, Lightning has also been responsible for crafting the sound of 'Dirty Computer', which has been nominated for two Grammys this year. Chuck, alongside Nate Wonder and Janelle Monae form The Wondaland Arts Society collective.
6. Klas Åhlund
2018 highlight: Swedish-born Åhlund has worked with the likes of Katy Perry, Alesso, Axwell Ingrosso, Usher and more recently Ellie Goulding and Charlie XCX. This year his work has seen him join up with another finalist, Joseph Mount, on Robyn's Honey album.
5. Frank Dukes
2018 highlight: Adam King Feeney hails from Canada and can boast songwriting and production credits for the likes of Kanye West, Rihanna, Drake and Kendrick Lamar. Fast forward to this year and the in-demand producer has collaborated with Camilla Cabello, The Weeknd, Cardi B and Nicki Minaj, to name but a few.
4. Max Martin
2018 highlight: The name Max Martin probably still means very little to much of the general public, despite the fact that the Swedish super-producer can claim to have written more Billboard number one singles than anyone in history other than John Lennon or Paul McCartney.
From Britney Spears to NSYNC to Usher, the publicity-shy producer has had a hand in some of the biggest pop singles of the past two decades. He rounded off last year with Grammy wins for Album of the Year and Best Song Written for Visual Media.
3. Calvin Harris
2018 highlight: Last year's winner, Harris continues to define the sound of pop. This year he collaborated on the dancehall-influenced 'Nuh Ready Nuh Ready', with PartyNextDoor. He then released 'One Kiss' with Dua Lipa and 'Promises' with Sam Smith.
2. Mark Ronson
2018 highlight: Mark Ronson is another producer who continues to sprinkle funky gold wherever he goes. Much talk has been around the collaboration with Miley Cyrus on new single 'Nothing Breaks Like a Heart', which will feature on her upcoming seventh studio album.
Winner: Diplo
2018 highlight: It is the will of the people and the will of the people is good (for a change); this year's best record producer is Diplo, for what has to be the best song of the year, if not decade. Big words, but here at MusicRadar we are absolutely down with Chaka Khan's 'Like Sugar'.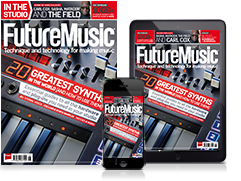 All-access artist interviews, in-depth gear reviews, essential production tutorials and much more.
Get the latest issue now!