The 15 best electronica, ambient and underground DJs/producers in the world right now
10. Lone
The Future Music/Computer Music/MusicRadar Best in music tech 2018 polls received thousands of votes, and we're now ready to roll out the winners. The nominees were what we considered to be the personalities and gear that have excelled in 2018. Here, we present the best electronica, ambient and underground DJs/producers of 2018.
Taking up positions 15 to 11 are:
15. Maribou State
14. Bruce
13. The Field
12. Leon Vynehall
11. Alexis Taylor
Kicking off the top 10 we have Lone...
2018 highlight: Matt Cutler continued his Ambivert EP series with the release of volumes three and four this year, all amidst a relentless number of shows, including a tour supporting 808 State.
9. Floating Points
2018 highlight: There aren't too many electronic acts that can boast having a PhD in neuroscience and epigenetics in its ranks, as well as a slew of critically acclaimed releases. Floating Points, aka Sam Shepherd, has had a jam-packed summer of touring the European festival circuit, busy promoting '17s 'Reflections – Mojave Desert'.
8. Pariah
2018 highlight: This year Pariah, aka Arthur Cayzer, released his debut album 'Here From Where We Are', after a six-year gap from 2012's Rift EP. He has since released two singles from the album and toured extensively.
7. DJ Koze
2018 highlight: In May, Stefan Kozalla, aka DJ Koze, released his third studio album Knock Knock. Widely receiving critical acclaim, the album also features guest vocals from Sophia Kennedy and Róisín Murphy.
6. Skee Mask
2018 highlight: Germany's Skee Mask dropped his second studio album Compro, earlier this year, a follow up to 2016's Shreds. Along with the likes of Lone, Actress and Rødhåd, he contributed to Modeselektor's fourth compilation Modeselektion Vol.4.
5. Ross From Friends
2018 highlight: In less than a year, Ross From Friends has swung from releasing his Aphelion EP on Flying Lotus's label to launching his debut album, Family Portrait on Brainfeeder.
4. SOPHIE
2018 highlight: Scottish producer, singer, songwriter and DJ, Sophie released her debut album this year, entitled 'Oil of Every Pearl's Un-Insides', which has since been nominated for a Grammy for Best Dance/Electronic album. Other production credits include working on tracks for Charlie XCX, Gaika and Let's Eat Grandma.
3. Four Tet
2018 highlight: Back in May of this year, Four Tet performed at the Funkhaus, Berlin and then released the performance as an album under the moniker 4TLR, which is usually reserved for his live releases.
2. Ólafur Arnalds
2018 highlight: After releasing Re:member earlier this year, Arnalds took his Player Pianos and Stratus system - for which the album was written - out on the road for an extensive touring schedule. After all this, the Icelandic multi-instrumentalist and producer still found time to tease new material, in a recent appearance on BBC 6 Music.
Winner: Jon Hopkins
2018 highlight: Hopkins released his latest album Singularity back in May on Domino records. He has subsequently played shows to promote it. Singularity has also been nominated for Best Dance/Electronic Album at the 61st Grammy Awards.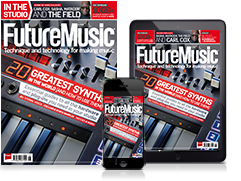 All-access artist interviews, in-depth gear reviews, essential production tutorials and much more.
Get the latest issue now!