The 13 best rock drummers in the world right now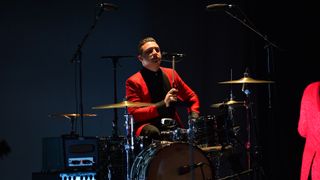 10. Matt Helders (Arctic Monkeys)
The Rhythm Best in drums 2018 polls received an astonishing 100,000 votes, and we're now ready to roll out the winners. The nominees were what we considered to be the drummers and gear that have excelled in 2018. Here, we present the best rock drummers of 2018.
Taking up positions 13 to 11 are:

13. Franklin Vanderbilt (Lenny Kravitz)
12. Andy Hurley (Fall Out Boy)
11. Arejay Hale (Halestorm)
Kicking off the top 10 we have Matt Helders of Arctic Monkeys...
2018 highlight: While Arctic Monkeys' new album Tranquility Base Hotel & Casino saw Helders move away from the sultry grooves of previous smash hit AM, that doesn't mean he was any less creative behind the kit. The minimalist beat and reverb-drenched snare of the title track demonstrates just how efficient and direct Matt can be with his beats.
The MusicRadar Best in drums awards are brought to you in association with Allianz Musical Insurance - the UK's Number 1 Specialist Instrument Insurer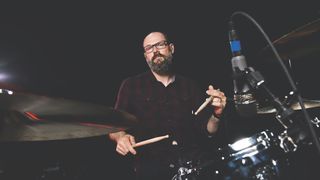 9. Jason McGerr (Death Cab For Cutie)
2018 highlight: McGerr's name is often uttered in drumming circles, but many write him off as just another band drummer. Take a listen to Death Cab For Cutie's lush new album Thank You For Today and you'll quickly realise why he has such a cult following in drumland. Every last note of his drum parts have been meticulously planned and executed, and there were few better drum sounds recorded in the last 12 months.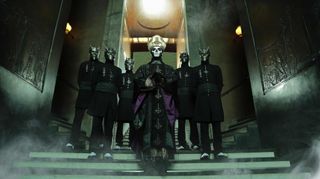 8. A Nameless Ghoul (Ghost)
2018 highlight: Ok, so we don't know exactly who is behind the mask (past rumours have suggested Dave Grohl, amongst other big names), but whoever was behind the kit in the studio for Ghost's epic fourth album Prequelle, they more than earned their place in the enigmatic band. From the crash cymbals that open the album on Ashes, through to the '80s inspired fill that kicks off Rats and machine gun toms on Miasma, this album is a real treat for drummers.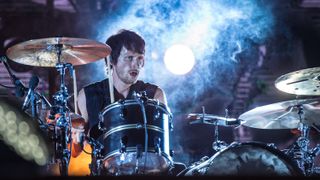 7. Dom Howard (Muse)
2018 highlight: The band's style may have morphed a little over the years, but that doesn't make Dom Howard's contribution to the band any less potent. New album Simulation Theory is packed full of classic stomping grooves that will fit neatly alongside bangers like Plug In Baby and Knights Of Cydonia on a setlist.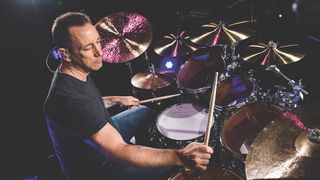 6. Jimmy Chamberlin (Smashing Pumpkins)
2018 highlight: 2018 was a year for drummers to celebrate as one of the finest rock drummers of the '90s returned home to the band that he first formed in 1988. Jimmy Chamberlin rejoined Smashing Pumpkins leader Billy Corgan and guitarist James Iha to resurrect (almost) the complete original line-up and make new music. Shiny And Oh So Bright, Vol 1/ LP: No Past. No Future. No Sun. was the result. The music feels like a trusty pair of boots and we're pleased to report that Chamberlin has settled quickly and comfortably back into the role.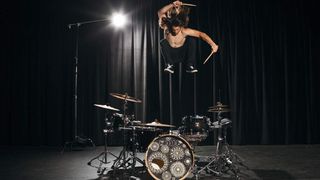 5. Aric Improta (Fever 333)
2018 highlight: Fever 333's Made An America mini album was a surprise bolt of electricity from members of .letlive and The Chariot alongside Night Verses drummer Aric Improta. An amalgamation of punk, post hardcore and hip-hop, songs on Made An America were the perfect vehicle for Improta's machine gun beats – check out the drum break towards the end of We're Coming In. The music translated to the stage, too, benefitting from an extra visual edge courtesy of Improta's drum kit gymnastics.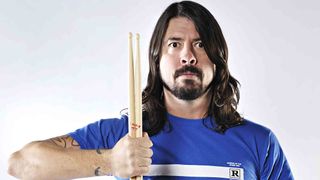 4. Dave Grohl (Tenacious D)
2018 highlight: It's not often Dave Grohl gets behind the kit in the studio these days, so when he does it's big news. Joining up with his old Tenacious D pals Jack Black and Kyle Gass to record Post-Apocalypto, the Foo Fighters frontman laid down his finest big rock beats on classics-in-the-making like Making Love and Daddy Ding Dong.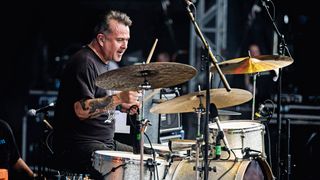 3. Jean Paul Gaster (Clutch)
2018 highlight: We've long championed Clutch groove machine JP Gaster here at MusicRadar, so we're pleased to see a result that suggests you've been listening. Delving further into funk territory, Clutch's new album Book Of Bad Decisions took their blues rock blueprint and injected even more swagger and swing. To hear JP going full tilt, head straight for In Walks Barbarella. You can thank us later.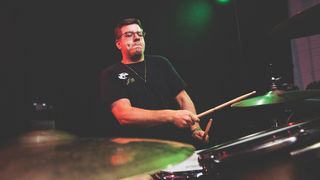 2. Jon Beavis (Idles)
2018 highlight: At a time when global division is at its peak, the world needs a band like Idles. The quintet delivered socially aware commentary and expressions of hope and anger on latest album Joy As An Act Of Resistance, with Jon Beavis' tight, jagged drumming underpinning the raucous punk rock. The album was rightfully hailed an instant classic. Not bad for five punk rockers from Bristol.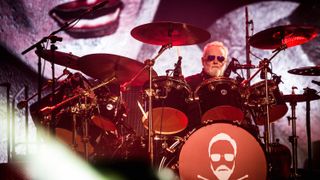 Winner: Roger Taylor (Queen)
2018 highlight: This year Roger Taylor and Brian May continued to take Queen's astonishing back catalogue to stages around the world, with Adam Lambert handling Freddie Mercury's fantastic parts, but 2018 will be remembered most for the Taylor/May-approved Queen movie Bohemian Rhapsody. Not only was Taylor's part played brilliantly by Ben Hardy, but it highlighted what a contribution the drummer made to the band, both behind the kit and as a key songwriter. Revisiting those monstrous We Will Rock You drums from Live Aid also proved just how electrifying and unifying a simple drum part can be. Put simply, there's no other band quite like Queen.