The 13 best blues guitarists in the world right now
10. Ana Popovic
The Total Guitar/MusicRadar Best in guitars 2018 polls received an astonishing 126,000 votes, and we're now ready to roll out the winners. The nominees were what we considered to be the guitarists and guitar gear that have excelled in 2018. Here, we present the best blues guitarists of 2018.
Taking up positions 13 to 11 are:
13. Xavier Amin Dphrepaulezz (Fantastic Negrito)
12. Robert Cray
11. Jack White
Kicking off the top 10 we have Ana Popovic...
2018 highlight: The Serbian Strat-slinger unleashed her eighth album this year, a star-studded affair produced by Keb' Mo' and featuring fellow blues luminaries Kenny Wayne Shepherd and Robben Ford. While the tracklisting spans a host of genres, Popovic's searing leads tie the whole package together.
The MusicRadar Best in guitars awards are brought to you in association with Ernie Ball. #colorsofrocknroll
9. Dan Patlansky
2018 highlight: One of the rockier blues players to emerge in recent years, the South African bluesman blends Morellian riffs with liquid Strat solos to great effect, with this year's Perfection Kills a fine showcase of his wah and octave fuzz-aided leads.
8. Billy Gibbons
2018 highlight: The beard. The shades. The tones. Texas's hottest gun-slinger returned with a fresh solo album, the aptly named Big Bad Blues, which shows no let-up in the ZZ Top man's lust for six-string hellfire.
Of course, he learned from the best, as we discovered when he named the 10 guitarists who blew his mind. Naturally, he'd make our list.
7. Kirk Fletcher
2018 highlight: Fletcher's profile has risen considerably this year, courtesy of some high-profile YouTube slots, not least a blues masterclass with Guitarist, all capped off by new album Hold On.
Smooth doesn't even cover Fletcher's approach – his licks sound utterly effortless and prove consistently captivating.
6. Kenny Wayne Shepherd
2018 highlight: Virginian Strat king KWS laid it on down in 2018 during an extensive tour for last year's, erm, Lay It On Down, bringing the single-coil thunder to fans around the world. Lightning-speed pentatonic runs never sounded so good.
5. Gary Clark Jr
2018 highlight: The Texas blues-rocker's star continued to rise in 2018, topping off a series of fiery live dates by joining Eric Clapton and Jimmy Vaughan onstage at Madison Square Garden. Clark's long-awaited new album is due in early 2019, and trust us, it's going to set the world alight.
4. Eric Gales
2018 highlight: We were positively blown away by Eric Gales' return last year with Middle Of The Road, which sounded anything but. This year, he spent much of his time on the road, appropriately enough, melting faces with vicious Strat licks, dripping with attitude. There isn't another blues player quite like him.
3. Mark Knopfler
2018 highlight: The sultan of lyrical guitar phrasing returned with ninth album, Down The Road Wherever, which saw him raid his arsenal of six-string to produce 14 tracks of slow-burn guitar, complete with a tasty slide moment or two.
2. Samantha Fish
2018 highlight: Tour, tour, tour was Samantha Fish's motto for 2018, riding high on the success of last year's Belle Of The West. Her rock and soul-inflected take on the blues gives her sound a contemporary edge that's only refining with age.
Winner: Joe Bonamassa
2018 highlight: Come on, who else could it be? 2018 belonged to Mr Bonamassa; new album Redemption proved an absolute tour-de-force of his talents, providing yet more evidence of his unparalleled vocabulary of licks and tones.
It's testament to the guitar hero's unending work ethic. His exhaustive tours and insatiable thirst for vintage instruments are matched only by his prolific output; as well as Redemption, this year also saw the release of his third effort with Beth Hart, Black Coffee, and live album British Blues Explosion, which found him in fine form paying tribute to heroes Eric Clapton, Jeff Beck and Jimmy Page. A worthy winner.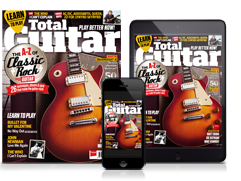 Stay up to date with the latest gear and tuition.
Subscribe and save today!