Summer NAMM 2017: Blackstar celebrates 10th Anniversary with limited-edition valve combos
SUMMER NAMM 2017: It's hard to believe it, but Blackstar is now 10 years old, and to celebrate, the Brit amp co has launched a trio of 10W combos, based on three of its most iconic lines: Artisan, Artist and Series One.
Each amp features a footswitchable clean and boost or overdrive setting, reverb, speaker-emulated output and effects loop, plus a Celestion 70/80 speaker.
Limited to just 1,000 units per model and at £499 apiece, these could prove rather desirable.
Head on through the gallery for a closer look at each model, and pay Blackstar Amps (opens in new tab) a visit for more info.
Blackstar Artisan 10 AE
PRESS RELEASE: The Artisan 10 AE is a low gain, classic crunch amp that uses an EL34 in the power amplifier for superlative, warm British crunch.
In this model, we have included a hot pre-amp Boost for authentic classic rock / indie rhythm playing and vocal Billy Gibbons inspired leads.
Blackstar Artist 10 AE
PRESS RELEASE: The Artist 10 AE deploys a 6L6 output valve to give this amp a characteristically bright clean sound and a hot lead tone.
The lead sounds are enhanced by a built-in overdrive circuit inspired by our HT-Drive pedal which will take you from dynamic crunch to singing, smooth legato.
Blackstar Series One 10 AE
PRESS RELEASE: The Series One 10 AE is driven by the mighty KT-88. Inspired by the now legendary S1-200 this product benefits from the extra headroom of the KT-88, resulting in dynamic modern cleans and tight high-gain overdrive.
In addition, the patented ISF control gives access to more distortion flexibility than any other single-ended valve amplifier on the market.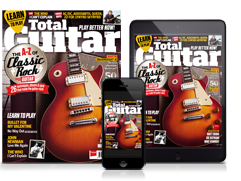 Stay up to date with the latest gear and tuition.
Subscribe and save today!