Steel Panther's Lexxi Foxxx: my top 5 tips for sexy bass playing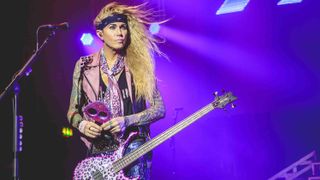 Introduction
"Keeping outta trouble? Not me!" confesses Steel Panther four-stringer Lexxi Foxxx.
"We're so excited about our new record Lower The Bar, it's been constant partying. It just came out over here in America but you guys in England are so far away, I don't know what year it is over there.
1. Make sure you look good
"I guess this first one is the most important. I only have four strings and I probably only play two of them. I play them well, but it's more about how I look. The other guys are way more musical than I am. Anyone can do my job; I'm only in this band for my looks.
"Being as old as I am, it's getting harder and harder to look good. So my recommendation in that scenario is do a lot of cocaine or exercise. You know, so you stay thin and look good."
2. Grow your hair
"If you love metal, you've gotta do this one! And then comes the hard part: you need to maintain it.
"I don't believe anyone else knows how to maintain hair like I do - I'm up-to-date on all the latest treatments and bleaches. A lot of musicians forget it's all about how you look…
3. Get Botox
"Make sure you get some work done or do everything you can to look younger. Like I said, if you're a bit over-age like us, it can get tough to appear youthful.
"I'm happy to admit I've had the most work done in this band. And to be honest, if I didn't look bitchin', I wouldn't be here talking to you. So how the hell can botox be anything but a good thing?!"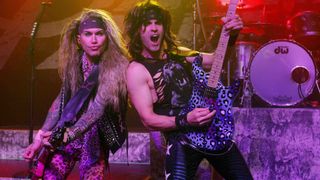 4. Practise (if you have to)
"My fourth tip would be practice. Practise the bass, I guess. You could say this tip is more orientated to all the actual musos out there. I don't have much more to say on the matter…
"I practise anything Satchel tells me to. So what I'm practising right now is the new record. It's fun to do because the songs are good. It's probably my favourite record we've put out so far… but of course I'm going to say that."
5. Make sure you give the first three tips more attention
"When I look in the mirror, I just want everything to be okay - and my face does that. It makes everything okay, just like drugs do. I guess it's catch 38 kinda thing or whatever they call it.
"When I'm playing I need my face to look fine. But after that, all I really need is a big white track on a mirror and my hair pulled back.
"I don't use my thumb for playing bass; it works better for other things. There are other ways to do the Shocker, for example - it doesn't always need to be the same fingers. If you get a crazy girl, it doesn't need to be the pinky...
"On bass, if I play with my fingers, I might put my thumb on a pickup I guess. That's another use for a thumb. Also if I have to poop, I use my thumb to pull the seat down. There you go: Lexxi's top three uses for the thumb. Bye!"