Introduction
They say British bands have to work twice as hard to get to the top, and that's exactly what Glasgow quartet Twin Atlantic have been doing for nearly a decade now - taking their blend of jangly chords and crunchy riffs as far around the world as they'll possibly go, hot on the heels of fellow Scottish rockers and longtime friends, Biffy Clyro.
This year's fourth full-length, GLA, stands as their most cohesive offering to date - with boutique fuzz providing much of the muscle behind their brand of chart-bothering, anthemic rock.
Moments after soundcheck at London's O2 Forum in Kentish Town, singer/guitarist Sam McTrusty and lead guitarist Barry McKenna guide us through the gear they're relying on to deliver the goods on their biggest headline shows yet...
Gretsch Panther Center-Block
Sam McTrusty: "This is one of the Panther prototypes, with Gretsch's stock Filter'Tron pickups. The centre-block inside is what helps handle distortion so well… now I can play a hollowbody on full fuzz and it doesn't feed back.
"Gretsch asked me if there was anything I would change about it… so I asked if I could try one without a Bigsby and with locking tuners, because I hit pretty hard when we're going for it. I also wanted a thicker inlay for when there's a strobe flashing in my face.
"I honestly feel these Gretsch guitars changed the way I play a lot. I feel like I instantly got better, I started playing things I never knew I could."
Fender Telecaster Thinline
Sam: "My other main guitar. Before Gretsch, all I played was Teles - I've got about seven of them now.
"We'll have about five different tunings in any set, so I bring one main and one spare. They've all got their own little sticker or idea behind them. Imagine is my favourite song of all time - I don't think a song with more purpose has ever been written - so that's what I chose for this."
Kemper Profiler
Sam: "Not long ago, I used to run four amps at the same time and we were starting to play live on TV - for example, we recently did Later… With Jools Holland.
"If you send four mics from four different amps that are always changing to someone in a BBC truck, they'll think, 'Fuck you - it all sounds the same!' This makes my signal a lot easier for everyone.
"My main clean sound is a 1957 Fender Champ, my main fuzz profile is a 1962 Vox AC30. There are about 100 Marshalls in there, too. We even profiled The Big Cheese pedal by Audio Kitchen, which works as an amp you can run through a cab and ended up being used for 90 per cent of our albums… some things are too fragile to take on tour!"
Sam's pedalboard
Electro-Harmonix Small Clone
Sam: "I've known about these for years, but I was never indulgent enough to fi t one on my board until now! Because I'm singing as well as thinking about crowd control, pedals are a bit of an afterthought.
"I was listening to a lot of In Utero while we were making our new album and I wanted to recreate that swirling, sickly feedback. Whenever that comes on, it's to add swampiness - on tracks like You Are The Devil, Overthinking and Valhalla. It's one of the pedals that can't be replicated, and when you mix it with fuzz you get instant Nirvana."
Scotch Bonnet Fuzz
"I am the only owner of this fuzz pedal, as it was made by one of my guitar techs called Phil Wilson on the fly - you can't buy it.
"It's basically a Big Muff , but you can really mess around more with the high mids. We've used it so much for recording, I'm almost scared to touch the switches because it's quite temperamental. It just goes on and off, that's it!"
T-Rex Octavius
"Like the Small Clone, I used this on nearly every rhythm guitar track on the new album. It was my way of dropping it down to single notes instead of chords, so I can fatten things out more with the same weight and presence.
"There's a lot of that style on there, while before it was all about power chords! I used the high octave on the chorus of Heart And Soul, with long reverbs coming from the Kemper. The tracking is so good it literally sounds like someone else is there playing a baritone, rather than being too digital."
Gibson ES-335
Barry McKenna: "We made our second album with Gil Norton - he suggested I could use a bit more girth in my tone, instead of always sticking to Strats.
"He asked if I'd ever tried a 335, and I had, but I'd never really thought about them. He said had this mate who could lend us one and I used it throughout the sessions.
"Halfway through, he said we could use it for a video shoot, but to be careful as it belonged to his mate Joey. And we asked, 'Who's Joey?' It turns out it was Joey Santiago from The Pixies! That guitar inspired me to switch and this was the second 335 I bought."
Les Paul Junior
Barry: "While recording in LA, we found the cool vintage guitar shop called Timewarp Music. I was after a Firebird and they had a nice one, but it didn't really speak to me.
"Then I noticed this hanging on the wall, and I'd never really thought about buying a guitar like it... but it just spoke to me. I have a simple test for buying new guitars - play something you've been trying to write and if the next bit comes to you, get it! A lot of the new record is about attitude and danger, this ended up being my guy for all of that!"
Yamaha SVC50 Electric Cello
Barry: "I started playing cello when I was eight, it was actually my gateway into music! I was lucky enough to go to a primary school with a good music department.
"It wasn't until later in school, when my older cousin started giving me records, that I decided pick up the guitar. I didn't really do the chord stuff , coming from cello I already had the dexterity to noodle.
"The frets made everything feel so easy, compared to cellos, which are fretless. Right now I'm using it for the song Crash Land, but there's a bunch of stuff we've done with cello on there."
Roland Juno-D keyboard
Barry: "Back in the day, I couldn't really afford to have a designated keyboard amp and DIs generally sound pants.
"So I started putting my piano through my guitar rig, like on the song Free, which I play through a warm tube amp sound with loads of reverb to make it sound lush and roomy. So now I've actually got piano patches in my Kemper, there's an old Blues Deluxe Jr that I profiled, jazzed up with some triplet delay from the Eventide… it sounds unreal."
Barry's pedalboard
Death By Audio Supersonic Fuzz Gun
Barry: "This is the most badass pedal I've ever owned. There's a switch between gated and oscillated modes - when it's gated it still sounds mental, but in oscillation… everything just kicks in.
"The moment you stop playing, you get these crazy wails and siren noises. It's quite untameable, but I quite like that. Every night we use it, things sound a bit different because it's impossible to control."
Visual Sound Jekyll And Hyde V2
"Our old guitar tech, Brian, also worked for The Strokes and one day I was talking to him about overdrive. He recommended this - which was the only pedal The Strokes used on their first album, and he had the actual pedal they recorded with, which he lent to me for a bit. The tones are insane, and you can hear it all over that debut record.
"I even got to use it live, but I had to give it back when he was next out with them. The company had changed hands and the newer models didn't have the same components, which is why I found this specific version."
DigiTech Whammy
"I'm always searching for new sounds out of boredom. Every guitar player should fuck around with their tone, you don't want the same sound all the time.
"And what I love about the Whammy is that it can do so much more than what it's famous for. It's actually my new favourite chorus pedal… I almost don't want to give that secret away! Basically, if you stick it in deep detune and leave the heel all the way up, you get this really sweet chorus."
Eventide TimeFactor & ModFactor
"It's simply a fact that Eventide make amazing pedals. The Modfactor takes care of a lot of my choruses and fl angers, tremolos, swells, they are just so many tricks to it.
"I liked it so much I got the Timefactor over the Strymon delay, it just made me want to stick with Eventide. Plus I can control everything from my Mastermind [MIDI controller]."
Boss RC-30 Loop Station
Barry: "This purely came through wanting to sound bigger. We put extra guitar parts on our first record just to fatten things up and I wanted to recreate some of that live.
"So what I'll do is play parts, loop them and then play over them… which has gone disastrously wrong at times. But that's part of live music, you know? No one expects everything to be perfect, in fact I quite like the weird sounds you get when it goes weird."
Twin Atlantic's GLA is out now on Red Bull Records.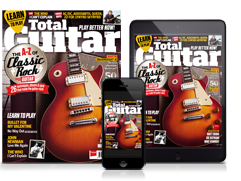 Stay up to date with the latest gear and tuition.
Subscribe and save today!