Soulfly's riffer-in-chief Max Cavalera and lead guitarist Marc Rizzo are pragmatists. They need gain, and lots of it.
Their sonic deterrent of choice is the Peavey 6505+ amplifier - a nuclear option through which they run their signature electrics. Cavalera's ESP RPR is a BC Rich Warlock-cum-Explorer, finished in camo.
Rizzo's Washburn is a seven-string single-cut with active EMG pickups. Pedals must be easily replaceable and the DigiTech Drop allows them to change tunings onstage - no guitars in alternative tunings here!
Washburn Parallaxe PXL-MR27B-D
Marc Rizzo: "I've always loved Washburn guitars. I was a big Nuno Bettencourt fan and he's got those N4 signature guitars.
"He is a big influence on me; that's what I go for, to try and play melodic and do some ripping leads when I have the opportunity. I met a couple of guys who were at Washburn and they offered to design me a signature model.
"I basically told them to make something similar to a Les Paul, but a seven string with EMG pickups, and this is it. This is my signature model and I love it. It's a super-quality guitar and it plays great. I think the body is a little bit thinner than a Les Paul. The neck and fretboard feels more Les Paul. It's a neck-through body. But, yeah, it's a little bit lighter in weight.
"I am not 100 per cent sure of [the wood]. I'm not that picky about tonewoods. The electronics are more important. If I've got EMG pickups, a comfortable guitar and a Peavey 6505+ [amplifier], I'm pretty happy. These are EMG 707s. There's a toggle switch like a Les Paul, a three-way and, that's it, man. 24 frets!
"About 10 years ago I started playing seven-strings. I was playing a lot more lower tunings, but I was also doing a lot of solos, so it just made sense to start using sevenstrings. When you try to tune a six-string down, your intonation just goes all over the place. I enjoy playing a seven-string and having the guitar in standard tuning and when I want to go lower I've got my fi fth string (lower B). It keeps the feel right. When I am doing solos I like to feel my guitar in standard tuning."
Peavey 6505+
Marc: "I'm not interested in using anything else. It's the best metal tone out there. I just keep it on the lead channel. It's loud. I don't really go any louder than four, or five.
"I use a straight cab. I like the straight cabinets more than the slanted cabs just because it's a little warmer to my ear. I don't even use the top cabinet. I don't like hearing it at head height. I like hearing it from down below - it's a little warmer. You can hear it resonate off the ground.
"When I go into solos my tech will crank my gain all the way up to 10 and when I go back to rhythm he'll back me down to about seven. So usually my tech will hit my delay pedal, turn my gain up for solos and when I finish the solo he'll turn the delay off and back my gain back down to six, seven. These Peavey heads are incredible. I wouldn't change a thing. I don't think anyone will ever top the Peavey. They're workhorses. They never go on us . . . Knock on wood. We go all over the world with these and we never have problems... never blow tubes."
Marc's board
DigiTech Drop
Marc: "This pedal is actually very important for Soulfly. We use a lot of different tunings. We use A, B, D and standard E. There have been different versions of this that other companies have made but they never work. They always glitched. This pedal is incredible.
"I've even recorded with it on the new Soulfly record where, instead of changing guitars, we dropped the tuning with that pedal. It sounded authentic. It sounded like a guitar in tune. They finally got it. After 15 years of experimenting, DigiTech got it right."
Dunlop Cry Baby
"I don't really rely on a lot of effects. I like to make weird sounds with my guitar doing weird things. As far as effects, as you can see I've got a Cry Baby wah in front of me. It's just a stock, regular one. It's my favourite."
Rocktron Hush The Pedal
"This [noise reducer] is another pedal I use a lot with Soulfly. Right now we are using a Rocktron Hush. We don't normally need to but we use it once in a while when we are going on a noisy stage; it depends, I guess with all the lights, we must be getting noise, so we cranked it up a bit."
Boss DD-3 Digital Delay
"For my solos I like weird, non-rhythm things, my tech just turns it on and off at the right spot. I like to concentrate on my technique and what I am doing with my hands more than effects or gear. All the gear I use, you could go anywhere in the world and you can find a Cry Baby wah and Boss effects pedals."
Yamaha AEX500NS
Marc: "It has nylon strings, the piezo pickup, and all we do when we go into the acoustic jam like you'll see tonight, my tech will hit me on standby, flip my channel to clean, turn the delay pedal on, and then I'll just plug right into that and go.
"This guitar has been with me since my old band, going back to like 2001, when I was in El Niño. I'm waiting for Washburn to build me one eventually, but for now I'm just using this. I hadn't used this guitar in probably 15 years, but we're using it on this tour and it sounds good."
ESP Max Cavalera RPR Signature
Max Cavalera: "It has a little bit of a Warlock design, and this is kind of like an Explorer... My two favourite guitars.
"It has a neck-through body, rosewood fretboard. The four strings started as a joke back in Brazil. A string broke and I didn't want to replace it, the other one broke and my roadie was like, 'We could go to the store and buy more strings or we can save the money and get drunk.' And I was like, 'Yeah, let's get wasted.'
"Through the years I realised it actually helps me when I don't have the six strings because I've got to be creative with only four. And I am a more percussive person. All my rhythms are percussive. My vocal ideas are percussive. A lot of the riffs come from the percussion, when I do them with the drum machine. It's funny because there have been some kids who have bought the guitar with four strings and their dad phoned ESP, 'You sold my son a broken guitar!'
"The pickup is from a company called Lace; they make my own pickup called Downstroyers, named after one of my songs from the early Soulfly days - and they've got a gas mask on them. It's a cool company. They do guys like Mastodon and High On Fire."
PEAVEY 6505+
Max: "Peavey is where it's at. It's the best sound you can get, the best distortion. Now they come with the little one you can put in your backpack, the Piranhas.
"I love Peavey. I've been with them forever. They are planning to do something really cool with me next year, so we're hoping to get a big campaign and I get to be involved in some kind of special amplifier. I just want to make it more brutal! More distortion, man! Have an auto-wah in the Peavey, in a button you press - and boom!
"We use them all the time in the studio and we use them on tour, and they're just the best. The sound that you hear on the record is from the Peavey. You plug them in and automatically you get that nice warm tone. You don't have to do anything special to it. We use a little overdrive just to bump it up a little bit. Sometimes, there's not enough distortion for me. I'm a distortion freak, so I look at my roadie and I'm like, 'Turn the overdrive on!'"
Max's board
Boss PH-2 Super Phaser
Max: "We use the clean tone on a song called Mars, and I use [this]. We'll have the compressor with the clean. I don't really get involved much. I set it at the beginning of the tour. 'Don't touch it. Let's not fuck about!' Sometimes, in the middle of a show I change it when I get bored."
Boss AW-2 Auto Wah
"That is the beast! They don't make them anymore. You step on it and it's the loudest thing in the world. Our sound man used to hate that pedal. It was the craziest pedal in the world. Most people hate it. I love it because it's as obnoxious as fuck. You step on it and it's louder than everything. I overcome the whole band!
"At the beginning of the song No Hope, No Fear there's a riff that's just me, I'll use that. Sometimes, just out of the blue. If you hit it with the drum part it's killer. It's just, 'Raaaargh!'"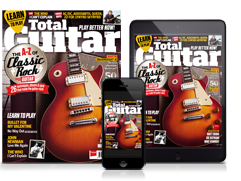 Stay up to date with the latest gear and tuition.
Subscribe and save today!