Introduction
With the Tedeschi Trucks Band, there is a lot of music onstage.
Derek Trucks' tone has got to complement not only his wife Susan Tedeschi's guitar and vocals, but keyboards, flute, trombone, trumpet, saxophone, bass, two drummers, and three harmony vocalists. His playing and gear choices are truly judicious, though.
Don't Miss
Trucks has a signature Gibson SG but, live, he typically prefers his Gibson Custom Dickey Betts SG aged by Tom Murphy. It was a gift from Duane Allman's daughter, lending it a sentimental value and a sense of familial connection that makes it impossible for Trucks to leave behind.
With his SG and a glass Dunlop slide, he goes straight into his Alessandro custom head and cabs and a Fender Super. Truck's fingerpicking slide style naturally attenuates some of his amp's gnarly treble, but he'll constantly work his volume and tone pots in search of the sweet spots. It's all about feel. That's where the magic is...
Gibson Custom Dickey Betts SG Artist Series 1
"It was like brother to brother, the Duane/Dickey [artist proof] guitar. I think this is number four.
"Duane Allman's daughter, Galadrielle, gave this to me when they copied Duane's SG. They relic'd the heck out of it. It's an extremely light SG. All of them are. The lightness is pretty great.
"I've noticed more and more, if you're going between two guitars, even before you play them, like if you just pick up four or five Les Pauls, usually the light one is gonna sound the best. So if we are ever looking for a guitar, that's one of the things we check out.
"These are all artificial routing holes but I'm sure we've added to it in the last decade. We've been messing with the pickups quite a bit. And maybe the volume pots were changed too. We had a pair of PAFs in there for a while, and a friend of ours, Thomas ['Toneshaper'] Neilson, in Norway wound these pickups and they're kind of based on a guitar I played - 'Spot', this '59 Les Paul [once owned by Joe Bonamassa]. And they are unwaxed, unpotted pickups.
"We've just been messing with this for maybe three shows on these pickups but I like the way they speak. They are almost microphonic, on purpose. We are still experimenting with it, so we might try a slightly different version but they are great; they speak really coolly. Thomas is great. He's a music lover, and he's a slide player. He's a character.
"These are Gibson's version of Grover tuners. I don't use my [TC Electronics] tuner too much. I'm constantly tuning on the fly, constantly tweaking it. I bend strings pretty hard, picking with my hands. You bash your hands apart but... I rarely use a pick. There's a song or two where I'll maybe pick it up but I would go a good three or four nights without one.
"You're always stretching things, but it holds the tuning pretty good. I'm in open E. With open E the tension is pretty stiff and I'm playing hard. We are adjusting the neck weekly. There's a lot of different climates, a lot of different bus rides. It holds it pretty well but you've got to maintain it, that's for sure. They're certainly more finicky than a Strat. You have to be delicate with the tuning.
"I guess Duane Allman's daughter gave me this one so that's pretty great, pretty special. It's been our main guitar since I got it. I did those last three or four years with the Allman Brothers with that guitar, all those final shows with them, so it's kinda been the only guitar I've played since I got it.
"Gibson's been good to us. I've got a signature model that I've played on and off, and for a long time that was the backup I'd use. I use it in the studio. But there is something about this guitar that I can't put down yet. It feels better that this is a gift. I'm with that. And that guitar has a little history to it.
"This week, the original Duane SG is up for auction. It's pretty wild. I asked around. I have one really nice Gold Top that's one serial number away from Duane's Gold Top, and it's a '57. I looked into it. 'What if I sell that, my car, and another few things? How close will that get me?' It's fine. I got kids, man. I've got college to think about! [Laughs] I just hope whoever gets it, plays it."
Gibson Custom Dickey Betts SG Artist Series 2
"We popped that truss-rod cover on there. I mean, it's from the same run but it's a different guitar from the same run.
"They even relic'd it the same, with the wear on the neck, and it's great, but it's just - it's a little bit of a different finish and it's a heavier guitar. I don't play it as much, that's for sure. I mean, if I break a string I'll play it for however long it takes Bobby to change a string! [Laughs]
"It's both feel and tone; they're different instruments. It's funny, as similar as they are they feel entirely different. We wanted a great backup so we begged Gibson to make another one, and they finally came around! You know, with those guitars, they do a very strict run of what they do and after that, that's that. So we had to ask a few times.
"I'm always messing with the volume and tone. I mean, if it sounds good the tone will stay put unless you're going for an effect, like rolling all of it off and just getting that, 'the woman tone' or whatever. But I'm messing with the volume pot quite a bit, and that's where you are getting a lot of the swells and a lot of the dynamics. The top-end just never seems to go fully away, which is nice.
"It's funny, so many years into playing an SG I still have to remind myself, 'Wait. It's better at seven-and-a-half or eight than it is diming it.' You just think it's time to go, floor it! [Laughs] Flooring it is eight. Same with the amp.
"Some nights the band's getting loud and you keep turning it up and it's like, 'This isn't helping.' It's better to dial it back. Once you lose that definition and point you are just adding to the mud. And you are not getting anything in return! Less is more sometimes when you are dealing with volume."
Silvertone Tuxedo 1964
"That's a fun guitar - I'll use it in the studio occasionally. I use it on that tune Down In The Flood. We capo it at the fifth fret.
"We got that from Ed Seelig years ago. I couldn't tell you what model that is. X87242 is the serial number. I wanna say it's mid-60s. It's a great-sounding guitar. I mean it's a slide machine. It's kind of short scale but it's got a great thing going on. I got it maybe 15 years ago. It's a huge neck.
"Playing SGs, I usually like the thin and flat necks but there is something about this. This thing just makes you want to play porch music. [Laughs] It feels like a good blues-folk guitar. It is [quite sparkly] but it's got this real woody thing to it. I love the sound of it, especially quiet. When you crank it up it is a pretty gnarly-sounding guitar. It barks.
"I usually only use it on one or two tunes. I use it every other night or so but it sounds so good that we carry it for that one song! It's stock. It says Gibson on the tuners so maybe it was changed before we got it. It's just simple. We have written songs on it.
"When we did that tune Down In The Flood, that was the guitar that inspired it. But it's simple. There's a volume and a tone and it does what it does! It's probably plywood. [Laughs] It's not one of the finer instruments but I love it; it's got a personality. I think it was about $500.
"This one's action is naturally high. We never bothered to fix it. This is one that if I was playing anything other than slide on it we'd work it out and get the action lower. I don't usually have guitars with action this high. I keep the action as low as I can. But this is a banger!"
Floor show's cancelled, folks!
Why Derek Trucks leaves the pedalboard at home
"There are a few effects in the studio. There's some nights if it's not feeling right I'll unplug the tuner and make sure the cable is just going right into the amp. Because I want to know that if that isn't right then, okay, it's a tube or something else.
"You are always trying to find that connection between your hands, what you are hearing, and the amp, and for me, any time I plug into anything I hear it. Even through a tuner. It knocks it down. That's how it feels. And sometimes, maybe I'm imagining it, but I always hear it."
Derek's amps
Fender Super Reverb 65
"I try to keep my sound where it needs to be. For the first 20, 25 years that I played, all I used was Supers. That was it. That was my go-to.
"With the Allman Brothers, I could never use Supers just 'cos it wasn't enough. I tried. When I joined, I tried two Supers, and three, and it didn't matter! There was too much sound onstage with that band. I used a Fender Super 6 for a while. I used Marshalls for a while. I used a Randall amp that I got tweaked to make it sound like an old Marshall. I used all kinds of shit. The Paul Reed Smith custom was probably the closest we got to the sound I was looking for."
Alessandro Custom Amps And Cabs
"George Alessandro started making amps for me with this band and towards the end of the Allman Brothers. This is loosely based on a Super Reverb or a Dumble. It's kind of hard to say what wattage it is because we are running it down off two power tubes but it's between 40 and 60-watts.
"Depending on the night, depending on how the power is hitting it in the room, there's a switch on the back that adjusts the bias. There are a lot of things you can tweak on this amp. The 'abNormal' channel is something that I'll use maybe once or twice a night. Maybe not. It depends on the room. But it's just a little more teeth, a little more hair, a little more volume. If we're blasting at the end of a set I might click that thing in but for the most part it's just this one channel the whole night long.
"There's a good vibrato on there, too, and there's a song or two that I might click that thing on for. But it's a pretty simple setup. An old Fender pedal switches the vibrato.
"Alessandro has got an amazing shop in New Jersey. He has the most amazing vintage Marshall collection I have ever seen. Old stock, new old stock parts. He's a mad scientist. He's great. He builds a lot of great stuff there. He was working on a lot of my Super Reverbs there towards the end, keeping them singing.
Don't Miss
"When I was doing that Clapton tour, we started working with him. After us always telling him what we were trying to get out of it. He said, 'I could just make you what you are trying to get'. And that's how this amp came about, and it's been great. I mean, with any amp and any rig you are always looking for something. A Marshall would be too saturated for me. With the 12-inch speakers, y'know, I don't want any unnecessary low-end. I kind of like it nice and tight.
"Even with the Allmans, when I was trying to use Marshalls, I could never find what I was looking for out of it. There were certain parts of it that I would love, but maybe that's from not using a pick. I think these seem to work better playing with your hands. It's about the same as a Super Reverb.
"He built me a little tiny amp that I use at home. I use Deluxe Reverbs, all kinds of stuff at home. This version of the Alessandro is certainly not a beginner's amp! [Laughs] Like if you're playing some sorry shit it's gonna hurt! And it does that to me sometimes, too. But when it's humming it really is something. You can go full Albert Collins on it."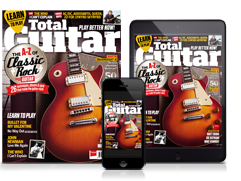 Stay up to date with the latest gear and tuition.
Subscribe and save today!