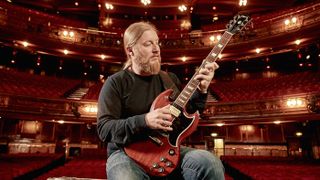 Introduction
With the Tedeschi Trucks Band, there is a lot of music onstage.
Derek Trucks' tone has got to complement not only his wife Susan Tedeschi's guitar and vocals, but keyboards, flute, trombone, trumpet, saxophone, bass, two drummers, and three harmony vocalists. His playing and gear choices are truly judicious, though.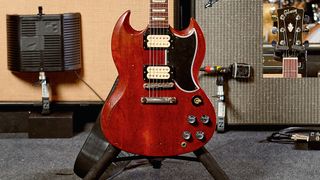 Gibson Custom Dickey Betts SG Artist Series 1
"It was like brother to brother, the Duane/Dickey [artist proof] guitar. I think this is number four.
"Duane Allman's daughter, Galadrielle, gave this to me when they copied Duane's SG. They relic'd the heck out of it. It's an extremely light SG. All of them are. The lightness is pretty great.
"I've noticed more and more, if you're going between two guitars, even before you play them, like if you just pick up four or five Les Pauls, usually the light one is gonna sound the best. So if we are ever looking for a guitar, that's one of the things we check out.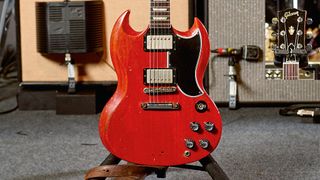 Gibson Custom Dickey Betts SG Artist Series 2
"We popped that truss-rod cover on there. I mean, it's from the same run but it's a different guitar from the same run.
"They even relic'd it the same, with the wear on the neck, and it's great, but it's just - it's a little bit of a different finish and it's a heavier guitar. I don't play it as much, that's for sure. I mean, if I break a string I'll play it for however long it takes Bobby to change a string! [Laughs]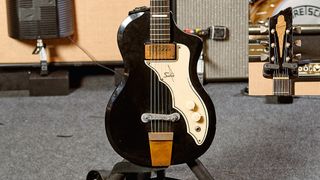 Silvertone Tuxedo 1964
"That's a fun guitar - I'll use it in the studio occasionally. I use it on that tune Down In The Flood. We capo it at the fifth fret.
"We got that from Ed Seelig years ago. I couldn't tell you what model that is. X87242 is the serial number. I wanna say it's mid-60s. It's a great-sounding guitar. I mean it's a slide machine. It's kind of short scale but it's got a great thing going on. I got it maybe 15 years ago. It's a huge neck.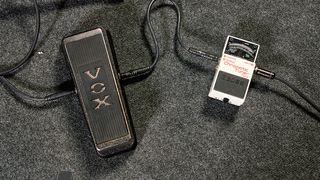 Floor show's cancelled, folks!
Why Derek Trucks leaves the pedalboard at home
"There are a few effects in the studio. There's some nights if it's not feeling right I'll unplug the tuner and make sure the cable is just going right into the amp. Because I want to know that if that isn't right then, okay, it's a tube or something else.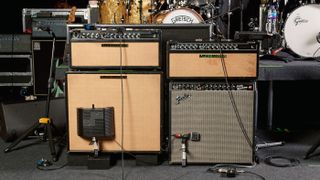 Derek's amps
Fender Super Reverb 65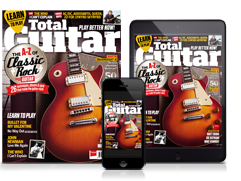 Stay up to date with the latest gear and tuition.
Subscribe and save today!