Derek Trucks: these are the 10 guitarists who blew my mind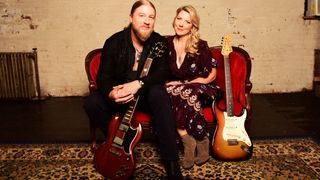 You don't have to play a million notes a second to win a place in Derek Trucks' heart, just so long as the notes mean something to you.
Speaking ahead of the release of The Tedeschi Trucks Band's joyous new album, Signs, he is running through a list of his favourite players and we're trying to work out a throughline. What do all these players have in common?
And it's simple, really. It's elemental: the players he cites here might have different styles, some busier, others more economical, but all keep the idea of what they're trying to say musically at the forefront of their mind. That, for Trucks, is everything.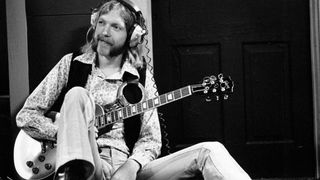 1. Duane Allman
"Duane was the first, the first time I heard music where it felt really important. It felt like there was something behind the curtain and you couldn't quite figure out what it was.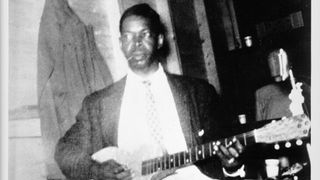 2. Elmore James
"Elmore was in a lot of ways the first electric slide player. There's just something about the sound of his guitar and voice together that's just perfect.
"You can remember almost every Elmore James solo by heart because he was playing songs. Nothing's wasted. Nothing's throwaway. It doesn't feel like somebody's practising in front of you, or running scales; these are melodies that are pouring out, and those are the players that I listen to. They move me.
"But Elmore, he's one of the building blocks when it comes to slide guitar. That's why people started bending the strings. BB King talked about his vibrato trying to emulate his cousin Booker 'Bukka' White, who was a slide player - so the best vibrato of all time was trying to emulate a slide guitarist! [Laughs]
"I think when you were bending notes in the beginning it was trying to emulate the human voice or the slide."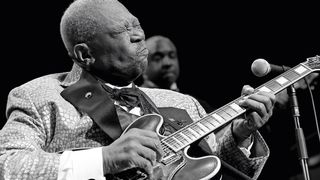 3. BB King
"My dad, when he would talk about seeing BB King, he got the same look in his eye as when he talked about seeing Duane at the Fillmore. And he would always talk about it.
"People would get up and play with BB and play a million notes and BB would just hang one note out there and just wipe the stage clear! I've seen him do it. He was the greatest ambassador for that music that you could possibly find.
"You hear the old adage, 'You don't want to meet your heroes,' and it's usually true, but with BB King, you do want to meet your hero because you felt better about life after meeting with BB King. He was a total sweetheart and a total badass.
"The way you feel when you hear him is the way you feel when you hang out with him. He was a special one."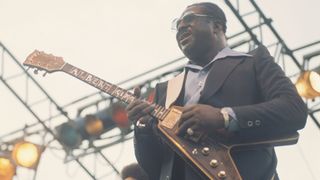 4. Albert King
"Another King... And Albert is one of those who could do so much with so little. I mean he could play the same three, four, five notes and it was just compelling and bulletproof.
"If you've got like an eight-bar solo, you have to bring Albert in every time. When he was on, there was nothing quite like it, and he's another one where you can hear his influence everywhere. You can hear his influence on people who don't know they are influenced by him.
"Guitar players who don't know the lineage are playing Albert King's shit. They think they got it from Stevie Ray Vaughan, or from Hendrix or Eric. But no; that's Albert King. One of those Rolling Stone Greatest Guitar Player lists came out and there was no Albert King. That's impossible! There are 10 people on there who wouldn't exist if it wasn't for Albert."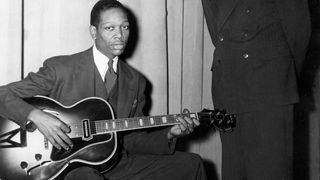 5. Charlie Christian
"Me and Susan named our son after Charlie Christian. [Laughs] He's gotta be on the list! He's pretty unsung in a lot of ways. He died so young. And there's not a huge catalogue of his stuff.
"I remember the first time hearing a recording from Minton's Playhouse; it was Charlie Christian and a young Dizzy Gillespie, and he was just the best musician in the room. He takes a solo on a tune called Swing To Bop and it just sounds so fierce and so ahead of its time. He's playing hard and he's just getting it.
"I didn't think anyone played like that for decades. It just seemed like he was so far ahead of everyone else. No-one was soloing like that. No-one was soloing with the freedom that he was, and just pushing the boundaries."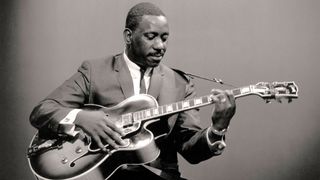 6. Wes Montgomery
"There are a few records that I listen to all the time, and there's one that's recorded in a club in San Francisco, and Full House is another amazing Wes record. But when he was playing those early records - the ones where he is playing with the quintet, Jimmy Cobb [drums], Johnny Griffin playing tenor - they are just blazing.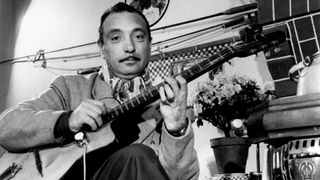 7. Django Reinhardt
"We almost named our son Django! [Laughs] Django or Charlie. He was just so powerful, and he was another one whose right hand was just devastating, the rhythmic shit he would do, and just the confidence that he did it with.
"There is something about him being a Gypsy musician and the way you could just hear it in his playing. Every inch gained was hard fought for with Django. And he's one of those that you've got to go for sometime."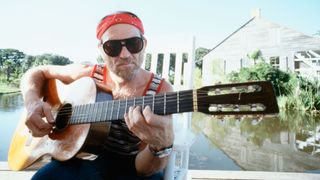 8. Willie Nelson
"We've been playing with Willie a lot lately, and I think the second show we did with him he did a Django tune called Nuages, and it was so beautiful, so compelling. It was the best guitar solo I've heard in years.
"It was just the tone he got, the way he approached it. He's playing that nylon-string Martin. He's playing through an old Baldwin amp, and the sound that he gets, no-one else on Earth sounds like that. I don't think anyone alive has that much sauce on their playing! You can't learn it. You can't practise it. You gotta live it.
"We were playing a few nights ago and I was standing next to his amp, and every time he would play a note it was everything I could do to not just start laughing with joy."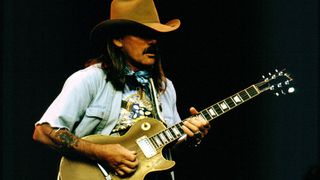 9. Dickey Betts
"I played in a band with him for a while and there would be some nights where he just didn't have it. And then the next night he would play the most beautiful shit I have ever heard in my life.
"I think the single greatest guitar solo I have ever witnessed was Dickey playing Blue Sky. Y'know, I've been on stages with a lot of great players, and I think his solo was only time when someone finished when I thought, 'What the fuck am I supposed to do now?!' What do you possibly do after that? He just locked it in so hard and it was so profound and powerful, and beautiful, dangerous. It was a beautiful moment.
"And back to melodies again, he wrote some of the most beautiful instrumentals in this genre. Things like Jessica, and the guitar stuff on Blue Sky, those are quintessential guitar lines."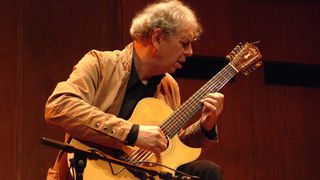 10. Ralph Towner
"There's a record called Ana, and the first track is called The Reluctant Bride, and it is just so gorgeous, just his composition, the way he approaches it. It sounds like three guitar players but in just the most beautiful sense.