Rig tour: Deep Purple's Steve Morse
Whether playing in Dixie Dregs, Flying Colours or here with the legendary Deep Purple, Steve Morse has proved to be one of the most unique guitar voices in rock.
He's also used that creative mind to collaborate with Ernie Ball and Engl on some new approaches to versatility with his signature guitar line and amp.
As Deep Purple headed out on an arena tour in support of latest album InFinite, Steve showed us around his rig and the ideas behind it with a special preview of a new prototype model too.
Ernie Ball Music Man Steve Morse Signature
"This is my number one – with serial number one; Sterling [Ball] gave me serial number 2 at the NAMM show last year.
"I'll be using this for three or four of the songs tonight. It's got a new neck with stainless steel frets this time. The other neck had 10 refrets and was just worn down too much, because each time they had to shave it when they pulled the frets off and level it. It was just too low.
"The idea was based on my Telecaster with four pickups. It's a better version of that; more in tune, better harmonics and, more importantly, it can be the closest thing to mass produced. They're handmade but they're made in a factory so I can get one off an assembly line and play it in five minutes.
"When I was a kid I learned that electric guitars are pieces of wood screwed together... the pickups were kind of the magical part. I had to understand electricity to know more about them, but once you do there are lots of things you can customise. Let's dive in and see what we can do to make it sound different.
"I wanted a clean sound, something I could fingerpick, something that sounded a little country and southern rock, classic humbucking and maybe some classic single-coil. I wanted all these sounds available to me and there was no guitar back then that would do it.
"A big part of these guitars that makes the sound is the spacing between the pickups. The neck pickup has to be where it is. That's why my guitars don't have 24 frets, if I did the neck pickup would be inside a bit and it would sound so much more typical and have that generic high-end neck pickup sound.
"I like the warmth that it has here and when the two pickups are blended together there's no phase distortion. They sound very clear it's just the perfect spacing, in my opinion.
"I also keep the single-coils away from the strings and one of the reasons is if I'm playing through a tube amp with distortion, I can go to the single-coil pickup, turn the guitar down to about two and now I have a fraction of the gain but it's very clear because the single coils have more harmonics."
Ernie Ball Music Man Steve Morse Y2D
"There are more possibilities on these guitars because of the pickup switching system. Not every possibility is represented, just the ones that I would use.
"However, during the course of playing live shows I discovered there are five sounds I constantly use. Those are my go-to sounds and they're combinations. With a regular five-way switch I couldn't reach them.
"We used a multi-pull switch, so you could change the wiring to whatever you want in the positions. It was Sterling Ball's suggestion: 'Can you make it simpler with the switching system?' Dudley Gimpel, the guitar luthier at Music Man suggested a multi-pull switch [using direct wiring] for this.
"This is the perfect battle conditions guitar for a rock player who needs different sounds.
"We have a couple of different tunings – we'll shift to a drop tunings for a couple of songs so then there's a whammy-bar version in drop tunings, as well as a straight one. Then there's a regular tuning whammy-bar guitar."
Ernie Ball Steve Morse 30th Anniversary Prototype
"This is the most simplified version.
"For the first time ever it's got an active circuit. I've been resisting this for a long time, but I know John Petrucci and Steve Lukather's guitars have these and they always sound great.
"So I agreed to try it and it gives me a different sound, a more modern sound. And I agree I'm not the most modern guy. I use it during the show and there's nothing else that will get the sound. It's two humbuckers, and Dudley at Music Man made these. Again with the multiple switch it's possible to do anything [with coil split and combinations]. The transparent [plexi] plates were originally a plastic like my other models but when I saw the finish I thought it was criminal to cover it up.
"We always keep the scale and length the same and it will fit into a student-size gig bag, I hold it under my arm and it will fit right on board in the overhead [luggage]. It's not a huge guitar but it's got everything you need. In fact, it's longer scale than a Firebird."
TC Electronic Hall Of Fame Reverb
"I've used these kind of pedals constantly, and I always have since the [Dixie] Dregs days when I had an Echoplex through a separate amp. There are two effects loops on the Engl.
"One has the reverb and the TC reverb allows me to make my own setting and program it into their database. You can then retrieve it online as a Toneprint, transferring it via your pickup with your phone.
There's lots of detail, it's not a spring reverb but something more like a studio reverb. The TC pedals are also great because on the back there's a dip switch where you can select what they call dry kill, it means you only get 100 percent effect. And, you know, I really love that because then you don't need much of it to hear the effect.
"So I'm not blending it with the dry signal, I'm just adding it to the dry signal through a second amp. So I have my wet amp that's just sitting there waiting to do something most of the night and when I press on a pedal, and that's when it's used."
TC Electronic Flashback Delays
"One is for my long delay. Again, it's a Toneprint they let me make. It's got some modulation in it and a nice fall-off of the frequency on the repeats so it doesn't stay clinically digitally exactly the same as it repeats. It's going through the separate amp so it never enters the dry tone. The dry tone is the guitar into my main Steve Morse signature amp. That never changes.
"I have another one set on a shorter delay with the same Toneprint. It gives me a kind of chorus effect. Also if you're playing loud it's good to bring out parts if you're doing a rhythm. You can make a part stick out between the vocal phrases. It's something I do a lot; dancing around other people's featured parts. If Don's playing a solo he leaves a little hole for me to play. Fill in the holes and make more syncopation, rather than just chugging along, because when you chug along and someone else is doing something, the soundman is liable to turn you down. It doesn't sound so much like a band."
TC Electronic Quintessence Harmony
"This pedal is a luxury I have with Deep Purple. This one is an octave above that I use for The Surprising to simulate some of the 12-string overdub I did in there.
"Doing an octave up is a risky proposition so a little goes a long way! But I use octave down for a few things as well."
Ernie Ball volume pedals
"When I add delay I put it through via the wet signal only."
Keeley Compressor
"This is great for rhythm stuff, compacting it, but it raises the noise floor without any gain at all so I have to be very careful with it. But it's truly excellent for the clean stuff."
Engl Steve Morse Signature 100
"Channels one and two you can set everything on six, plug anything into it and if it doesn't sound great, your guitar lead is broken!
"Channel one is clean. My medium distortion is everything on six on channel number two. It's very versatile for rock 'n' roll – I can play any Deep Purple song with this.
"If you're taking a solo and you don't want to turn up the guitar too much, you can bring out more midrange for the solo. Maybe that doesn't work so great for the rhythm but this amp has a separate channel just for the midrange stuff. And that's channel three. We got the most out of it that we could without using active EQ .
"The idea is to use the tube technology, the old-fashioned, class A approach, and bring the most out of it. This is very natural, it's much more gentle than the midrange boost of a Vox but it's also it's very convincing because you can suddenly shift the sound.
"I concentrate on what is left after the bass drum is playing, and the cymbals and snare drum are hitting, and the Leslie is rotating. All the frequencies seem to be the low and the high end. What you're left with is the guitar in the midrange. For me, the whole thing lives in the mid range.
"That's why what can seem like not too much of a big change in the midrange, can actually make a really big difference out front. I guess my third channel is the closest thing I have to Ritchie Blackmore's tone. It's got a silky sort of distortion more than fizz.
"The fourth [sound that I use] is the same thing but with the noise gate and higher gain switch selected. It's more for soloing or lines."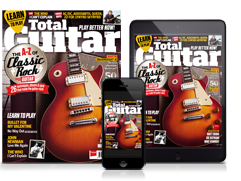 Stay up to date with the latest gear and tuition.
Subscribe and save today!