Review round-up: ES-335-style electric guitars
In 1958, Gibson debuted the ES-335, a semi-hollow electric guitar that soon became known as the Dot for its minimalist pearloid inlay.
It was the first thinline archtop to hit the mass market, a jazz box on a diet, and players couldn't get enough. Chuck Berry, BB King, Clapton... The list is long and distinguished. So it's little wonder that other manufacturers would take the ball and run with it.
These four semi-hollow electrics are no doubt inspired by, or at least share some of the character of the ES-335. Just don't expect an out-and-out Dot clone. Of course, the Epiphone Dot Deluxe has the pedigree, the Mickey Mouse ears, orange Gibson sticker in the f-hole, and can use the name. And, okay, the meticulously appointed Vintage VSA500 is maybe just close enough for comfort.
But still: Gretsch is doing something different with the G2622 Streamliner, riffing on its own storied history and taking it forward with an affordable yet authentic instrument; and in Ibanez's stately Artcore AS83 Expressionist you've got a semi-hollow electric that wishes we were still in the 1950s with its effortless jazz cool. After playing these four, you might just think you are already.
Epiphone Dot Deluxe
What's the difference between the Dot Deluxe and regular Dot?
Not a whole lot. The Dot Deluxe has a flame maple veneer body, as opposed to maple laminate, which adds a little bit of visual hot sauce to the ticket, but the electronics, scale, feel and tone are pretty much identical. Expect to pay about £40 more for the Deluxe, and bear in mind it is produced in limited numbers.
What are the pickups like?
There is an Epiphone Alnico Classic humbucker in the neck and an Alnico Classic Humbucker Plus in the bridge. Both are more vintage voiced than their hotter ceramic counterparts but the Alnico-V magnet in the Classic and Classic Plus packs a little more output than the PAF-style vintage pickups you might expect without overpowering the instrument.
Is there a lot of feedback?
That reputation was gained from early semi-acoustic instruments that were fully hollow-bodied. The ES-335's centre block of wood made it semi-hollow and tamed the feedback. At really high volumes, with gain maxed out, ES-335-style guitars might feed back, but it's not an issue here.
At a glance
Key features: Laminated maple body & top w/flame maple veneer, mahogany neck (set), 24.75" scale, 22 medium jumbo frets, pau ferro fingerboard, 1x Epiphone Alnico Classic Humbucker (neck), 1x Epiphone Alnico Classic Plus (bridge), 2x volume control, 2x tone, Grover Rotomatic machineheads, three-way pickup selector, LockTone Tune-O-Matic bridge & stopbar
Finish: Aquamarine (as reviewed), Blueburst
Ibanez AS83 Artcore Expressionist
This looks fancy...
We love the Steel Blue finish, the gold hardware and the classic custom-shop vibe of the acrylic block inlay on an ebony fretboard. But take a look at that bridge and tailpiece. The Quik Change III tailpiece is so tidy; it's an Ibanez design, manufactured by Gotoh, and it makes string changes a cinch. Bonus points for the tortoiseshell pickguard.
What is the neck like?
Fatter than Ibanez's more high-profile shred guitars, measuring 21mm at the first fret and 24mm at the ninth. It's by no means clubby, but it does feel a little more substantial. It's also made from nyatoh. It's not as luxurious as mahogany for a hardwood but can be worked easily for building guitar necks.
Those tone and volume pots look old-school.
They do. They're called Sure Grip III control knobs and are clear plastic with grooves so you don't slip when adjusting them. No, that's never happened to us, but it's a nice thought, and besides, these feel very much old-school and consistent with a guitar that feels as though it was born too late.
At a glance
Key features: maple top, back and sides, nyatoh and maple neck (set), 24.7" scale, 22 medium frets, ebony fingerboard, 2x Super 58 Humbuckers, 2x volume control, 2x tone, three-way pickup selector, ART-1 w/ Quik Change III tailpiece
Finish: Steel Blue
Gretsch G2622 Streamliner
This is so cheap for a Gretsch. What's the catch?
There is no catch, folks. Chalk it up as an economic miracle if you will, but this whole Streamliner series from Gretsch is designed to deliver genuine Gretsch feel and tone at low prices. And this is the real deal.
What is this centre block I've been reading about?
The G2622's body is built of laminated maple on the back and top, but running through the centre of the guitar, where the pickups are seated, lies a chambered block of spruce. This doesn't add too much weight to the guitar but it does help eliminate the feedback that, as we mentioned before with the Epiphone Dot Deluxe, can plague semi-hollow guitars at high volume and high gain.
Do I want to be playing this at high gain?
Well Gretsch entertains that option with its new Broad'Tron BT-2S humbuckers, which were introduced for the Streamliner series this year. They are a little thicker, with a bit more bass and less of that tight snap we'd expect from a Gretsch pickup. The G2622's voice is more ES-335 than Brian Setzer.
At a glance
Key features: laminated maple body with spruce centre block, nato thin-U neck (set), 24.75" scale, 22 medium- jumbo frets, laurel fingerboard, 2x Broad'Tron humbuckers, 1x master volume control, 2x volume control, 1x tone, three-way pickup selector, nickel Adjusto-Matic bridge with V stoptail
Finish: Walnut Stain (as reviewed), Phantom Metallic, Single Barrel Stain
Vintage VSA500
I don't have my contacts in. Is that a genuine ES-335?
Eh, no. But you'd be forgiven for the mistake. Vintage's VSA500 is far enough away in spec and design to be a flat-out copy of the Dot but it is explicitly inspired by it. This is what Vintage excels in. It identifies the quintessence of a classic guitar and builds something that provides a similar tone and feel without having to worry about Gibson or anyone else's legal teams getting in touch.
This is a Trevor Wilkinson design, isn't it?
Well spotted... Trevor's fingerprints are indeed all over this. Those snot-green beauties behind the headstock are a set of Wilkinson's Deluxe W4JJ tuners. His vintage-voiced humbuckers can be found in neck and bridge, and so too on the tidy tune-o-matic style bridge.
And the nut?
Well, even Trevor has a day off. This is a Graph Tech NuBone nut, a synthetic alternative that's related to Graph Tech's TUSQ material. It is tonally similar to the super-expensive vintage bone nuts, and more resonant than the cheaper plastic nuts that can dampen your tone.
At a glance
Key features: maple body, mahogany neck (set), 24.75" scale, 22 medium- jumbo frets, lignum rosa fingerboard, 2x Wilkinson WVC vintage-voiced humbuckers, 2 x volume control, 1x tone, three-way pickup selector, Wilkinson machineheads, Wilkinson tune-o-matic bridge w/ stop-bar tailpiece
Finish: Honey Burst (as reviewed), Cherry Red, Sunburst
Head to head
There's something reassuring about the feel of the ES-335. Maybe it's the shape, like throwing your arms around a lifebuoy.
Those early guitar designs are classics not just because famous players used them but because the design works with the human body. Here, the Epiphone Dot Deluxe sits kindly when seated and is lumbar-friendly when standing. The upper frets are right there, easily accessible. The Vintage VSA500, with its asymmetric offset shape, performs similarly, and has a nicely cut heel to access the top-end. Sonically, these two make an interesting comparison; both have vintage-voiced humbuckers and similar switching, tone and volume controls.
The Dot Deluxe comes out a little hotter, a little more aggressive when overdriven, while those Wilkinson pickups do a really neat line in chewy blues-rock tone. Roll back some of the tone on the neck and it's more soupy when overdriven, and woody jazz-precise in cleans.
The AS83 feels a little more confrontational; it's funny, George Benson likes his jazzboxes to make you work, and he, a long-time Ibanez endorsee, might see this appeal in the AS83. The neck is comfortable, but perhaps owing to a slightly dry ebony fretboard or maybe frets needing dressed, it feels a little scratchy. Some oil should help with that, though, and its tone is superlative.
The Super 58 humbuckers are capable of sparkly crunch, but that neck pickup with some of the treble rolled back is crying out for a Cm9 and a drummer who's good with brushes. It's a beautiful guitar.
As is the Gretsch. With its very brand-appropriate V-shaped stoptail, Walnut Stain, and teardrop pickguard in tortoiseshell, the G2622 is stunning. The new Broad'Tron pickups challenged our expectations in that the G2622 sounds very much like it's wired to rock, with the chambered spruce centre block integral to delivering high-volume crunch without the squawk of feedback.
Final verdict
There is only one Dot in this round-up and that's the Epiphone, so if you are chasing authenticity, that guitar, with its Gibson DNA, would be it.
It's also an excellent instrument, with quality hardware and electronics at an excellent price. The finish will divide opinion; given the choice, we'd love one in Cherry.
The Vintage VSA500 is a more sober alternative, and one we would endorse for its 'small-V' vintage tone. Don't be fooled by the name on the headstock; you hear this advice time and time again but only because it's true. The value Vintage presents and the quality of its instruments demand they should be taken seriously. Give a Classic Rock subscriber a VSA500 and a 1962 Marshall Bluesbreaker combo and you might never see them again.
The AS83 lacks the easy ride of its rivals but makes up for it with serious jazz tone and a finish that's so classy you'll be renting a tuxedo just to practise in your bedroom.
But if you don't mind foregoing anything above the 19th fret, then the G2622 would be the one. The vagaries of the Gretsch tone and volume controls offer huge potential for frequency exploration.
The rocking Broad'Tron humbuckers are a happy surprise. It might seem weird playing Led Zeppelin riffs on a Gretsch semi-hollow, but the G2622 has plenty more tone where that came from, with awesome rock 'n' roll and blues potential, genuine heritage kudos, and a persuasive ES-335 vibe at a frankly insane price.
Best for 335 die-hards: Epiphone Dot Deluxe
4.5 out of 5
Best for jazz: Ibanez AS83 Artcore Expressionist
4.5 out of 5
Best all-rounder: Gretsch G2622 Streamliner
5 out of 5
Best value: Vintage VSA500
4.5 out of 5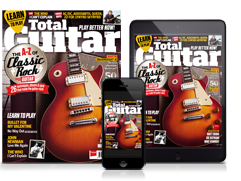 Stay up to date with the latest gear and tuition.
Subscribe and save today!