NAMM 2019: the Epiphone stand - in pictures
Introduction
NAMM 2019: There's been a huge buzz around the return of the Gibson brand behemoth at this year's NAMM show and the excitement is extended to Epiphone, too.
Among the options on show at the stand this year are the new DC Pro (based on Gibson's classic 70s double-cut design) and a huge variety of attractive new signature offerings from the likes of Lzzy Hale, Vivian Campbell, Peter Frampton Jared James Nichols, Dave Rude and George Thorogood, to name a selection.
Browse the gallery to take a closer look around at some of the guitars and specs on offer this year from Epiphone.
––––––––––––––––––––––––––
NAMM 2019 - all the news
The dust is settling, but our ears are still ringing. You'll find all the stories that counted in our massive news hub. Below, enjoy our editors' findings as we regrouped at the end of the show.
DC Pro
Featuring AAA flame maple top, Alnico Classic Pro humbuckers, Grover Rotomatic tuners and treble bleed mod.
Les Paul SL
"Epiphone's most affordable Les Paul ever". Featuring powerful ceramic single-coil pickups and a lightweight, slim body.
George Thorogood 'White Fan' ES-125 TDC Outfit
Designed by George Thorogood and based on his Historic Gibson ES-125.
Featuring new Probucker P-90s, Wilkinson Deluxe tuners and custom hardcare with 'snakeskin' handle.
Dave Rude Flying V Outfit
Tesla and Dave Rude Band guitarist debut signature model. Featuring pearloid red and white pickguard, Probucker pickups and Grover Rotomatic machine heads.
Jared James Nichols 'Old Glory' Les Paul Outfit
Debut signature Les Paul. Featuring ebony fretboard, Seymour Duncan P-90 and Grover Rotomatic machine heads with kidney bean-style buttons.
Lzzy Hale Explorer Outfit
Debut signature Explorer. Featuring Alpine White finish, metallic gold pickguard, Alnico Classic Pro humbuckers, ebony 'board and gold Speed Knob controls.
Vivian Campbell 'Holy Diver' Les Paul Outfit
Debut signature Les Paul - a replica of the guitar Vivian played on Dio's Holy Diver album.
Featuring DiMarzio X2N neck and Super Distortion bridge pickups, Epilite case and signed certificate of authenticity by Vivian Campbell.
Ltd Ed Matt Heafy 'Snøfall' Les Paul Custom-7 Outfit
Trivium's Matt Heafy-designed Les Paul Custom 7-string. Featuring EMG Active 7-string pickups, premium gigbag and signed certificate of authenticity by Matt Heafy.
Ltd Ed Jason Hook M-4 Explorer Outfit
Debut signature artist model bu Five Finger Death Punch guitarist.
Featuring Seymour Duncan SH-1 Vintage '59 and SH-4 'JB' humbuckers, Grover tuners and soft case.
Ltd Ed Peter Frampton Les Paul Custom
Designed with Peter Frampton. Featuring Probucker and Ceramic Pro humbuckers and gold Grover Rotomatic tuners.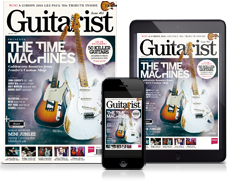 The magazine for serious players
Subscribe and save today!