NAMM 2019: EMG unveils signature pickups for Lars Frederiksen, David Ellefson, Frank Bello, Tom Araya and Prashant Aswani
NAMM 2019: EMG has announced five new signature pickup sets for Rancid's Lars Frederiksen, Megadeth bassist David Ellefson, Anthrax's Frank Bello, Slayer's Tom Araya and fusion virtuoso Prashant Aswani.
The guitar and bass pickups are available to preorder from 14 January and span a variety of active and passive designs.
All five sets will be available from 31 January - read on for the full spiel and prices, and visit EMG Pickups for more info.
LF-DMF Set
PRESS RELEASE: The Lars Frederiksen passive humbucking set (LF-DMF) is a modern twist on an old school classic. The set is dressed with black chrome caps, double rows of adjustable poles and custom coil windings that make this set as unique as the rocker it was created for.
The LF-DMF set features a ceramic magnet bridge pickup for clean articulate highs and an Alnico 5 neck for a rhythmic mid-range with power. Each pickup features proprietary windings for their unique attributes. The pickups are encapsulated to keep microphonics at an absolute minimum. The stainless steel black chrome cap doesn't interfere with the pickups inductance and prevents a muddy mid-range.
Double rows of adjustable pole pieces along with custom windings insure the best noise rejection that can be had from a passive pickup. The crushing combination of design and tone make this set look as lethal as it sounds. To quote Frederiksen- "I've been waiting a long time for something like this, and now I got it."
DE Set
PRESS RELEASE: Megadeth bassist and heavy metal icon David Ellefson has been part of the EMG family for decades, putting our pickups to the test on multi-platinum albums and world tours. In the recording studio or playing live, Ellefson relies on the consistency of his EMG's in his 4 and 5 string basses.
His signature combination of a dual-coil (DC) pickup in the bridge and a ceramic & steel (CS) for the neck has become popular among bass players of all genres. For the first time this menacing metal combination is now paired in the DE Signature Set. Available in 4 string (3.5 inch) soapbar housing or a 5 string (4 inch) soapbar housing.
FB Set
PRESS RELEASE: The original EMG PJ-Set was a staple of heavy metal bass giant Frank Bello's legendary tone. A long-time EMG family member, he was one of the first artists to switch to X series pickups for the added headroom they provide.
EMG began to experiment with different PJ combinations for Bello and the result was a pairing of epic proportions, the FB Signature Set. Loaded in a red housing, the PCSX paired with the LJAX gave him the ultimate tonal spectrum with the aesthetic he'd always wanted.
The thundering chest-punch from the PCSX coupled with the articulate growl of the LJAX was the knockout combo.
TA Set
PRESS RELEASE: Slayer bassist and front-man Tom Araya has been crushing it worldwide with EMG for years, cementing his role as a heavy metal legend. Tom has always relied on EMG pickups to deliver exactly what he needs to drive the metal backbone of Slayer to audiences all over the world.
Tom trusts the 35DC paired with the 35J to deliver his sound with enough articulation to cut through the wall of guitars Slayer is known for. This brutal pickup combo is now paired together for the first time in the TA Signature Set.
REV Set
PRESS RELEASE: This passive pickup set created for guitarist, songwriter and producer Prashant Aswani. The Revelation Set spent 2+ years in development that included testing in both recording and live playing sessions.
After several variations EMG and Aswani had designed an undeniably brilliant pair of humbuckers that delivered the clarity and definition usually found only in active pickups.
This matched set has precision wound custom bobbins and alnico 2 magnets that create the perfect balance between neck and bridge positions. The alnico 2 magnets have just enough "give" to deliver that classic sponginess passive players crave without the muddiness usually associated with old school PAF-types.
Aswani is known for his amazing style and tone and now has the perfect pickups to help him deliver every time.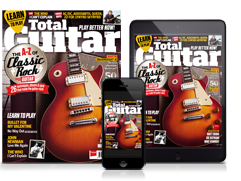 Stay up to date with the latest gear and tuition.
Subscribe and save today!