Loadstar: 10 drum and bass tracks that blew our minds
Initially going under the name Xample & Lomax, Bristol-based producers Gavin Harris and Nick Hill signed to RAM Records for their debut release The Latter in 2007. Three years later, the duo resurfaced as Loadstar - deriving their name from the spinning star displayed on an old E-mu sampler.
From 2010, releases became more frequent, as they grew their reputation with remixes for Chase & Status and Rudimental and co-production duties for Noisia. Loadstar's debut album Future Perfect arrived in 2013, solidifying their reputation as one of Europe's most prominent drum and bass acts.
A big hit on the festival circuit in 2016, and already a major draw on the DJ scene due to classic performances at Fabric, 2017 begins with the release of the single I Need The Light/Guerrilla, while the duo busily prepare their second album for release later this year.
Click through the gallery to find out the drum and bass tracks that have most inspired Loadstar...
1. Origin Unknown - Valley Of The shadows
"This was probably one of the first drum and bass/jungle' records I'd ever heard and was definitely one of the tracks that really got me hooked on drum and bass. At the time, I was only about 10 years old and one of my friends' older sisters used to give us rave tapes.
"This track always stood out as the long dark-tunnel vocal sample was so distinctive and memorable. It was a ground-breaking tune. The sample selection is a real lesson to any producer, and the perfect arrangement makes this track a true and timeless classic."
2. Leviticus - Burial
"Jungle really exploded in about 1994 and my dad bought me the Jungle Mania CD. There were so many great tracks on that CD so it was hard to choose one, but this one always stood out for me.
"I love the ravey pads on the intro, the 'Think' break and catchy vocals... it brought some serious funk into that jungle sound. It's proof that the best tracks can have minimal elements when each of them is put together well."
3. Roni Size – It's Jazzy
"Growing up in Bristol in the '90s and early '2000s, it was hard not to be exposed to drum and bass. Roni Size, Krust and Die were really prominent on the drum and bass scene, and it was around 1997 when Roni's album New Forms won the Mercury music prize. At the time, there was a real buzz around Bristol.
"Although I was going to choose a track from the New Forms album, this was probably one of the first tracks by Roni that I'd heard. I'd just bought some turntables and gone up to one of the record shops in Bristol and a mate helped me pick a few tracks, this being one of them. I just loved the use of the samples on the intro, and at the time it felt very different to anything else I'd heard."
4. Dillinja - Tronik Funk
"A friend of mine had a DJ Hype mix CD, I think it was a Mixmag one called The Dogs. We played this CD to death and it had this track on it. It was without doubt the standout track on there, and listening back to it now it still sounds fresh because the production was so ahead of its time.
"It's got a big funk bass guitar riff loop and trademark distorted Dillinja beats, scattered with little vocal elements and abstract pads - it felt totally futuristic. Dillinja is without a doubt the master and has been a massive inspiration to us ever since those early days. There are too many classic tunes of his to mention."
5. Ed Rush & Optical - Slip Thru
"This was one of the first things I heard by Ed Rush and Optical and I was blown away by it. The sounds they used on this track, and the rest of their first album 'Wormhole', were so sick and twisted and unlike anything we'd heard before.
"Those guys went on to create a whole sub genre and pave the way for many others who were inspired by their sound. They are definitely the originators of the 'neuro' sound that you hear so much today with artists such as Noisia and Spor.
"This track combines a pacey clean break, infectious looped vocal and amazing bass modulation – it's the true definition of what we call a 'roller'!"
6. Konflict - Messiah
"We wanted to pick a track from the record label Renegade Hardware, as throughout the late '90s and early '2000s it was definitely one of my favourite labels.
"Trying to pick one track, however, was hard work! Messiah is definitely is one of the standouts from the label's back catalogue and something you will still hear a lot of DJs playing as it has one of the most recognisable intros in drum and bass - a huge sweeping pad playing an elongated minor chord, which builds so much tension and somehow sounds unlike anything else.
"By the time the huge reese bass kicks in you know what's coming; it's an iconic sound and one of the most easily identifiable tracks ever written in drum and bass. Everyone knew what a 'reese' was after this. Without a doubt, it's one of my all-time favourite tunes and it's such a shame Konflict didn't go on to have a long career within drum and bass as they were one of the most forward-thinking producers in the game."
7. John B - Up All Night
"This is one of the best tracks from the Metalheadz back catalogue. A classic track made by John B, who was an artist I loved from the early days of his Shoebox label.
"It opens with a high ravey bleep sound and epic pitched-up vocal. It's such an uplifting intro, which really builds with the filtered down reese and rave-style sampled piano stabs, then goes really dark on the drop when all the elements come together.
"It's got that great contrast of the heavenly intro and a super-heavy drop that's so nostalgic from that '90s rave era. This has definitely been one of those tracks we've continued to reference over the years whenever we are writing Loadstar tracks."
8. Fresh - Signal
"I think if you asked us both what our all-time favourite drum and bass tune was we'd probably both say this track.

"I have fond memories of being at the RAM nights at The End club in London hearing Andy C drop this tune before it was released and people going out of their minds trying to find out what it was. This was the days before camera phones, so people would swarm the DJ both trying to read what was on the record.
"We love our big intros, and this is one of the best. Major and minor chords battle it out in the intro giving it that 'outer space' kind of sound and creating a dissonance that made it feel really experimental and cutting-edge. It's got one of the heaviest basses ever created in drum and bass and I just love how arrogant this tune is.
"There are a few points in the track where it falls into total silence, followed by the classic 'Watch…this…space' vocal, before it all drops in super-heavy. It's also one of the best beats ever made in my opinion, and it's really clever the way it constantly switches up.
"Fresh always pushed the boundaries with his productions and it felt like he was ahead of pretty much everyone else. You can definitely hear the influences of this record on some of the early Loadstar tracks, and it's a track we still play in our sets today."
9. Pendulum - Vault
"We'd not long started making tunes when we first heard this and it was a major game changer.
"The production was next level; the drums had this new big and punchy produced sound that was bigger than anything else, and the upfront synths gave it this kind of huge 'stadium' sound. It changed the sound of drum and bass forever. A lot of modern day drum and bass you hear is inspired from the Pendulum sound in the drums and synths.
"The track also featured the switch section with a swing beat and high-pitched ravey synth that really was like nothing else when you heard it in a club. It was kind of all about this moment.
"I remember Grooverider used to cane this on his Radio 1 show, and we used to record shows on cassette and listen back to it a million times."
10. Sub Focus - Airplane
"We could have picked one of a number of Sub Focus tunes, but this one is definitely an all-time favourite.
"Apparently the vocal was done with a text-to-speech app that Sub Focus found on the internet. Who knows what he was on when he wrote this, but it's genius! The infectiously catchy guitar riff, with the moving bass and punchy beats, created a hypnotic sound.
"It's super-happy and melodic, and the repetitive singalong vocal just made this one an absolute anthem and a classic in the RAM back catalogue."
Check out the latest single by Loadstar 'I Need The Light/Guerrilla' on . For more information, visit Loadstar's and pages.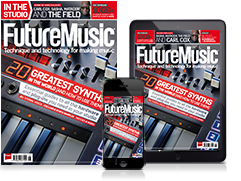 All-access artist interviews, in-depth gear reviews, essential production tutorials and much more.
Get the latest issue now!