Katatonia's Anders Nyström shares guitar recording tips and reveals how he pairs synth with six-string
Introduction
Since their humble death metal beginnings in the early 90s, Swedish alt-metallers Katatonia have emerged as one of the European scene's valuable progressive gems. Guitarist Anders Nyström tells us how he thinks differently as a player behind his synthetic wall of noise…
There are many bands that formed in the fires of Scandinavia's early 90s metal scene and slowly meandered away from their heavy roots, but none quite in the same way as Katatonia - who experimented with a new digital heart to beat their melancholic musings into the coldest of stratospheres.
Up to a certain point, theirs was a sound very much shared with brother band and fellow Stockholmers Opeth, their leader Mikael Åkerfeldt even singing on the early Katatonia recordings. But where one band disappeared down the rabbit hole of earthy 70s psychedelia, the other undertook a very different course indeed, embracing the harsher and digitized sounds of tomorrow.
Today they stand tall as master conjurers of sorrow, their icy reflections very much in spirit with their gothic roots, and yet with arguably more dynamic reach than any of their peers that "simply stuck to metal".
Backstage at London's O2 Shepherds Bush Empire, founding guitarist Anders Nyström reveals how his thirst for the extreme took an unexpected twist into a world of dark rock inspired by Massive Attack, Depeche Mode and The Cure…
Key to the highway
How the Katatonia guitarist unlocked the door to the keyboard world…
"I have a super easy answer for how I write our keyboard parts - I use a MIDI guitar pickup! Anything I play gets transcribed into MIDI notes, so when I find something I like on guitar, it's as easy as plugging in and browsing through the right sounds for it. I used to have the Roland GK before, but now I use in-built Graph Tech Hexpander pickups, which have become my main workhouse and are built into my guitars.
"Considering the guitar is my main instrument, I want to transfer my skills quickly and smoothly into the electronic realm. This is also how I record bass, I'll play the parts on guitar and run it through a plug-in for our demoes without any need for an actual bass."
Rise of the robots
The slow-but-steady shift from death to digital…
"The first time we started incorporating any electronic element was vaguely on 2001's Last Fair Deal Gone Down, before the time of proper studio computers. We had to do it the analogue way, loop it all up and record.
"I would line up all these crazy pedals to get the sound we wanted on the beat, there were no plug-ins to punch in. We were still experimenting during those years, we weren't really sure of how much to incorporate.
"Viva Emptiness, two years later, was when we moved to the digital platform. All the demoes were done on computer and that's when we discovered a new world of plug-ins, software and all that stuff.
"Before that, we'd use analogue 24-tracks synched via midi to a click track we had to program, so it really opened the door for us… probably because we aren't keyboard players! There was also a huge difference in the time it took to program these strings or pianos compared recording them live."
Betcha can't write this!
Anders explains why there's so much more to playing than technique…
"I love my metal clichés as much as the next guy, but it's good to broaden your mind. Don't get trapped into conservative thinking, just watching Betcha Can't Play This! YouTube shred videos. Maybe leave that for a bit and see what other guitar players are doing. Learn how to write good songs and follow that inspiration.
"If you can shred fast, cool, but what is that worth when you can't write a good song? A well-rounded player has influences across the board. Maybe look at Tom Morello over the shredder boy on YouTube, inject that back into your voice and you'll end up sounding totally unique. It's those little twists that will give you an identity."
The chemical wedding
How new sounds and instrumentation changed the game for Katatonia…
"Back during Viva Emptiness and [2006's] The Great Cold Distance, we didn't use any backing tracks live. We had to recreate all those weird sounds with a guitar. I spent so much time experimenting with it, involving every fucking effect I could find!
"I'd put them in the wrong order, make them clash and completely degenerate. We used the Boss GT pedals at the time and still had them lying around, knowing those presets would be fi ne for the string parts on our Viva Emptiness anniversary tour.
"At the time, the marriage between the wall of metal and the softer mellotron felt like coming home for us. Taking that spirit of the 70s into a more contemporary place, which has since become the recipe for Katatonia - getting those two elements to collide in a really lush way."
Ghost reveries
Anders on those menacing notes you almost feel more than you hear…
"It's dangerous to think everything you do on a keyboard has to be in a signature or have a melody - it really doesn't! We think about the ambience itself, always on the hunt for big sounds without melodic value. We usually call them tunnel sounds… it should sound like the wind blowing in an underground subway tunnel, really big and cold. You can't define what it is, but you can't help love its presence.
"We actually have a shared folder, where we've been chasing these sounds and even creating our own. We'll mic up ventilation systems, record them and try to pitch them differently… that's the stuff you don't really hear on the record, but if it were taken away, you would miss its ghostliness buried in there.
"In our Pro Tools sessions, you'll actually find things like Tunnel Ventilation 29 written on the faders ha ha! These are sounds you can't even hum… it's an illusion of a melodic thing that goes with the structure, but it's not really there. You could almost compare it to light ghost notes on a drummer's snare, you can't really pick them out but you can definitely feel them."
The sustain, listen to it
The secret to those vast oceanic depths creeping out of Anders' amp…
"I use a Fernandes Sustainer to keep my signal going forever, like in the middle section of Ghost Of The Sun, as well as Leaders. People don't really realise that it's a guitar making that sound because I barely have to touch the strings, it just keeps feeding back and sustaining forever, even changing pitch of its own accord.
"I find that the really creative part of guitar playing… trying to emulate the keyboard world. And we're still doing it now, finding ourselves thinking: 'Do we want to heavy guitar parts that hit you hard, or sacrifice half for ambience around the chunkier stuff?'
"These days I need to have that Sustainer in every guitar, I'm almost handicapped without it! I feel like those violin swells and ventilation tunnel noises have become my signature sound - super overdriven until the sound collapses within itself, flushed with tons of reverb and delay at the right bpm. Plus some fl anger to really keep it moving. You can't tell where the sound begins and ends!"
Songs of faith and devotion
How listening to music outside of metal helped us think differently…
"Krister Linder, who in fact sang on our song Departer, is a Swedish pioneer for keyboard music - he's been doing it since the early 90s and has been with us our whole upbringing. He's the first guy I think of when I hear the word 'electronica'.
"We listen to a lot of Massive Attack, who stood out to us because they can be so, so dark. Their music has this oppressive, brooding atmosphere that makes you feel like you're in the weirdest of clubs. They're a great example of what you can do with electronic music without sounding like a techno band… it's all very well thought-out.
"I don't know if it's true or not, but Jonas heard they were putting their samples onto CDRs which then went into the microwave for two seconds to melt a little and then go back into the CD player to create weird sounds. I thought that was a very analogue mentality in a digital way, trying to fuck things up physically, rather than electronically. Imagine all those ones and zeroes in the microwave!
"When you read something like that, it does inspire you. Also, there has not been a Depeche Mode tour I've missed! I've played their Music For The Masses album to death - people forget about them because they are so obvious and huge, but what an important band…"
The art of reduction
Don't lose sight of what matters by adding too much to your music
"One of the main traps these days is to overdo things by just adding more and more tracks… that's the wrong way to record. If you find something that can stand on its own, just one kind of spice, keep with it. You don't want to make a dish that tastes like nothing in the end.
"It's a bit like a crash diet in the studio, we take off tracks to make the result sound bigger! The common misconception is that adding more and more will make your song sound epic, this grand result, and you might just get there by extracting things. If you mute something, you might find something else will suddenly open up.
If you have to put on layers to make it sound better, maybe that's because the basic riff is not good enough? You can never hide a bad riff with all those lush layers, it will still feel awkward somehow… it's in the skeleton, in the bones!
"You need to have this self-criticism. We don't see ourselves as masterminds or anything, we just love good songs and finding out how to get to those songs. When we first started thinking about adding electronics, we were listening to The Cure's Pornography album a lot. It's very cold-sounding with very simple structures, and yet it came out sounding very grand in a dark way. That's why we always try to go back and see if we can take things off rather than add on."
The devil makes work for idle blood
Be prepared for creative inspiration to strike when you least expect it…
"Funnily enough, the intro for our song Idle Blood came out of simply playing, not really knowing what I was doing. I was just sat there watching TV and my fingers took the positions without me thinking about it.
"Suddenly I realised how much I loved this sound that totally came out of what I call couch strumming. There were no keyboards at the beginning, the song was demoed with just an acoustic guitar first - because if you don't record it quickly, you might forget it!
"I always need my iPhone right by me in case I come up with something, by the time I've loaded up Pro Tools on the computer I'll have forgotten the idea. There are about 500 ideas on my phone, like Kirk Hammett, but mine are uploaded to the iCloud!"
A Tour Edition reissue of Katatonia's The Fall Of Hearts is out now.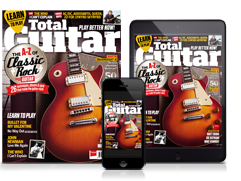 Stay up to date with the latest gear and tuition.
Subscribe and save today!