Joanne Shaw Taylor talks Nashville sessions, Kevin Shirley and new album Wild
Introduction
Joanne Shaw Taylor is asserting herself as the star of British blues on latest album 'Wild'. But it took a step into the unknown with Joe Bonamassa's producer to make it…
Being a blues guitarist can be a hard road to travel in this day and age. Without mainstream support, battles are won on smaller stages across the land as artists carve out their reputations the old way and win a fanbase one gig at a time.
It's grassroots and a long game but one that can give an artist serious staying power. It's taken Joanne Shaw Taylor five albums to get the call from Later… With Jools Holland, and as we speak to her a few days after she plays to a TV audience of millions and (in the presence of fellow performers Paul Rodgers and Chrissie Hynde), there's a real sense things are changing. And for very good reasons.
Don't Miss
"Personally I grew up watching …Jools," reflects Joanne as we talk in the dressing room ahead of her sold out show at Bristol's Fleece. "When I was 15 in Solihull, we didn't have the internet yet and watching …Jools Holland and reading guitar magazines was the only way of discovering new blues artists, so to be on it… you know I didn't think I would ever get to do it, let alone play with Jools himself, so it was a bit nerve-wracking!"
Her new Top 20 album, Wild, found Joanne under a different kind of pressure altogether. The first release on her own label, Axe House Music, it's the best contemporary blues album we've heard this year, but it meant leaving comfort zones to make it. To enter the unknown with veteran producer Kevin Shirley (who's worked with the likes of Joe Bonamassa, Robert Cray, Iron Maiden), a new group of musicians and cowriters in Nashville and emerge on the other side as an improved player, singer and songwriter.
Don't call me Shirley
You're good friends with Joe Bonamassa, did he give you any kind of heads-up on what Kevin was like to work with as a producer?
"I don't think I really spoke to Joe about it, actually. We are such good friends - he is like my big brother - that I didn't kind of want his opinion, I wanted to have a separate experience, in that I was worried that he would say something and I would get it stuck in my head.
"I did talk to Roy [Weisman], Joe's manager and he was like, 'Whatever you do don't fight Kevin,' and I said, 'Why would I fight Kevin, have you seen the size of the guy? I'm not going to fight him!'
"But he meant with his ideas; 'He brings you songs and you might not like them, Joe always fights him and he is usually right so just let him do it.' I was just thinking, I am finally working with Kevin Shirley, who I have always wanted to work with. If I had wanted to make a Joanne Shaw Taylor album I would go and do it myself. I want the Kevin Shirley/Joanne Shaw Taylor album."
So you had to trust in his instincts as a producer?
"I think that I have seen a lot of young artists run into that and I try and tell them not to do it. You can't fight your producer - you have to pick someone you trust, because if you are going to go in there and fight them, they are going to end up with an album they don't want their name on and you're not going to be happy with the album. Just go in there, and if there is something you don't like then obviously say so."
Before you got into the studio, is there anything that you went into this album wanting to achieve as a player?
"I think this was the most that I have ever just gone in without any clue of what we were going to do. Usually I turn up with everything in place and we just record it."
Something from nothing
That must have been quite a nerve-wracking experience…
"Yes, I realised when I got to Nashville and I had a week there without Kevin. I landed and walked straight in the next day with the songwriters and I sat in my hotel that night and was like, 'You've got nothing. You are literally recording an album and the pressure is on because you are doing your first one with Kevin and it's your own label and you've got nothing, kid.'
"Part of me is saying, 'What were you thinking?' But at the same time it was nice to kind of have that freedom and I wouldn't have had the input of the musicians, songwriters and Kevin and it was nice to collaborate. I'm not afraid to admit that I don't have all the ideas. I'm not Bob Dylan, and I can't write 200 songs a year and them all be massive pieces, so it's good to have added input."
What was it like for you co-writing songs for the first time when you went out to Nashville?
"I think for me that's probably the thing I was most nervous about and I did talk to Joe about that. His advice was just to get as many ideas together as possible and if there are things you hadn't completed yourself, take those. I'm not a professional songwriter and you go in with these guys and they basically sit there and their job every day in Nashville is to write 10 songs and at least one of them be a hit."
And then when it came to recording, that was with a new group of musicians too, because Kevin had people he wanted to use…
"Yes, they picked Nashville cats. Obviously Michael [Rhodes, bass] is in Joe's band and I knew Michael previously through Dave Stewart [who championed Joanne early on]. Very intimidating. I will make no bones about the fact that I was definitely the worst musician in that room but that's the way you want it to be."
Off the chart
In that it can push you?
"Oh yes, absolutely, and if you are recording in that space of time, you need pro session guys who are used to adapting to different artists and listening to the song and don't know me too well or have preconceived ideas about what I might want.
"They did what was best for the song. I think the most intimidating thing for me still is the fact I have zero theory [knowledge]. I can't read music and I basically know what key I am in and that's about the extent of it. I don't know the names of chords."
A lot of players are like that, though…
"With the blues genre, growing up listening to Albert Collins, clearly that guy made that stuff up on the spot - that wasn't taught to him. For the first couple of days recording this album, they charted it really quick and they changed things every now and again, like, 'go four over the five to the something'.
"I gave myself a talking to and said, 'You are learning these songs at the same speed as the other musicians but you are doing two things instead of one and you have zero experience so just tell them.'
"So I came up the next day, I think it was Dyin' To Know where they were going on about numbers and I just said to Michael, 'Look mate just give it to me in English,' and he said, 'You know when we were going to G, we are going to the E.' I was like, 'Why didn't you just say that?!' And then we were home."
You switch between Teles and Les Pauls live, is that because you need to cover a broader tonal range?
"Yes, I think so. I'm not what you'd call a traditional blues guitar player by any extent and we cover a lot of different ground really but it seems to break down into bluesy, twangy authentic rhythms and the soul stuff, and then the rockier material. And you just can't make a Telecaster sound like a Les Paul.
"I tried to play Dyin' To Know on a Les Paul for the Gibson Studios because they didn't want me playing a Telecaster and it's like, 'You do know it's not my fault I can't make a Les Paul sound like a Telecaster [laughs].'"
Strat's the stuff
Did you gravitate towards a Strat at any point?
"I did for the first time on this album. I love Strats but I think for me, because it was my first guitar when I was about 13 and I was so focussed on Steve Ray Vaughan for a year, every time I touch a Strat, I just go back to a bad Steve Ray Vaughan impersonation but we actually used one.
"Rob [McNelley, session guitarist on Wild] had a lovely '65 Strat and we used it on Wannabe My Lover. You just can't get that Strat tone out of a Tele… you can't beat that Strat tone for that rhythm."
It really is that Stevie Ray thing…
"I can't get round it, it's ingrained in the fingers now. Everything is a bad Cold Shot with me on a Strat [laughs]"
Have your blues influences changed over the years?
"Yes, I constantly seek out new music, and not necessarily new music but new for myself, whether that's going backwards or forwards. I have very eclectic tastes but certainly the Texas blues things dominated for the first couple of years I was learning; Freddie King, Albert Collins, Stevie, Thunderbirds, ZZ Top.
"And then around my early 20s it was the British blues guys which I had never been interested in because it wasn't the Texas thing. Which is funny as Joe latched onto that and wasn't interested in the Texas thing. Opposite sides of the world.
"Kosoff was the big one in my 20s and then when I was recording [2012 album] Almost Always Never, I went on a real Eric Johnson kick, but I still can't play anything that Eric Johnson can play. I'm just now going through my Jeff Beck phase. He knows what he's doing. But it's diffi cult when you don't own a Strat."
Tonally it's interesting to hear different approaches. You obviously have a signature sound, but a song such as Chains brings in a Billy Gibbons feel…
"Yes, that's kind of the vibe that we were going for. I've always been one of those players that I think has hopefully got a fair bit of personality and you can tell it's me, which is what I wanted but it can be a blessing and curse when you are doing a wide range of material.
"So yes, we did experiment a little bit, I think my two favourites were probably Chains and Kevin really got me to get into a BB King mode for My Heart's Got A Mind Of Its Own, which is something I had never done before. I whipped out the ES-335 Bonamassa signature model, I do believe."
That song sounds like a new kind of approach for you. Was it something you had to think differently about?
"No, because that's the kind of stuff I grew up with. I don't generally play it too much, I'm a bit heavier. You do have to restrain yourself as I'm a lot more of an in-your-face guitar player which is a lesson I'm learning. You don't have to play every note, every second. It was nice to go for that. One of my favourite albums is Freddie King's Burglar with Pack It Up, and the 335… that simple, funky approach. So that was good fun to do. I think it turned out alright."
Pushing the button
Was Kevin Shirley pushing you into new areas as a player that you hadn't been before?
"Yes, definitely as a singer as well. With the cover of Wild Is The Wind, it's a song I just couldn't wrap my head around and it took a while, but again, I trusted him on it. As a player, not too much in that I think that was one thing he was pretty happy about. I think he wanted to push me vocally more, I think he felt I was a bit more capable of branching out of the typical kind of stuff I had been doing.
"But certainly in terms of rhythm parts, he pushed me because I usually stick to the Jimi Hendrix, very busy rhythm lead or the Dyin' To Know, bluesy kind of take. Obviously things like No Reason To Stay, it's a lot more of a Dire Straits, Chris Rea approach."
You discovered blues at a young age. Do you see many young fans at your gigs? What more do you think could be done to attract a younger audience?
"I'm not sure more can be done really. I think the only real breakthrough you can get is getting into the mainstream and having that one artist like Stevie that creates a whole new generation of guitar players. Which he did - a lot of young kids got into the blues and it had a big resurgence because of Stevie.
"At the end of the day radio is the main way of attacking the most amount of people but you just don't get much guitar on radio anymore. Even if you look at rock bands - like the Foo Fighters - they don't do guitar solos so guitars are not in the mainstream too much, which is a huge part of blues.
"I do have concerns that it would be nicer to have a younger fan base there for blues because it's obviously going to die out. But that said, I am seeing more and more young people at the shows and particularly female for me which is nice because its still a male-dominated instrument. Maybe they happen to be latching onto me a bit more because there's not very many role models for them. Hence I latched onto Bonnie Raitt, Joan Jett and Chrissie Hynde."
It seems like this album is changing things for you now - what are you noticing that's different?
"I've learnt that there is no such thing as overnight success. I always joke it's been a 16-year overnight success, and it's really been a creeper; this is my fi rst top 20 album and we are getting people phoning to do interviews, they're asking, 'Who are you? You're in the Top 20 albums chart, you were on Jools Holland. 'What record label are you signed to?' Axe House. 'Whose label is that?' Mine. So I think all those things add up and we had the Glastonbury appearance and you do notice it's those little things, and it snowballs slowly."
Shaw things
The essential gear in Joanne's rig...
1966 Fender Esquire
"I got it cheap when I was 15 because its previous owner had attacked it with a knife - as you do to vintage instruments [laughs], so I put a humbucker in and it's got a five-way switch.
"I've got an Albert Collins signature Telecaster, too. I only tour in the UK with the Esquire now. I will tour it in Europe if we are going via ferry and van but it doesn't leave my side, it goes in the hotel all the time.
"I used to fly it and I was on a particular flight back from Detroit once [where Joanne has lived for eight years] to come back to London for Christmas and now there is a huge chunk of wood missing out of it.
"The chunk was so big it should have been in the case but it wasn't so they [transport security] had obviously taken it out, dropped it on the floor, broken it and put it back in the case. It's an extension of me, which is ridiculous as it's a piece of wood with wires, but that one is going in the casket with me."
Les Paul Standards
Don't Miss
"There are a few extra guitars now, because we recorded the record in standard tuning, which I never do. I'm always in E b, it helps my voice being a bit lower particularly night after night. When I told that to Kevin he went, 'That's nice - we record in E.' So there are more guitar changes because we are flittering between the two.
"I have always been 50/50 with Les Paul and Telecaster. Les Paul dominated the past couple of tours but I'm switching a lot more between them now. I have two Les Pauls and they are stock - one I got from Gibson and the other is my own. One is drop D for some of the heavier stuff."
Fender Super Reverb
"On these kind of dates we are doing on this tour I like a clean amp and then getting the tone from the pedals and guitar. With the bigger venues we tend to whip out the Marshall 18-watt Bluesbreaker too and then run the two of them."
Mojo Hand Rook overdrive
"Its just a really good overdrive pedal and something that's kind overlooked a lot in pedals is it's solid. There are so many pedals I buy that once you've stomped on them in a live gig situation and had spilt beer on them they are ruined.
"It has three different settings on it and one is meant to be kind of like a Tube Screamer, one is a bit more like a Klon and the other is more like a [Marshall] Blues Breaker pedal so it offers a few more options. They are all nice, organic tones and not too processed."
Joanne Shaw Taylor's new album, Wild, is out now on Axe House Music.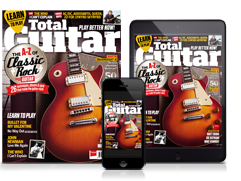 Stay up to date with the latest gear and tuition.
Subscribe and save today!