Jason Isbell on the Nashville sound, gear addiction and why he steers clear of guitar solos
Introduction
On their forthcoming album, Grammy award-winning singer-guitarist Jason Isbell and his band, The 400 Unit, are digging into American politics and serving up their take on the Nashville Sound. Kate Puttick spoke to Isbell to learn more...
Nashville must be a funny old place to earn a crust as a musician. For every Willie Nelson 'outlaw' it has produced, there's been a bro-country Blake Shelton. For every celebration of Nashville as an exciting talent hub that's anyone's for the taking, comes a cynical take-down of a place where the business of music-making trumps creativity.
On The Nashville Sound, Jason Isbell and the 400 Unit deliberately offer no commentary on the place where they made their name, but rather throw all of our competing notions about it into a slow-cooking pot and stir.
This Alabama-born, Bruce Springsteen-endorsed artist - alongside longstanding musical backup from The 400 Unit (featuring Isbell's wife Amanda Shires on fiddle, Sadler Vaden on lead guitar, Derry deBorja on keyboards, Chad Gamble on drums and Jimbo Hart on bass) - seems to have taken the challenge of one double Grammy-winning album, 2015's Something More Than Free, and bettered it with a new album that's as much of its time as it is a potential classic. It's certainly been enough to earn him, among other accolades, his own signature Martin model.
Musically, Isbell and his cohorts play with a decisive spareness on the new record that screams of the professionalism of a decades' collaboration - every burst of electrics, strings and slide guitar simmering back down to a slighter, but no less cohesive, acoustic base.
Lyrically, though, is where things are really brewing - on the album, Isbell, formerly the guitarist with Lynyrd Skynyrd-channeling Southern rock mainstays Drive-by Truckers, doesn't so much tackle the issues facing the US of 2017 as wrestle them to the ground, whether it be Southern male white privilege, the snobbery of urban elites, or the generalised anxiety plaguing us in modern life.
Stepping up
At the start of our interview, Isbell warns us never to take an album title too literally ("I think it's less important to the people who are listening to the record than the ones making it, in all honesty!"), but country fans will recognise the reference to RCA Studios, known as "The Home of The Nashville Sound", the site of many classic recordings during its time.
Isbell is a consummate professional, yes, but even he felt the weight of making a recording in such legendary surroundings.
"It does make you think you have to step up to the plate," he concedes. "I think it was the biggest studio any of us had ever worked in. It's a really good room, highly functional.
"There were moments when I thought, 'Well, if I've reached the point where I'm recording in the same room where Waylon and Willie recorded, with Chet Atkins running it, I'd better work hard; I'd better rise to the occasion.'"
Truth be told, Isbell was probably always a good bet for musical excellence. He started playing the mandolin from a young age under the tutelage of his grandfather, then moved onto guitar, benefitting from the nurturing musical environment of Muscle Shoals, Alabama, in which a quirk of licensing laws (whereby entertainment spots were expected to sell more food than alcohol) allowed for young and old alike to gather and play songs together.
The whole scene and setting is evoked beautifully on his track Something To Love, in its description of porches where "Old men with old guitars smoke Winston Lights, Old women harmonising with the wind."
If all that speaks to you of idealised Southern hokeyness, however, be advised: Isbell has always called out unsettling truths about his home territory - online and in his lyrics - but on The Nashville Sound he seems to have shed all remaining pretense of coyness in doing so.
Call me Frank
This album is certainly frank in tone, with Isbell setting aside the vignette-style storytelling he's usually known for.
"My wife noticed that after I finished it - that it was more honest and open than my last record, more like Southeastern [Isbell's fourth studio album] in that way.
"I think that's a good thing. It's important to open up to your audience and explain who you are without falling into the old confessional singer-songwriter tropes. I try to use records as documents, as records of a time in my life."
One of the most arresting tracks on the new album is White Man's World. Some may wonder if there's a link to UK artist Michael Kiwanuka's recent track Black Man in a White World.
"Oh, you know, I didn't do that on purpose, but I do know that song, it's a great record! Somewhere in my unconscious mind when writing my song I did think about Michael's song, but not while I was working on it."
It's unsurprising really, as race relations in the US seem like a strong lyrical theme on The Nashville Sound.
"Well I don't think people being treated equally should be a hot button issue - it's a matter of right and wrong. Just because there's a lot of idiots out there, doesn't mean we should stop talking about what we believe in."
White Man's World explores themes of privilege from the white male perspective, where macho classic-rock electrics and nostalgia-soaked keys meet Shires' light but persistent strings.
"It's about this realisation that I've been born into a situation that is afforded a lot of privilege, and that privilege is built on the back of people who have been ignored or, worse, destroyed or devalued in some way," explains Isbell.
"And it's not just the white part, it deals with the man part too. I have a daughter and she's the only child I have at this point. It's important to me to see the world from her perspective and think about what will happen in the future; to give her the tools to deal with it."
Southern man
How did that deeper engagement with the thornier aspects of the South's history shape his music-making, we ask?
"Growing up in Muscle Shoals, I was around people who had shared stages and made albums with the Staple Singers, Percy Sledge, Aretha Franklin and Wilson Pickett. Bettye LaVette, Candi Staton. A lot of R'n'B singers. (White people call them soul singers, but they mostly called themselves R'n'B singers.) That became a big part of what I listen to.
"I realised early on that, as a white person, I probably shouldn't try and sing black music. Something I've been very aware of is that I never want to try and appropriate that music.
"I grew up on country, so my music is always going to have a country bent to it. But I do feel like I am a rock 'n' roll musician! That's the best way you can honour that music without trying to rip it off."
In that spirit, Isbell has spoken about how, when he went into the studio, he didn't want to take any musical decisions that his idols wouldn't have made.
"It's an interesting record sonically. It could have been done a long time ago. I don't want to make records where the influences are too obvious - I don't want people to say, for example, 'this sounds like that Simon & Garfunkel song.' Everything's going to be derivative, but if you have enough influences and that scope is wide enough, it's going to be harder to trace where it comes from. It's just part of being educated as a producer and a musician."
Ensemble
This is the second of Isbell's albums on which his band, The 400 Unit, get equal billing. There's a lot of love there, but be assured, Isbell is pulling the strings.
"Well, I'm the boss!" he laughs.
"Democracy never really worked well for me in a band. You can get good music out of collaboration but it's really hard to keep going. I work best when I'm either in charge or being told what to do. Nothing in the middle.
"But on this particular album I looked back and thought, well, this would be a different project altogether if these guys weren't involved, so I wanted to give them credit and put their name on the album too."
It certainly sounds like the ensemble operates like a well-oiled machine: with Isbell bringing in the bare bones of his acoustic-written songs, the band playing their parts after only a minimal amount of input, and recording taking place soon after.
"We've done that for three albums," Isbell tells me, with a hint of pride. "If you're fortunate enough to have a band that's good enough to do that, it's a very good way to work..."
For all of Isbell's lyric-writing prowess, he is a firm believer in strong musicianship, and gently chastises Acoustic for suggesting that the two aspects of songwriting are comparable in importance.
"Really, I wish that my audience was more interested in guitar solos! It would be nice to make one of those records that used to come out on Shrapnel... you know, the kind where it's just wanky guitar for 55 minutes. But I don't think I'll ever get that opportunity. If I'm boring myself with it, I'm guessing the listener will be, too..."
Despite his disciplined, Nashville-bred dedication to serving a song with his playing, Isbell is satisfied that should he want to experiment in fruitier styles, he would.
"I would like to try more of the Merle Travis style of playing - but then, it's hard to find a good space for that in modern music. I think I do a good job of accompanying my own singing." That's good enough by our book.
G.A.S.
Given his impressive knowledge of the US guitar-making scene, it would be churlish not to ask for his hot tips on brands to check out. High on Isbell's wishlist is an instrument from Pre-War, a new acoustic guitar company in Virginia.
"They're doing some relicking to acoustic guitars that I haven't really seen before," says Isbell. "Some people have been afraid to jump into that, but I've played a few. I think it's pretty cool; after a year or two they'll have something pretty special happening."
Isbell is not too high-faluting a star that he wouldn't explore more affordable instruments, however. "If I was going to spend 500 bucks on a guitar I'd buy a Martin that's not made with solid tonewoods," he muses.
Like many an interviewee, Isbell is no stranger to gear addiction: "I try not to go shopping. I went to a local store in Nashville to get some repairs done, recently, and of course they showed me one that someone had brought in. I got halfway home, turned around and went back to the store.
"I had to sit in traffic for half an hour just to get back there, all the time on the phone to my accountant and my wife. I've long since passed having all the guitars that I needed. It's at the point where I need to stop. It's bad, it's bad."
Nashville nod
When talk turns to rare instruments, Isbell sounds a little wistful: mass-produced models may be getting more accessible, but the price of the golden era guitars is becoming yet another barrier to those chasing the Nashville dream.
"It's getting to the point where even successful musicians can't afford them - it's all investment bankers and hedge fund managers. You can't go back and make more of them. It's pretty sad..."
We find ourselves back at that core theme running through Isbell's music, the reconciliation of the expected perks of being a successful country star, dashed by cold, hard reality. If Isbell were to be asked for advice from a young Nashville hopeful, what would he suggest, we ask? Isbell isn't in a hurry to present himself as an idol.
"I just say: write as many songs as you possibly can - oh and don't drink and drive. There was a lady asking me for advice for her son the other day. I said, I've done a lot things that are really, really stupid and I should have given up many, many times. But if he's any good, and he's not going to give up on it, then I say: write as many songs and don't drink and drive. I've seen it work every possible way. Even through periods of shooting myself in the foot, I just kept on working and things got easier."
Who does he reckon is the next in line for the coveted Nashville guitar-playing crown? Isbell laughs, as if this is an impossible question: "There are so many good guitar players in Nashville! It could be the last guy who served me a pizza, for all I know!"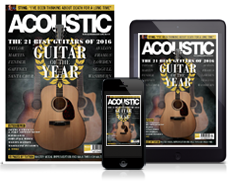 We're the UK's only print publication devoted to acoustic guitar.
Subscribe for star interviews, essential gear reviews and killer tuition!