Inside Abbey Road: behind the scenes at the world's most famous studios
Step inside
Ask anybody - the layman or the veteran producer - to name a world- famous recording studio, and one answer will trump all others almost every time. Abbey Road Studios has a reputation higher than all others, and for good reason: The Beatles, Pink Floyd, the LSO, Oasis, Genesis, Radiohead - it all happened here. And there's a zebra crossing nearby, apparently.
It's clear that Abbey Road Studios doesn't just rely on its heritage, however - it's also determined to keep an eye on the future; by nurturing music tech start-ups via the Abbey Road Red program; developing plugin replicas of classic Abbey Road and EMI gear with revered developer Waves; and through the opening of two new modern studio rooms: The Gatehouse and The Front Room.
In this gallery, Abbey Road's Head of Products Mirek Stiles gives you an all-access tour and history lesson that covers the five main studios. Take in the orchestral grandeur of Studio One, retread the steps of the Fab Four in the much-documented Studio Two, and explore Abbey Road's two newest facilities.
Studio One
"This is where it all began, with the opening ceremony in 1931 with Sir Edward Elgar and the LSO, who performed Land of Hope and Glory. They did it very differently back then, with grand art deco up the walls, bare bricks... it looked cool but didn't sound great - they didn't nail the sound first time like they did with Studio Two.
"There was a stage at the back - the idea was to recreate a concert hall. They were still finding their feet with what a recording studio should and shouldn't be, so there was a stage and they put chairs out and invited people to watch as though it was a concert! A very different approach to today...
"There was dissatisfaction with the sound [in here], so they started playing around with the acoustics a bit more. They reached the stage we're at now in 1975; it's now got a wonderful, big sound, and we wouldn't touch it for love nor money!
"It was originally designed with classical music in mind, and that was predominantly what this room was used for until the mid-'70s. By then, most of the repertoire had been done and released on vinyl. When the CD kicked off, people were going back in the studio and re-recording everything again! But at the point in between, we were a bit stuck. People were playing badminton and five-a-side football in here - everything apart from using it as a studio!
"There were plans to turn it into four separate pop studios, as pop studios were sprouting up all over London. Luckily, that didn't happen, as Ken Townsend (the GM at the time) said it was a historic room and there had to be another way. There was a film scoring facility called Anvil who were losing their scoring stage; their lease was up. They'd recorded Alien there, the Star Wars films, and James Bond. So Ken said, 'Why don't you bring the clients, the projection equipment and the films here, and we'll provide the space, engineers and mics?' Like a joint venture!
"The first film we did here was Raiders of the Lost Ark in 1981, and then it snowballed from there. Good ol' Ken found a way! And to this day we're still doing loads of film scores in here. Loads of classics have been done here over the years: Aliens, Return of the Jedi, the Harry Potters, Lord of the Rings, the Bourne films, Willow, Brazil - it just keeps going! Certain composers just love this room and will only record in this room.
"Film sessions are different beasts to pop sessions. We have a big projector at the back of the room; the lights go down and each musician has their own little lamp, so it's really vibey and it looks great."
Studio One - control room
"The control room has changed a lot over the years. In the 1930s it was a different small room, as they were cutting straight to disc. This was before tape was invented, so you had two options: stop and start! So if anyone messed anything up, you had to do the whole thing again, and you couldn't edit anything. A guy in a white lab coat standing there; no seats!
"As sessions got more complicated, they needed a bigger space - especially for film jobs where you've got surround sound, a 100-odd-piece orchestra... you need a large console to capture that orchestra. This [console] is the Neve 88R, with 7.1 surround sound, three or four different Pro Tools rigs, a record rig, a playbacks rig, prerecord rig, then a video rig... there's a lot going on, and it all needs to be in sync.
"72 channels sounds crazy, but it gets eaten up pretty quickly! Everyone needs separate headphone feeds, you've got to pipe out the dialogue and sound effects, and often you do playbacks with music, dialogue and effects, and the director wants to hear how the music's balancing against it all - we don't want to lose the dialogue, so there's a lot of checking that the music's not overwhelming everything else. It's a lot to consider."
Know the score
"It's so important to get that balance right at the recording stage. So much so that a lot of film stuff is now done in stems or layers; so you might do the strings first of all, then the brass, then the percussion separately. When the director is in the final dub, let's say the brass is completely overwhelming the dialogue, he can just push it back, or get rid of it entirely if needed. It's
that thing about decisions being made - if you've got so much going on in a film soundtrack, you need that control, as the story's so important. The score has to enhance, not block anything.
"I remember working with Alan Parker who did Midnight Express in Studio Three. When he mixed that, he had three faders: mono dialogue, mono music and mono sound FX, and that was it! You had more, or less - those were your two options! Now you have hundreds of channels! It's funny how things have changed.
"A lot of important clients for us are video game clients. Their budgets are almost as impressive as film budgets these days. Long gone are the days of 8-bit sounds coming out of a ZX Spectrum! It's phenomenal - they're essentially movie scores, but a lot longer, due to the amount of music that needs to be recorded. That kicked off around 1998 for us with Tomb Raider. Actually, the first game recordings we did here were football commentators doing voiceovers for Pro Evolution Soccer!"
Studio Two
"This is the most famous room. Along with Studio One, this has been here since the opening in 1931. To set the scene, we just walked through a house, and that's what it was when EMI bought it in 1928. The idea was for it to be the world's first purpose-built recording studio, which was a huge deal back then - no one had done it before. They bought 3 Abbey Road, and Studio One was its garden. Studio Two is next door's garden. It took them three years to build.
"Unlike Studio One and Three, this room hasn't changed much over the years - they nailed the dark art of acoustics first time round. This was more for swing bands, big bands, smaller chamber ensembles. A lot of comedy records were done here in the early '50s. Then when rock 'n' roll kicked off in the mid '50s - Cliff Richard and The Shadows, that kind of stuff - this room became known as The Rock 'n' Roll Room. The Beatles did 90% of their recordings in here, The Hollies, The Zombies. It's one of those rooms that sounds great whatever you throw at it: an orchestra, drums, vocals, whatever. It's a nice middle ground between the orchestral sound of Studio One and the smaller Studio Three. A lot of bands come in: we've had Florence and the Machine, Lady Gaga, Kanye West, Muse... the list goes on!"
Toying with tech
"When tape machines came in and desks got bigger, they decided to move the control room upstairs. There aren't many studios split like this - back in the day, the recording engineer and producer stayed up there, the band stayed down here, and the two shall not cross! It was really The Beatles who broke down those boundaries, as they were interested in the tech and what you could do up there in the control room – and with George Martin getting involved down here, it paved the way for the way it's done today.
"There are so many iconic instruments around! There's a celeste here that was used on Tubular Bells, Pink Floyd and, more recently, Harry Potter.
"Stuart Eltham, one of the first pop engineers here, was trying things out that have never been done before. He wanted a different piano sound, so he got its hammers lacquered to get a hard 'metallic' sound, then slightly detuned for a chorusing effect. Those guys were inspirational - the first generation of engineers putting their necks out and risking embarrassment!"
Studio Two - control room
"We refurbished Studio Two's control room about a year or two ago. It used to be a bit smaller. We've now added a couple of booths and a machine room, as the Pro Tools rigs used to sit at the back of the room and it was a bit noisy. We've opened it out and made it more comfortable. A lot of rock and pop stuff goes on in here, but film sessions too, which are busy, so we need to make it comfortable."
Studio Three
"This has been here since the beginning as well. This is where they used to do radio shows, smaller chamber stuff, and it eventually became a pop studio as well - The Beatles recorded Revolver in here, all of [Pink Floyd's] Wish You Were Here, a bit of Dark Side of The Moon, and more recently Kanye West and Frank Ocean. Amy Winehouse did her last ever recording here.
"Out of the three main studios, this is the one that's completely changed - it's unrecognisable from what it was. In the 1980s, when MIDI came along, and a lot more was being done in control rooms - the trend was to have a bigger control room and a smaller recording space. We didn't have a modern space like that back then - Studio One and Studio Two are what they are - so it was decided to divide this up and have a larger control room. This was done in the late '80s by Sam Toyoshima, who was the acoustic guy back then, who did a lot of the big studios around the world. It's still the same today!"
Classic gear
"Kit-wise, we have a big J Series SSL desk in here. Before that, we had the G Series. It was expected you had an SSL desk for pop music back then. They're still great desks, which is why we still have one! There's this classic TG sidecar, looking like a '50s cockpit. Lots of outboard, the old classics: old AMSs, LA-2As, Fairchild 660s, Pultecs - it's great to use this older gear to add colour before you hit the 1s and 0s. It's one thing to have it, but it's another thing to look after it and maintain it, and make sure it works when needed. The monitors in here are big Questeds, if you want to crank your mix and hear what it sounds like in Ministry of Sound. When Kanye was here, he had it cranked ridiculously loud... it was unbearable in here!
"Sonically, it's a versatile studio. Drums sound fantastic in here; we do a lot of quartets; overdubs for pop stuff - it sounds good no matter what you throw at it. Plus, it's a self-contained studio
- there's a flat upstairs with kitchen, shower and lounge if you want to lock yourself away from the real world. Bring in a chef, if you like!
"In the live room, we can change the acoustics in here by flipping panels around, from porous to reflective if you want a softer sound. This used to be a mirrored room - it was the '80s, so Sam Toyashima decided we needed a lot of mirrors in here! It was a bit of a novelty, and had a certain sound (in fact, we had to screen up all the mirrors so we didn't get reflections!), but didn't get used much, so we did the sensible thing and divided it up into booths."
The Front Room
"This used to be a remastering room, and we flipped it around. It's funny how stuff swaps around over the years! It's running an SSL Duality, nice bits of outboard from Chandler, Neve, Manley and Universal Audio. Also a few 500 Series: couple of Little Devils, APIs, and a TG. The engineers love using the analogue gear, of course, but they love to use the plugins, too. The most important thing is the musician, right? Then the acoustics, microphone, then what you put into the microphone - it's all essential."
The Gatehouse
"This building used to be the garage for the main house - we found some old photos of 1940s cars stored in here! Then, later on, it became a classical editing room. We've opened it out and up, and turned it into the Gatehouse studio. There's a lovely new Neve in here, great outboard, a few synths. The big studios are fantastic if you need room for an orchestra, but this is more compact and 'real world'. Obviously there's Studio One, Two and Three on one end of the scale, then on the other end you've got online mastering and mixing, so we wanted to bridge the gap between these two. And people expect certain instruments and bits of outboard!"
Designing the studio
"It's got a nice little vibe to it: relaxing, creative, comfortable and modern. Comfort is important. We were conscious about creating the right vibe with these rooms. I checked out many other small rooms - most were very grungy and hadn't had any love. We didn't want to go down that route, but we didn't want to go too posh. I wouldn't say the other rooms are intimidating, but this has a totally different vibe. It's a nice stepping stone if you have a home studio - just a step up with better equipment and the right engineers. We're really proud of it!
"Then there's a nice live area. Lovely upright Yamaha Transacoustic piano. Fender Rhodes, a few amplifiers, drums, and more."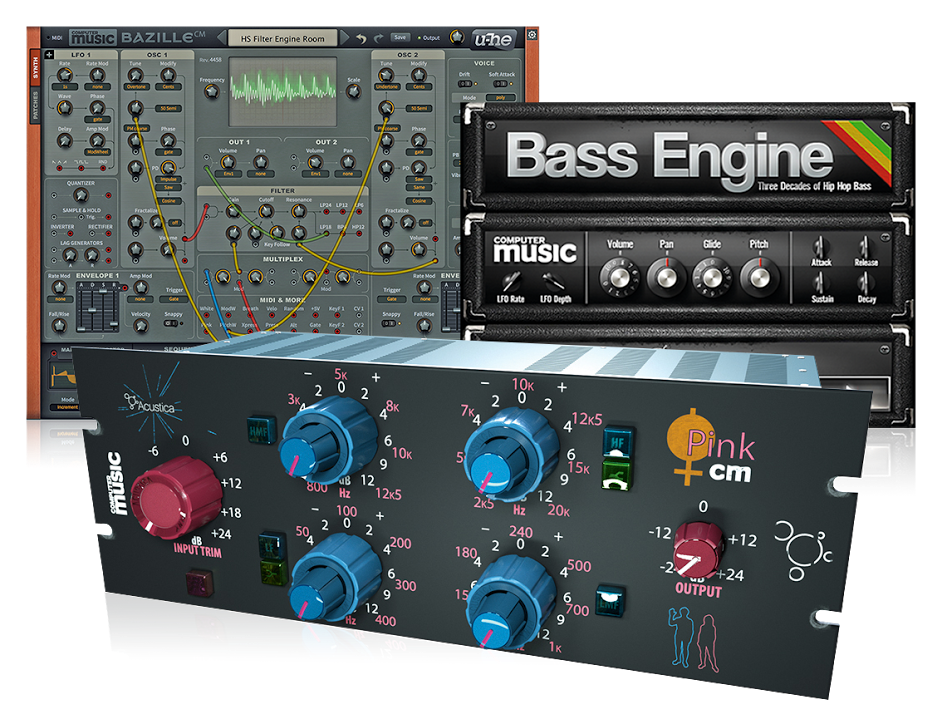 Get over 70 FREE plugin instruments and effects…
…with the latest issue of Computer Music magazine