Historic hardware: Epiphone Coronet
Introduction
Raised from the ashes of New York and Philadelphia and born in Gibson's Kalamazoo factory, we take a close look at one of Epiphone's first electric solidbody guitars, the Coronet...
In the late 1950s, Gibson's Kalamazoo factory experienced an unprecedented increase in its range and production of solid-body and semi-acoustic electric guitars. Having ventured into manufacturing this new breed of instruments in 1952 with the introduction of the Les Paul Model in addition to its traditional archtops and flat tops, Gibson became increasingly experimental with regards to guitar form.
Not only was the well-established Les Paul range - including the Custom, Model/Standard, Special and Junior models - beginning to alter in appearance, but some fairly radical designs had also just commenced production, such as the ES-335, Explorer and Flying V (all released in 1958).
Gibson's owner, CMI (the Chicago Musical Instrument company) had, in 1957, acquired the Epiphone brand and in addition to their own range of Gibson branded guitars, production of a new range of Epiphone solidbodies was started at their Kalamazoo factory, beginning with the Coronet and Crestwood in 1958, followed by the Wilshire in 1959.
Early examples of these guitars represent a unique moment in time as the musical landscape shifted into a colourful new era and a creative explosion of ideas and designs took shape. They also tell a story about a sharp transition in Epiphone's history - one of today's most successful brands whose legacy stretches back to 1873.
Early solidbody Epiphones from the late-50s are rare. It's difficult to find them in clean and completely original condition (especially in the UK), so it was with great interest that we dropped in to visit Phil Harris, a vintage guitar specialist based in Kent, whose collection of over 800 guitars has now been carefully whittled down to a small handful of choice specimens, including this 1959 Epiphone Coronet. As favourite guitars go, they're off the radar for most people, but that may have as much to do with the fact that relatively few players have even heard much about them, let alone had the opportunity to play one.
A unique character
"Normally you only see them in America as they were never exported to the UK," begins Phil. "I've had it for 20 years and I've never had it set up! It's totally stock down to every last screw. There's no re-fret, no re-finish; it's as it came, brand-new. The cases that these came in were just a grey coloured piece of cardboard.
"The body is a single piece of Honduran mahogany, as is the neck (with the headstock wings added, obviously). The neck shape is bonkers! It's got a really strong v-profile - this almost '57 Fender-y, triangulated profile. That was one of the things that sold me on it. And you've got this really wide, flat 'board with the same fret wire they used on 'Bursts. It's like a deformed Les Paul Junior - different shape (but the same depth body) and with the New York pickup instead of a P-90."
It does indeed bear more than a passing resemblance to a late-50s Gibson Les Paul Junior in terms of basic spec and with its choice of tonewoods: a Brazilian rosewood fingerboard and single piece Honduran mahogany neck and body with 1¾-inch depth. The single bridge pickup with single volume and tone pots further add to its similarity to a Les Paul Junior, although its character is markedly different in terms of sound and playability.
This is in large part due to the New York pickup - so named after Epiphone's previous Manhattan, New York location, where earlier Epiphone production was based before it moved, firstly to Philadelphia in 1953 and then to Gibson's Kalamazoo factory, following CMI's 1957 acquisition.
The last of these Epiphone parts were eventually phased out during the late-50s, as vintage guitar expert, George Gruhn, explains: "At the time of Epiphone's acquisition, CMI was interested as much as anything in their upright basses. When they acquired them they also acquired a number of parts and work-in-progress, and they did use up some of the old necks and pickups - they didn't continue to manufacture the New York Epiphone pickups and the Kalamazoo factory just used up leftover ones. Epiphone had previously never put [New York] pickups on a solid-body guitar; those were leftover pickups and as soon as Gibson ran out of them they started using pickups of their own."
Student becomes the master
The fact that Gibson decided to use up the remaining stock of Epiphone parts following the takeover is exactly what makes the initial run of Epiphone solidbody electrics so unique.
These early examples were only in production in limited numbers for a very small amount of time, as by late 1959 Coronets were fitted with a Gibson P-90 pickup as standard and by 1960 the body shape had changed from a 1¾-inch slab to a thinner, rounder design. Although production of the Coronet continued throughout the 1960s and was eventually ceased in 1970, they were a distinctive turning point for a brand that to this day, inspired by its Gibson heritage, continues to produce a sizeable range of solidbody electric guitars.
"This is one of the first solidbody guitars that Epiphone ever made, so it's actually very symbolic, historically," confirms Phil. "It's like the Fender Broadcaster of Epiphone - the company's first ever solidbody electric guitar. It was intended as a student guitar, but nowadays they're often the best ones! People used to say they had a Gibson Les Paul Custom and it was the most expensive and therefore the best solidbody electric guitar that Gibson made, but I'd play them and think 'What are you on?' They're not always the best."
Tonally, one might expect something quite different from a late-50s New York pickup, slab-body Coronet, as there's little else to compare it to in terms of specification. When Phil plugs it into a Lazy J tweed amp, turns up and plays, we are immediately taken aback by its power and versatility. With a comparatively low output often measuring between 4.5K ohms and the low 5K ohms range, New York pickups aren't renowned for their exquisite character.
As George Gruhn rightly notes: "Many people criticise [New York pickups] and I haven't heard anyone rave about them." However, this is more often than not in the context of playing an archtop guitar. In a solidbody guitar it is evidently a very different picture altogether, as the amp volume can be dialled in high and tuned to a sweet spot, without suffering the problems associated with feedback in a hollow-body guitar.
Hybrid hero
Phil best describes the sound as "like a Telecaster on steroids. Although it's cutting, like a Fender, it's got a midrange push and it's not tinny. With the volume backed off it cleans up whilst retaining plenty of cut and twang. With the volume full up you've got plenty of cut and a drive - as they say on Spinal Tap: 'It goes to 11.'
"With P-90 Coronets you get the power and grunt, but with these [New York pickup] versions it's a much more open sound and very different, tonally. When they used up the New York pickups they did away with the slab body and they didn't make a P-90 equivalent."
Despite the obvious similarities to a Les Paul Junior, aesthetically it retains a strong air of individuality due to its numerous, albeit soon-after discontinued, Epiphone parts. Part Epiphone, part Gibson, it's the true embodiment of a transition guitar of the time.
"It's a bit of a mix and match," agrees Phil. "The wood from this guitar is Gibson stock, as are the machine heads. The nickel plated tailpiece is typical of a '59 Les Paul Junior, as is the tri-laminate, square edged jack plate and the strap buttons have the big centre bolt, which are associated with 'Bursts. But the pickguard, knobs and pots aren't typical Gibson and neither is the pickup or the truss rod cover.
"The pressed metal truss rod cover is the old style that Epiphone used on jazz guitars. The pots are different in order to fit the typical Epiphone Bakelite 'radio' knobs, while the 'bikini' metal badge headstock logo is what you would see on some of the earlier Epiphone archtop guitars."
Although somewhat of an unknown quantity to most guitarists due to their scarcity and lack of notable endorsement, these transitional guitars are certainly not without their fans. Keith Dunnell, a vintage guitar specialist and collector, happens to be one such admirer.
"I love those guitars!" says Keith. "You get these wonderful hybrids; a kind of cross-breed of Gibson bodies with these amazing New York Epiphone necks, which are v-shaped, so completely different. The interesting thing is that Gibson saw Fenders had narrow necks and they started to put narrow necks on Epiphones very early on. The factory almost used Epiphone to try things out, rather than tamper with the Gibson brand, until they were sure it would work."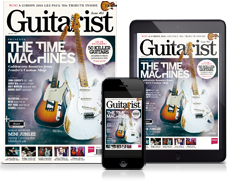 The magazine for serious players
Subscribe and save today!