One Direction bassist Sandy Beales on playing with the biggest band in the world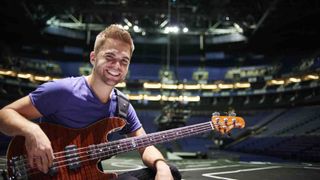 Introduction
Four years ago, seasoned session bassist Sandy Beales was invited to audition as for X Factor bronze medalists One Direction's first UK tour.
Although Niall Horan, Liam Payne, Louis Tomlinson, Harry Styles and the now-departed Zayn Malik were creating an almighty industry buzz at the time, few could have guessed that they would soon go on to be the biggest British act since The Beatles.
For Sandy – and the other three members of One Direction's backing band – that initial UK trek soon turned into a global tour and the rest, as they say, is history.
We met up with Sandy a few hours before One Direction took the stage for the last night of a six-show O2 Arena residency, to find out just what it takes to play with the biggest band in the world, from gear to playing technique…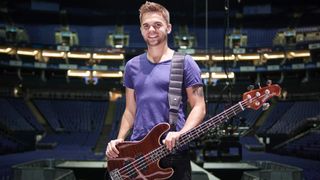 Bass beginnings
What made you first want to pick up a bass guitar?
"I started playing bass when I was 15. A friend of mine had a band, and he said, 'Do you want to be my bass player?' I didn't even know what a bass guitar was at the time but I said, 'Sure, I'll do it!'
"I bought a bass and, from there, it was just like, 'This is what I love doing!' That band was sort of pop/rock, your typical 15-16-year-old teen angst thing. But from that moment onwards I knew music was the path I wanted to go down."
Which bassists have inspired you the most?
"Early on, the Chili Peppers really influenced me. Flea was just this crazy guy with these mad basslines, and I think it was a big moment for me when I first heard him. I thought, 'Wow, this is what a bass can be!'
"I love James Jamerson as well. I absolutely love all that old Motown stuff. His creativity and improvisation grabbed me instantly. I guess that all helped encourage me to keep playing bass. Hearing people like Jamerson and Flea and Marcus Miller and people like that was just incredible."
Who are some of the acts you worked with before hooking up with One Direction in 2011?
"I moved up to London in 2005, then studied at Tech Music School and started working with a few different singer-songwriters.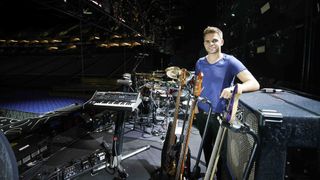 Working with 1D
Did you think you'd still be playing bass in One Direction four years after those initial auditions?
"I got to hear about the audition through word of mouth, and I was put forward for it. It was quite a big thing but, at the time, we didn't know that.
"We only thought it was a UK tour that we were auditioning for, but then the whole thing exploded and here we are four years later, which is incredible! It's beyond any of our wildest dreams, really… that it's got to the stage it's got to and with the same four guys!" [Alongside Sandy, One Direction's long-serving backing band also includes Jon Shone (keys & musical director), Josh Devine (drums) and Dan Richards (guitar)].
How has the band dynamic developed over time?
"After four years, you do get a really strong unity onstage, but I think we quite quickly all locked in together and developed what's almost like telepathy.
"I think it seems to grow really strong especially between drums and bass. From my perspective, as a bass player, it seems like the two of you really get each other. You know where the fills are going, you know what's coming and where it's coming. Josh is a bass player's dream to play with: solid with a heavy kick and heavy snare, but also a great groove.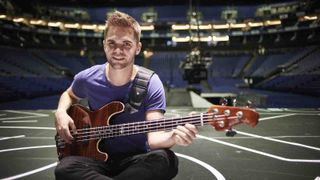 Keeping things fresh
How far do you develop arrangements during pre-production and on tour, compared with the original recordings?
"Well, for our individual instruments, we're given what was originally on the tracks and we work with that. We've got freedom to move about, make it more live and make it more ourselves, and that does kind of develop as the tour goes on, which is so nice because you feel like you're really putting your stamp on it.
"We're improvising and making it a little more dynamic and organic and live, which I guess is sort of the essence of a live performance, isn't it? Jon [Shone], the MD [Musical Director], is great, because he'll let us be a bit more expressive… there's a song called Kiss You and it's got a few pops and stuff on the record, and I can elaborate that a little bit more live and put a few more runs in.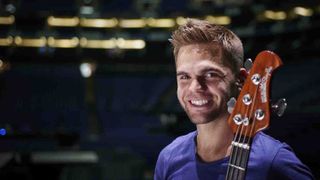 On the 'Ball
Tell us about the bass guitars you're currently playing…
"Well, I'm very lucky to have found my bass home with Ernie Ball Music Man. I've gone through a few basses in my career, but ever since I started playing Music Man basses, I feel I've really found my sonic home. As soon as I started playing them, I was like, 'Wow, this is the bass for me!'
"They've actually just made me a fretless Reflex, which is a humbucker, single, single pickup configuration and it's an absolute beast – and it's in a nice quilted purple, too! I've literally just started playing that one on the tour so that's two weeks old.
"Then I also have the Stingray double-humbucker four-string Ball Family Reserve Californian Redwood, which is absolutely beautiful, as well, and another Stingray, which is a five-string with a straight-ahead single humbucker in a red quilted finish. That's an absolute powerhouse with no frills.
"I also use Ernie Ball strings – flats on the fretless, Hybrid Slinkys on the four and regular on the five. Other than the guitars, I also have a Moog Little Phatty, which I use for some of the more up-tempo dancier synthesizer-heavy tracks. I always use Mono Betty straps – they're so comfy and take some of the weight of my heavier basses."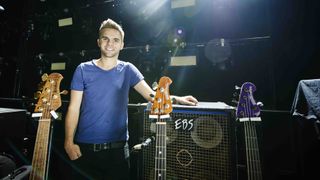 Amps, pedals and EBS
Looking at your amps and pedals, you're obviously a big fan of EBS equipment. When did you first start using their gear?
"I've been using EBS for probably about 10 years now, but they've now been endorsing me for six years.
"After doing a few TV shows, I contacted Ralph [Bjurbo, EBS Marketing & Artist Relations Manager], and told him the work I had been doing and that there would be a few more things coming, and I asked if I could get an artist's deal. Amazingly, he said 'yes', which was awesome, because I guess I wasn't effectively doing a massive amount at that stage, so it was really nice that he really believed in me before I was doing big gigs.
"I genuinely do believe they are the best amps out there. I haven't just stayed with them because they were the first to believe in me."
What EBS amps are using currently and how has that setup changed over the years?
"I had a TD650, and I used to have a Neoline 112 cab. Now, I've got a Neoline 410 onstage, which is on top of a dedicated sub, and I've got two Fafner II amps, which I've been using for about two years on the road. One of them is a main amp and then one is a backup, although we've never had to switch to backup because nothing has ever gone wrong with my EBS gear!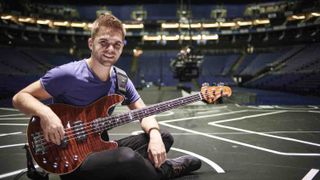 Dream gigs
Lastly, which artists past or present would be your dream acts to play bass with?
"Well, obviously, it's never going to happen, but Michael Jackson would've been amazing. I would have loved that, but then someone like Stevie Wonder would be great.
"Then maybe Justin Timberlake or Frank Ocean… anything that's got a live groove and vibe and R&B influence would always be great bass-wise."