Joe Bonamassa talks new album, Strats, Dumbles and Hendrix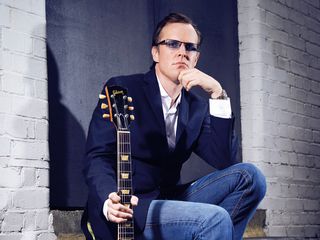 Introduction
"I've always been that maverick guy who's got a very liberal view of what blues is; very open-minded," Joe Bonamassa reflects. We're at John Henry's rehearsal studios in London, the day after Joe performed at Download Festival. By his own admission, it wasn't a gig he enjoyed all that much.
The hired backline was passable, tone-wise, rather than awe-inspiring - as his own custom tour rig normally is; and to add insult to injury one of the metal acts on the bill was testing its brutally loud amps backstage, very audibly, during his set.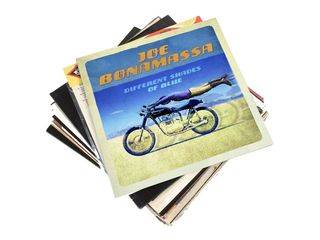 Hendrix hallmark
Why did you decide to kick off the album with a Hendrix tune?
"Two reasons: Kevin [Shirley, producing] played me a really interesting piece of music called Hey Baby, and I'd never heard it. I'd heard Jimi play a little of it at Woodstock but I'd chalked that up as a 7am, Monday morning, end-of-the-LSD kind of thing, because that whole end of Voodoo Child he did at Woodstock appeared to me to be off the top of his head.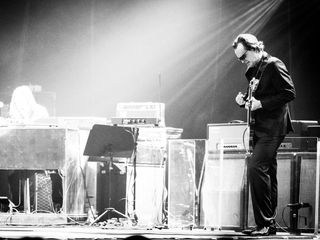 Strat's life
So, have you turned to playing Strats?
"I'm a Gibson guy tried and true, but I've been playing a lot more Strat, partly because I've rediscovered the beauty of a maple-necked Strat. For years it was commonplace to go, well, the maple-necked Strat is a Buddy Holly guitar and the rosewood neck, slab-'board would be Rory Gallagher, non-slab would be Stevie Ray Vaughan, because they said it's a '59 - but it's not, because you can see the curved 'board pretty clearly.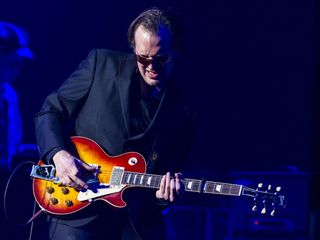 Better be Bigsby…
You use a lot of vibrato bar on Get Back My Tomorrow - but the tone sounds a little beefier than a Strat...
"That's actually a Bigsby. I have a couple of new Strats I keep around for the Jeff Beck thing because I don't want to break the bar off of my old Strats. But honestly, one of the coolest and most unsung whammy bars is the Bigsby.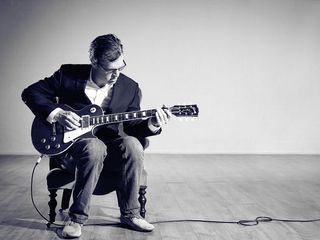 Beautiful blues
Oh Beautiful is an interesting track - like a Delta blues lament followed by a psychedelic rock wig out...
"I wanted to do an a cappella verse song for a long time. And I wrote the lyrics with my friend James House. So I said, 'I got this riff and I wanna stop the riff and then sing a verse'. So he goes, 'Okay, so is there gonna be a chorus?' And I go 'No. There's gonna be a verse, another set of riffs, another verse,' and he goes, 'Well what about the mid-section? Is there a bridge?' 'No.' And he said, 'Wow, it's gonna be really interesting.'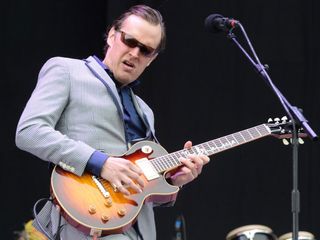 Default licks
When do you find yourself lapsing into 'default' licks?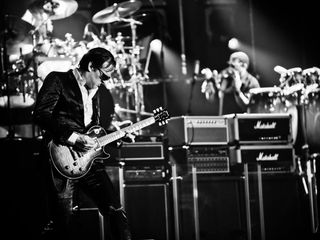 A new Page
Playing in that way seems to have brought out a touch of the Jimmy Page in your playing...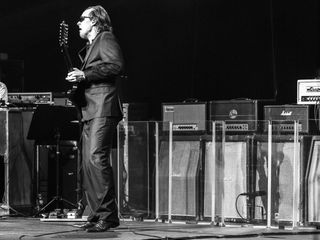 Amps galore
How did you pick which Dumbles, Fenders and Marshalls to use on each track?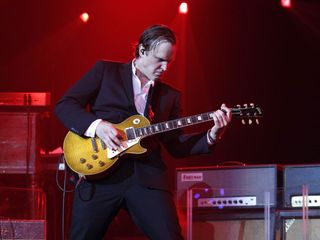 Simple tones
Your lead tone is fat and hugely sustaining. Do you ever use pedal compression to add sustain?
"The only time I'd ever use a compressor would be on something like that Beth Hart record, where I needed a really clean Tele tone - that real James Burton sound. In the studio it just makes it come right forward. I don't believe in compression on overdrive because the amp should compress naturally.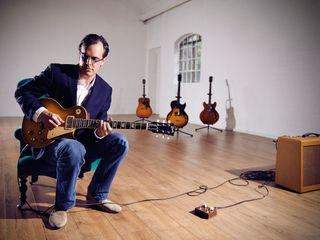 All-star guitars
How about guitars - did you bring many into the studio?
"Not as many as I would normally take. I just took what I knew would work: a pair of blackguard Teles - a '52 and a '53 Tele - a '56 Strat, '63 Strat, and a '65 Strat. Actually, I didn't take that, I bought it in Vegas [where the album was recorded] and took it home.
"I took a '58 Goldtop with a Bigsby, two '59s - I know, don't feel sorry for me! - and I took my dot-neck 335 and I took my block-neck '64, my '57 ES-350, my '57 Special and I took the '58 EDS-1275, the thick-body doubleneck. And for acoustics, I brought probably six or seven... some Martins, my Grammer Johnny Cash, and a 12-string."
What do you hope people will say about your first album of original songs?