James Dean Bradfield's guitar collection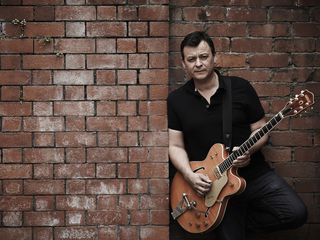 Introduction
Walk into Manic Street Preachers' 'Faster' studio in Cardiff and you can almost smell the unique history of a unique group.
For a band who infamously promised they'd release one album then disband, something obviously didn't go to plan. 28 years after forming, the Manics are still here and still shining. They've had many triumphs and more than their share of tragedy, but the resilient 'boys from Blackwood' continue to surprise.
Latest Manics album Futurology, their 12th, mixes motorik beats, heavy riffs, soaring guitar solos and lyrical curveballs. But Guitarist is mainly here to discuss the guitars of James Dean Bradfield.
'Faster' is an appropriate word for how Bradfield talks - he has an opinion on everything, but that's how we like it. And James is a gear-head, too. Like you, JDB reads Guitarist magazine. The guitar gear in Faster studio is mightily impressive, from well-known favourites to rarities you'd never imagine.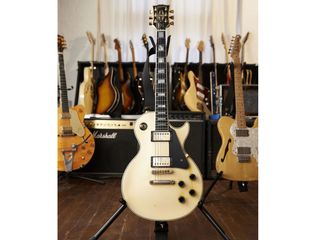 1990 Gibson Les Paul Custom aka 'Faithful'
JDB: "Bought new from Macari's on Denmark Street (London) just after we signed with Columbia. Before that, Richey had a two-horned Gordon-Smith and I had the Fender Tele Thinline. But we swapped, as the Gordon-Smith seemed more like a Gibson-esque lead guitar and the Tele a bashing-and-crashing rhythm guitar.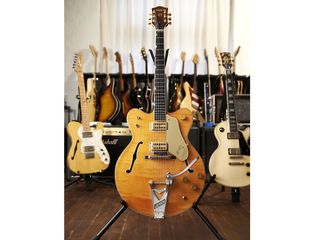 1965 Gretsch G6120 Chet Atkins
"Bought from Fat Rick's Guitar Emporium just before Everything Must Go. I'd seen Joe Perry talking in the documentary on the making of Aerosmith's Pump, saying: 'sometimes, I'll get a guitar just 'cos it looks cool.' So this is me channelling Joe Perry.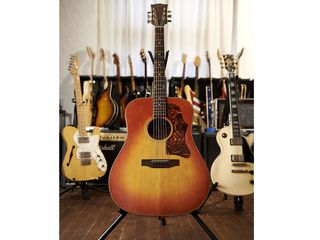 1973 Gibson J-45
"Bought during the worst hangover of my life, from Fat Rick's Vintage Guitar Emporium in London. Sweat was dripping off my nose and I don't imagine even Richard Burton ever felt so terrible. But I wanted an acoustic with a bit of midrange.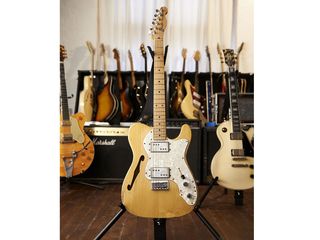 1986 Fender Telecaster Thinline (aka "Richey")
"Good story. I got into a big fight in Newport, aged 18, at Christmas time. Odds were bad, three against one [laughs]... and I got my jaw broken. So I had my jaw wired up in hospital and my mum had to feed me some sort of liquidised Christmas dinner that year. And then my girlfriend left me...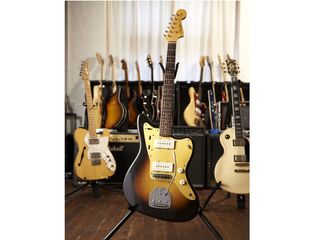 1960 Fender Jazzmaster
"There's a lot of this on Lifeblood. Those songs weren't asking for my Chuck Berry-isms or my soft-metal-isms. Jazzmasters are great studio guitars, but I just can't get on with them live.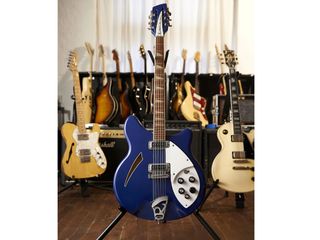 1982 Rickenbacker 360 12-string
"I won this in a bet with [record producer] Mike Hedges. During one session in his Normandy studio for This Is My Truth... we were ragging each other over a rugby score. So we had a bet!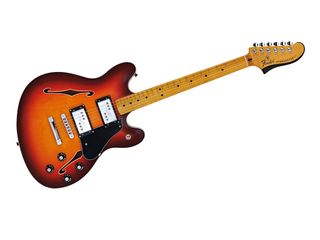 Fender Starcasters (one 70s original, one 2013 Modern Player)
"I first played one in 1996 - what an amazing guitar. Sean (Moore, Manics drummer) found my first second-hand and it's all over Futurology. I also have a recent reissue, too.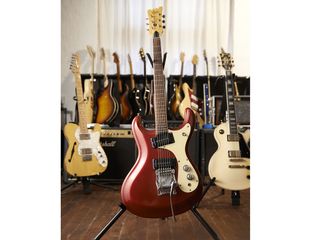 Mosrite "The Ventures"
"I don't know what year it is, but I do know it's a pig of a guitar! It must have the smallest fretboard of all time. I've got small hands anyway, but f***ing hell!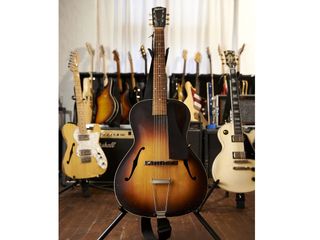 c1940 Gibson L-30
"Bought in a car boot sale by Sean [Moore, Manics drummer] for £400. This is all over the Rewind The Film album. It's got a beautiful, snub-nosed, woody sound, used especially on Running Out Of Fantasy and Manorbier."