Fairport Convention talk acoustic sets, wide-ranging instruments and shifting line-ups
Introduction
Fairport Convention are a mainstay of the UK folk scene and have taken an increasingly acoustic slant as they've continued their evolution. As the band celebrates their 50th year in the business, we speak to the current members about the instruments and music that keep the band going.
A long time ago, in a place far, far away called the 1960s - if you can remember it you probably weren't there - a group of budding musicians convened at a house in North London called 'Fairport'.
They formed a band, and one of them, Simon Nicol, whose parents happened to own that house, is still in that band 50 years later. He was young when they started. In fact, they have been going so long that Nicol has been known to introduce them as their own tribute band.
Fairport Convention started their golden year with an extended Winter Tour that runs until March. Celebrations officially start with a concert at the Union Chapel, London on 27 May, just down the road from St Michael's Church Hall where they played their first gig exactly 50 years ago to that day.
Then, in August, the annual Fairport's Cropredy Convention will see the band joined by numerous former members and collaborators to relive past glories and look towards future triumphs. And there is a new album: 50:50@50, combining seven live tracks and seven freshly minted studio recordings.
Fairport mark one fizzled out in 1979, the brand kept alive by their annual Cropredy Reunion until, in 1985, they decided to reform around original member Nicol and the two Daves, Pegg and Mattacks, who had joined in 1969. As the third Dave, Swarbrick, had moved on, they recruited Ric Sanders, late of the Albion Band, and multi-instrumentalist Maart Allcock.
This line-up kept to the Fairport folkrock tradition, but when Maart left in 1996 and Chris Leslie joined, bringing with him a softer, more lyrical approach together with his fiddle, mandolins and bouzouki, the band expanded their acoustic side. Then, in 1998, drummer Gerry Conway took over from Dave Mattacks and added a hand percussion element to the acoustic core.
Today, the difference between Fairport electric and Fairport acoustic is the size of venues they play, the choice of songs and the fact that, as Dave Pegg puts it, the acoustic band sits down in a semi-circle and the electric one stands up in a line.
Going acoustic
On the day we meet, the band are at Woodworm Studios putting the finishing touches to their new album, with members coming and going to add a vocal here or a harmonica there.
Simon Nicol has a stinking cold, but he is keen to talk about Fairport's acoustic tradition and his love of acoustic guitars, so we move to a quiet room for a chat. With the muted sound of guest vocalist Jacqui McShee's crystal voice drifting through the walls he explains how Fairport Acoustic came about in the early 1990s.
"That started kind of by accident. We did a radio programme for the BBC one day and things went wrong and Dave Mattacks wasn't able to do the broadcast. We hastily discovered that we could make a serviceable fist of playing the same material without the drums, and it was quite fun, and raised the possibility of doing some drummerless gigs."
He explained how they began to build up a repertoire of acoustic material and, in 1995 recorded their only (to date) fully acoustic studio album Old, New, Borrowed and Blue, which was released in 1996. Allcock cowrote one of the songs with Chris Leslie, who had also covered for Ric Sanders after an accident in 1992 had prevented him playing for several months, so Leslie was a natural choice when Allcock left. "That was the point when we became much more string-driven," Nicol continues, "and the other difference was that we now had two singers in the band."
While we are talking, Ric Sanders drops in to re-record a couple of fiddle parts he wasn't quite happy with. "When Chris joined we definitely started to have a more acoustic sound," Sanders says as he packs up, "and I changed from playing a skeleton fiddle to one that looks conventional. The LR Baggs pickups are so good and versatile that it's possible to sound quite acoustic or very electric with the same instrument."
Nicol explained how, for a while, they were performing two separate repertoires and the acoustic band, for logistical reasons, tended to be the lineup that toured the USA. A major change in the lineup occurred when Dave Mattacks left in 1997 and was replaced by Gerry Conway, a founder member of Fotheringay who had also worked with Cat Stevens (Yusuf Islam), Jethro Tull and Al Stewart.
"For a while we were running the two bands in parallel but there came a time when we also did some gigs without bass, and Gerry played instead, so we had a bassless but percussive acoustic outfit. Gerry was very happy to embrace the cajón," Simon said with a smile.
Later in the day, Conway added, "We were guesting on the BBC radio programme Loose Ends and I opted to bring a cajón. We recorded a song with it and on playback it was an instant success. The sound sat very nicely with the acoustic instruments."
Nicol continued: "These days the Winter Tour is done with full production in theatres and large town halls. The May/June tour tends to be the smaller venues and, in the main, we have been doing these without electric guitars or a full drum kit. Gerry will rely more on hand percussion with the cajón and we sit down so that it's more intimate.
"Back in the late 1990s we might have had two separate repertoires running side by side but now, if we look at a song and we like it, we'll play it in both sets, although it will sound different. The main difference now is the staging. There's a feeling of more communication in the acoustic band."
No museum models
We move on to talk about guitars. "I've always played the electric guitar in the way I play acoustic guitar," he says, "I get a different sound out of it, and I like the sonic effect that I get out of my Strat, but I'm not an electric guitarist. I've never wanted to solo and showboat and get up the dusty end!
"I use hybrid picking, it's what a lot of people in the folk scene do. Middle and ring finger with the pick between thumb and index finger are as far as I want to go. I'll use the pinky occasionally but it's basically a three-part claw."
Nicol is keen to stress that he's not a guitar collector, working with a small palette of three or four.
"The oldest one I've got is a 1982 Rob Armstrong Parlour guitar," he says. "I played it about three or four times on visits to his workshop. It was one of his 'try out guitars'. One day he said he would like me to have it," he reflects, slightly awed at the memory, "a hugely delightful gift."
On stage and in the studio he alternates this with his 1990 Santa Cruz Tony Rice.
"I bought it on impulse in Austin, Texas. I tried a couple of Mossmans [a legendary American flat top guitar brand that hardly ever crossed the Atlantic] and then the Santa Cruz came off the shelf and just said 'take me home'. It was a ludicrous amount of money, but I had an Amex card with me."
He adds that he didn't put a pickup in it until 1996, as he didn't want to add a piezo, but around then he tried a prototype of what was to become the Fishman Rare Earth soundhole-mounted pickup and he has used these ever since, in his Rob Armstrong and Santa Cruz guitars.
"I've also got a Fender 12-string. I don't use it a lot but it's a great noise to bring to the party when you want to. The other guitar I'm using is a Yamaha FG411S, which I have high strung, also known as Nashville tuning. You put on the strings that would be the extra strings on a 12-string so the high E and B are normal then GDAE are an octave higher. Blends beautifully with a mandolin." He adds that he's a D'Addario endorsee and generally uses EJ 16s and occasionally EXP 16s.
After Nicol has disappeared to the station with his man-sized box of tissues, Chris Leslie sits down with us to talk mandolins, bouzoukis and songwriting.
"I am an acoustic musician, that's where my sensibilities lie," Leslie says, explaining how he came from a folk, acoustic and roots background. "It took me at least two years to build my own nest in Fairport, to make my own space on stage," he adds, "I was trying to cross the bridge between what was in the repertoire when I joined while letting my own sensibilities come to the fore as time went on," he said, reflecting on how, at first, he used an electric bouzouki as that 'bridge' between the old and new before reverting to purely acoustic instruments.
"What was great about being in the band was that they let me develop exactly as I wanted to. Nobody ever said you have to sound like this. In many ways that's the strength of Fairport. It's always been a moveable feast with whoever is in the band at the time. It's never become a karaoke of itself."
Manning the mandolin
When Dave Pegg called him in December 1996 and asked him to join the band his first question was, 'What will I do?' At that time he was known primarily as a fiddle player and he knew that, in Ric Sanders, Fairport already had one. Pegg told him to play the mandolin.
"I had been in a mandolin quartet with Simon Mayor," he explains, and had replaced his early budget mandolin with a 1920 Gibson A4 J series which he found in a Hexham fiddle shop.
"Also, just before that phone call, I was in the instrument tent at a festival and picked up this Fylde bouzouki, strummed it and just loved the sound of it." He bought it, little knowing that he would be stepping into something where the bouzouki would become more important as his role within the band developed.
"Twenty years on and I've played a lot of mandolin in that time," he says, although his fiddle still comes out of the case for several tunes he duets on with Ric. During those 20 years Leslie has also taken on a lot of the vocal duties, contributing his lyric tenor to many songs and becoming the band's lead songwriter.
"My first composition as a member of the band was John Gaudie. I actually wrote it when I was in Whippersnapper, but it transferred very well into the Fairport sound."
Leslie currently uses an Ozark 2246 guitar-bodied bouzouki and a 1968 Gibson F12, both equipped with Fishman pickups, together with his vintage mandolins and Fylde bouzouki. He favours Elixir strings on the mandolins, but Picato on the bouzoukis with everything going to the desk via an Orchard DI.
Last to arrive at Woodworm is Dave Pegg. Although not quite an original member, having joined at the end of 1969, he has been the one continuum in the band, keeping it together in its various forms and being instrumental in the continuing success of the Cropredy Festival.
Best known for his electric bass playing, currently with a fan-fretted Ibanez SRFF805, he is also a mean mandolin player and owns a stunning 1918 Gibson which, not surprisingly, never leaves the house. On stage he usually uses his Eastman. He also has quite a collection of acoustic basses.
"Rob Armstrong built my first four-string acoustic bass guitar. That one is unbelievable. I go to quite a few acoustic sessions in Brittany, where I live, and I take that and it competes with banjos, whistles and pipes even." He continues the band's association with Ozark basses and bouzoukis.
In 2014 Dave had most of the musicians at that year's Fairport's Cropredy Convention sign a prototype Ozark acoustic bass, which was then sold in aid of the Katherine House Hospice in Adderbury.
Pegg is currently gathering autographs on another Ozark and should be playing it when Fairport Acoustic play their 20-minute set that will open this year's Fairport's Cropredy Convention on 11 August. After too brief a chat, Pegg had to get back to the editing coalface and I left Woodworm to the sound of Robert Plant, another guest on the new album.
Fairport Convention's 50th anniversary album - 50:50@50 - is out now and Fairport's Cropredy Convention is on the 11, 12 and 13 August 2017.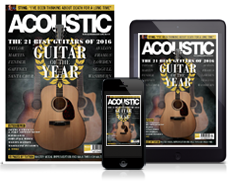 We're the UK's only print publication devoted to acoustic guitar.
Subscribe for star interviews, essential gear reviews and killer tuition!