Craig Blundell on drumming for Steven Wilson, technology, counting and more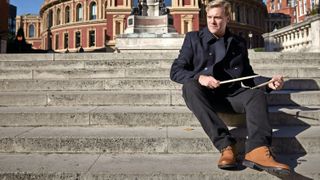 1 - Introduction
Progressive rock fans are some of the most loyal and discerning listeners in music. We're sure fans of other genres of music will dispute that, but it would be a close debate.
The music and the musicians that create it become deeply meaningful and important to those fans and when bands change members or styles, it can be met with cautious scepticism. Such was the case with Steven Wilson's recent solo project.
After helming Porcupine Tree with Gavin Harrison on drums for several years, that band went on hiatus and Steven released the well-received solo effort, The Raven That Refused To Sing.
Hand. Cannot. Erase.
While fans of the prog maestro had become accustomed to seeing Marco Minnemann, and more recently, Chad Wackerman, in the drummer's chair on Steven's solo tours, both of them were unavailable for the tour in support of Wilson's latest release, Hand. Cannot. Erase. Enter Craig Blundell.
International fans may have scratched their heads due to lack of familiarity with his name, but those familiar with Blundell's work nodded knowingly at Steven's choice for the seat.
After playing in the drum corp for the military, he played kit in pick-up jams and pub bands while working whatever day gig he could to pay the rent. After a few attempts, Craig went pro in 2008 and began playing drums and music full time. A keen interest in electronics, triggering and loops led to a significant partnership with Roland, for whom he also does clinics.
Playing sessions, jingles and gigs here and there paid the bills but Craig's true passion was progressive music. He played in studios and gigs whenever he could as he continued to hone his craft.
Winning over the prog crowd
Whilst he is known on the studio circuit amongst musicians and producers, the Wilson gig is Craig's first high-profile exposure. It didn't take long for the legions of prog fans to be won over. After stints in South America, the US and Europe, including two special gigs at the Albert Hall, Craig and the band have received rave reviews for their performances.
During the tour's current down-time, in addition to accepting private students in person and via Skype, Craig is gearing up for another round of touring with Wilson throughout 2016.
He's been busy in the studio as well, recording material with Steven and working on his second solo album. With all of that on his plate, Craig is also writing an instructional book. We caught up with prog's busy rising star and talked with him about landing the Wilson gig, his passion for education and his goals of inspiring while entertaining.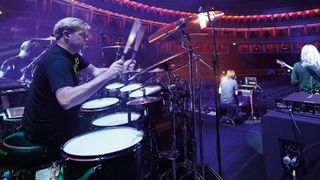 2 - Getting the gig
How did your name come into the mix when Steven Wilson was looking for a drummer?
"I was on holiday last Christmas and getting ready for doing another year of jingles, demos, clinics and a few gigs here and there. A friend of mine, John Mitchell, who's a producer, sent me an SOS out of the blue saying, 'Steven Wilson is interested in meeting up with you. He's looking for a drummer. He's auditioned some guys and he's been looking at your stuff, are you interested?'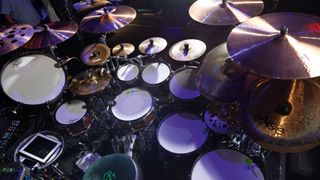 3 - Hitting harder, technophilia and Wilson studio time
Did you transition your style to be more aggressive and hard-hitting as per Steven's request?
"Steven likes a big sound. Gavin and Marco have a huge sound. I've always kept everything kind of low. Steven records the show every night and listens back and will make a few changes or say things.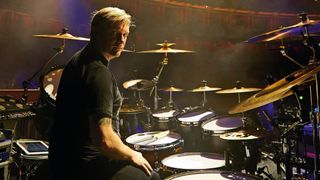 4 - Forces roots and smoothing odd numbers
What were you involved in before this gig?
"I turned pro in 2008. What people don't know is when I was doing all the clinics and drum festivals, 2003-2008, I was still doing a day job.
"I played in a few bands, got a couple breaks, then it was back to the day job. When I turned pro, I had a couple of bands on the go.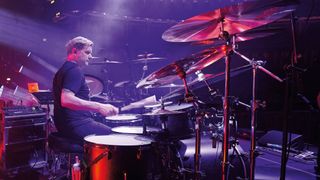 5 - No quick fixes
Who are some of the bands that have caught your ear lately?
"Two years ago, I saw Animals As Leaders. I thought, 'That's pretty cool!' Matt Garstka is a great player. Opeth I think still push boundaries. They're my two main ones recently that just blow me away.
"Between The Buried And Me are a very good band as well. There are some great bands out there that are just coming to the surface. For me, it started with Pink Floyd, Yes and Toto back in the day. Then, coming into today, Porcupine Tree. I'm a huge Toto fan, I would love that gig as well, but that's another story!"