Dominic Miller's 10 tips for guitarists
Introduction
Sting's guitarist Dominic Miller discusses the ups and downs of swapping between stadia, studio dates and solo gigs.
Equally at home on electric, acoustic or nylon-string guitar, Dominic Miller is one of the session scene's rare all-rounders. He's also immersed in the role of being Sting's right-hand man, having been recording and touring with rock's favourite ex-Policeman for a mighty 28 years.
Dominic's most recent project will come to fruition this April with the release of his first solo album for the prestigious ECM label, entitled Silent Light. We tracked him down to Texas where he's engaged in a hectic touring schedule promoting Sting's latest release, 57th & 9th. We were keen to know how he manages to swap roles between sideman, sessioneer and soloist so seamlessly. Just what does it take to adopt and adapt in this very personal game of musical chairs?
Seek Out The Right Mindset
"Playing solo is a completely different discipline to playing in a band. It's actually a lot harder - dextrously harder. So I do actually practise for an hour before a solo gig so I can get into shape. Playing in a band is not dextrously challenging, it's more conceptually challenging. You know, to be 'in the zone'. When you're playing in a band you really have to be communicating with four or five other guys, so you have to get into a completely different mindset where you have to connect with other people on a much more telepathic level."
Know When To Take Control
"I'm always shit scared before I go on in front of 200 people playing a solo gig, because I think they're all thinking, 'Okay, Dominic Miller, let's see - what's it all about then?' and so I have to be respectful of that.
"But if my faculties are together and my fingers are in shape then it can be an empowering experience, because I can take control of the situation. I just did an album that is solo, pretty much. It's nerve-racking and it takes so much concentration, but it's very, very rewarding if you get it right…"
Learn From Your Peers
"I've been very influenced by the people I work with over the years. Most of the people I work with in my day job are singer-songwriters, pop musicians and rock stars. So I take a lot of influence and inspiration from the way they form their songs, and a lot of it is to do with form and arrangement. You know, verse, chorus, verse, chorus, bridge, whatever…
"I like the laws of songwriting and the way you can encapsulate an idea in four or five minutes, like a concept. So, really, that's what I try to do with instrumental music when I write. I try to come up with some kind of an instrumental narrative that obeys some of those laws of arrangement and form."
Remember To Tell The Story
"I don't really like to listen to an album of eight 11-minute instrumental pieces where I feel that the instrumentalist is not really telling me a story. I think [in those scenarios] I'm really hearing more their playing than any kind of narrative.
"I identify much more with instrumentalists who take all ego away, and if the piece of music requires a little bit of finger-yoga or histrionics, well, then, bring it on. I'll be the first to go for that if I feel that this is a good time to do something really like, 'Wow!' But my default setting is not to do that, it's to tell a story with a strong melody."
Instrumentally Speaking, Melody Is King
"Melody is crucial; the melody is the top line. Ask yourself, 'Do we have a top line?'
"Obviously, a chord sequence is a very personal thing, but the melody is almost like the female element of a piece of music. It's really important to have that and something that you can grab onto and whistle. Is it a window cleaner classic? Can you write a window cleaner's instrumental tune? It's difficult, you know what I mean?"
Catalogue Your Compositions
"The way I come up with titles for my songs is usually to help me catalogue my ideas. It's usually what I was thinking about or what was going on with me at that particular moment, and that helps [me] remember the tune I just came up with. Some people catalogue like classical musicians: an opus number or they would catalogue it by speed - andante, adagio, whatever.
"Let's take, for example, Eclipse. That's when my daughter Misty was born. She was born on an eclipse and it was very misty that day, so she's called Misty. The tune's called Eclipse, because I came up with that riff the morning before she was born, so that helps me remember."
Music Says More Than Words
"The first tune on the new album is called What You Didn't Say and I was thinking about how I'd just had a conversation with my wife and there was a lot of silence in it. I learned more from the silences than I did about the words; more came out from the silences. It taught me more about what we'd just discussed. I don't think you should be too fussy about instrumental titles. The simpler the better. Usually, one word is a good way to do it, but it can be a tad pretentious coming up with a title for an instrumental track, I have to admit."
Always Strive To Serve The Song
"I have to be honest, there's less session work now than there was in the 80s and 90s and Noughties. It's because of the way the industry's gone, but I'm still doing sessions and, again, it's a totally different discipline.
"The key is to take away all ego, once again. It's just, 'Service the music and forget who you are and what you've done, and just really put yourself in the position of somebody who's trying to help the song sound as good as it can sound.' Sometimes that requires really cool stuff; sometimes it requires something incredibly simple. But it's really not up to you. You just need to listen to the track and ask yourself honestly, 'What does this track need from me?'"
Finding Your 'Thing'
"There are many ways of approaching sessions, but there are two different types of session player. There are those you hire to play an idea that you have as a producer or writer, or there are those that you hire because you don't really know what you want out of the guitar or the instrument.
"I'm more in the second category and they just want your take on it. Or your name on the record, probably. The biggest compliment is when somebody says to me, 'I love your thing' and I still don't know what it is, you know. What is my thing?"
Be Prepared For Every Eventuality…
"When I recorded the new album, I showed up with my Yairi parlour nylon guitar as hand luggage. I shipped a bunch of other guitars - two really good acoustics and another classical guitar - but they got stuck in customs so I ended up using what they had lying around for the steel-string stuff.
"The guitar I used for a couple of the tunes was a fairly dodgy Yamaha dreadnought. It's the studio acoustic that's just lying around on the sofa, like the studio cat! Actually, Pat Metheny had used the same guitar on a record that he made so when I heard that I thought, 'If it's good enough for Pat…'"
…Because Sometimes Things Can Just Work Out
"[ECM label boss] Manfred Eicher was telling me that Keith Jarrett went through a similar experience when he made The Köln Concert and the piano didn't show up. The requested piano wasn't there for that concert, so he used the house piano, which was a white baby grand piano that probably Elton John would use. And we're talking about the biggest piano diva of all time having to use a dodgy piano - and yet he did arguably his best-selling album."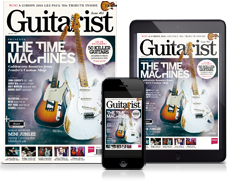 The magazine for serious players
Subscribe and save today!