David Crosby on his favourite acoustic guitars, alternate tunings and solo album Lighthouse
Introduction
We catch up with legendary singer-songwriter David Crosby to chat about his new album, his love of alternate tunings and Joni Mitchell's influence
It's pretty much impossible to imagine what the last 50 years of guitar music would have sounded like without the untouchable and indelible influence of David Crosby. Through his inspired and forward-thinking contributions to The Byrds between 1964 and 1967, his string of beautiful solo albums and his legendary work with Crosby, Stills and Nash (CSN) and Crosby, Stills, Nash and Young (CSNY), there's little doubt that Crosby helped change the face of 20th century music forever.
While his exquisite writing and role in helping craft majestic three-part harmonies have always been celebrated, Croz's playing has arguably been overshadowed by the six-string heroics of his CSNY bandmates Stephen Stills and Neil Young.
On Crosby's fifth solo record, Lighthouse - released back in October - he once again illustrates what makes him such a joyous player. Delicate jazz- and folk-inflected picking, hook-laden melodies and alternate tunings all come to the fore across the album's nine songs, resulting in what can only be described as a contemporary acoustic guitar masterpiece.
"I am very proud of it and I'm very happy about it - I'm ecstatic!" enthuses Crosby over the phone from across the pond. "I try so hard to make good music but there's no guarantee it's going to happen but this time it totally did. The songs are good and I'm just very proud of it."
Lighthouse is actually a collaborative project, co-written and produced by Michael League of experimental instrumental collective Snarky Puppy. For David Crosby, this match-up proved to be a truly creative and inspiring experience.
"What happened was I guested on a record by Michael League and Snarky Puppy [Family Dinner - Volume 2, 2016]," explains Crosby. "I thought he was a terrific guy and I thought he was a really smart record producer and a really great musician so I asked him to produce this record. I thought, 'Well, here's this guy who's a leader of a band full of terrific musicians. That's what I need.'
"I thought it was sort of like hiring a master carpenter with a huge toolbox because there's this gigantic band full of great players… but the truth is, he said he didn't really want to do that kind of record. What he was in love with was my first solo album [If I Could Only Remember My Name, 1971] and he wanted to go more in that direction with more acoustic guitars and vocal stacks.
"And, of course, I love that approach so we went for it that way. I asked him to come to my house and he was here for four days and we wrote three of the best songs I've ever written. I loved them. I just feel like I stumbled into really, really fantastically lucky territory and it's been quite an experience, actually."
Don't Miss
David Crosby talks Crosby, Stills & Nash's debut album track-by-track
Organic processes
So how did Crosby and League approach the song-writing process? "There's really no set way that it happened," replies Croz.
"He and I both write music and he and I both write words and so it was a very organic process. We sort of decided what kind of song we wanted to write and what we were trying to say and then we went for it but it happened in every possible which way.
"Sometimes we did the music and words both at the same time, sometimes it was the words first and sometimes it was the music first. It was just a very organic process. He's a great guy to write with and I love writing with him. He and I are already starting to think of the next batch of songs we're going to write together."
The recording sessions for Lighthouse proved just as fruitful and rapid as the writing. "I said to Michael, 'I want at least a month - I want to block book a month,'" David explains.
"But he said, 'No, we don't need a month!' I said, 'I've never made a record in less than two months so you've got to give me a month!' So, anyway, we went into Jackson Browne's Groove Masters studio [in Santa Monica, California] and we cut the whole thing in 12 days and we then mixed it in New York in four days. So, he was totally right and I was totally wrong.
"It was really, really fun and a very fast process. Part of the joy of it was that he brought in a really great engineer named Fabrice Dupont, who's very, very good and very, very fast. It was just a joy in the studio and there was nothing in the way of the music."
Guitar-wise, Crosby played a variety of beautiful instruments on the Lighthouse album while Michael League also played some six-string in addition to laying down any bass lines and helping out with vocal harmonies.
"I used several guitars," says Croz. "I used one of my D-45 Martins from 1969 and I used one of my McAlisters. You know, I've always been a Martin guy. I love Martin dreadnoughts, particularly the older ones but all of them, really. I just love them and those are what I played for many, many, many years. But, recently - about 10 years ago - a guy called Roy McAlister found me. He's up in Seattle and he used to work for Santa Cruz Guitars. I have five of his guitars now and he's probably my favourite guitar maker in the world. He just has talent and they're just stunning-sounding guitars.
"I also used my old Martin 12-string, the one that's a conversion of a D-18. That was my first 12-string. Then we used several other axes. Michael used the little 12-string that Hammertone make and we used an old '57 Strat that we borrowed from a friend. Mostly, I played the McAlisters and the Martin though and most of the guitar you hear on the record is me."
A musical history
What tunings did Crosby utilise? "I used several," he explains. "I've just absorbed a crazy bunch of tunings over the years. I really love them. I used the one that I did Déjà Vu and Guinnevere in - EBDGAD - and about three or four others but I'd have to go back and look and see what they are.
"I like writing in tunings because it gives you different inversions of the chords than you can get out of a regular tuning and I like the sounds that I get there so it's something I do a lot."
As a kid, David Crosby was taught to play guitar by his older brother Ethan, who also gifted David his old instruments whenever he managed to source himself a new one. As far as inspirational and influential guitarists, musicians and writers go, Croz feels there are many who are worthy of a mention.
"James Taylor is such a brilliant musician and Joni Mitchell is probably the best of all of us," says Crosby. "She is probably the best singer-songwriter of our time. I don't think there's anybody close. Bob [Dylan]'s as good or, if not, a better poet but she sings rings around him so I think she's won. She's a tremendous influence on me… as were The Beatles. And Michael Hedges. Earlier, a lot of people were a big influence - Odetta, Josh White, Pete Seeger and The Weavers. A ton of stuff.
"Then, I got turned onto jazz right around the late 50s, Dave Brubeck, Gerry Mulligan, Chet Baker, that era. And, when you start listening to jazz, all roads lead to Coltrane and Miles [Davis]. The jazz affected me a lot because it made me want those chords that I get out of tunings. As a player, encountering influences as strong as Joni and Michael Hedges, you just get pushed really deeply into the journey."
Croz's initial performance education came through playing the coffee shops of Greenwich Village, New York as a solo artist. "It was very poor!" he laughs. "You sure as hell didn't make any money but it was a pretty good experience. You have to learn how to communicate with people, how to get their attention and how to take them on a little voyage. You do that by playing live and you start at the bottom end. You start in coffee houses and bars. Coffee houses are very tough but they're a whole lot easier than a bar."
Taking flight
In 1964, Crosby co-founded The Byrds, for whom he played rhythm guitar, sang and wrote or co-wrote many of their best-loved tracks. including proto-psychedelic anthem Eight Miles High. It was during his three-year stint with the highly influential folk-rock outfit that Crosby first started playing Gretsches.
"I started out in The Byrds playing the converted Martin D-18," explains Crosby. "I'd converted it into a 12-string. That had been my main guitar up until then and was my main guitar in The Byrds until we made enough money for me to buy a guitar like George Harrison because we wanted to be The Beatles… so then I got a Gretsch Tennessean and I used that for a long time and then I got a Gretsch Country Gentleman, which I liked better.
"It took a long time for me to figure out that what I really wanted was a Fender Strat but, in The Byrds, I played Gretsches. I just love everything about Strats. They're a great guitar, they feel good and they work good. There's something about how a Strat feels when you take it out and play it. It's great - it's totally wonderful!"
At the end of 1967, Crosby was fired by his Byrds bandmates following a series of disagreements and it wasn't long before he bumped into Stephen Stills, whose own band, Buffalo Springfield, had also just split up. Soon, the pair began jamming. They then met Graham Nash of The Hollies and the trio bonded instantly over musical direction and intuitive vocal harmony.
Fate had played its trump card and CSN was born. In 1969, the band released their incredible self-titled debut album and it soared to number eight on the Billboard 200 chart. Neil Young would join the line-up later that year.
With CSN and CSNY, Crosby continued his enduring love affair with Martins. "By that time, I'd started making a lot of money!" laughs Crosby. "I went out to Lundberg's, a guitar store in Berkeley, in 1969. Martin had just started making D-45s again, which they hadn't done since before the Second World War. They started making them again and there was about 10 of them at Lundberg's and I picked the three best ones and bought them right then and I've still got them."
Can Croz sum up what made the dynamics of CSN and CSNY so magical? "I can't explain it," he says. "It was three and four very creative people and, when everybody in the band is a songwriter, you have a nice wide palette of song and that's a very good thing."
Before we let Mr Crosby go, we just want to ask him about another forthcoming solo record we've been hearing rumours about. Like 2014's Croz album, this next record is apparently set to be another collaboration with James Raymond, David Crosby's son.
"That's right, we're working on it at the moment," David enthuses. "I think it's going to be called Skytrail and it's going to come out in 2017. Where Lighthouse is an acoustic record pretty much, Skytrail is with a full band.
"If you listen to Croz, it was produced by my son James and he did a fantastic job. He's the one producing this one and I think it's going to be very strong, as strong as Croz or more so. I just think it's going to be a stunner of a record. There's a lot of great shit on it!"
David Crosby's latest album, Lighthouse, is available now on GroundUP Music.
Don't Miss
David Crosby talks Crosby, Stills & Nash's debut album track-by-track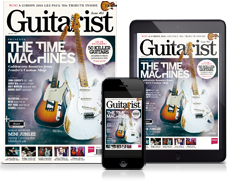 The magazine for serious players
Subscribe and save today!