Darius Rucker talks Gibsons, country and how Kansas changed his life
Introduction
Ahead of his performance at this year's Country 2 Country Festival and his following headline tour, ex-Hootie & The Blowfish vocalist and guitarist Darius Rucker, lifts the lid on his upcoming country release.
Despite Darius Rucker's rock past, those paying attention will know he is no stranger to country music, having kickstarted that era of his career back in 2008 on the Capitol Nashville label.
Nor, indeed, is he a stranger to the Country 2 Country Festival, having played it in 2013. As he gears up for this year's installment of that event at the O2 Arena, Rucker is already thinking about what is set to be a packed festival season.
"We've got a busy spring and summer this year," he says. "I've got Country 2 Country and then I'll be playing at Tortuga Music Festival and Pepsi Spring Jam in April down in Florida.
"There's also the New Orleans Jazz Festival and iHeart Country Festival in May, and we're not even done there. This summer we'll be hitting festivals in Virginia Beach, Myrtle Beach, California, Michigan, Delaware, Washington, Minnesota, and then ending in Iowa."
New material
Working on new material for his fifth studio album to be released later this year, Rucker hints at what themes and topics will be covered on the record.
"It's gonna be a country record, and there are different themes and different ideas. This record is going to be based on a lot of different stuff, from songs like If I Told You To to a cool cover with Luke Bryan and Charles Kelly. I'm really excited about it," Rucker says.
"Inspiration for my records usually comes from my life and writing songs about things I know about. Usually, if I wrote it, it's probably pretty close to something that really happened or something that I really thought."
We further pick the guitarist's brains and question if fans will be shocked or surprised by it.
"I think fans are going to be really surprised and really happy with the new record; it has some great songs and a slightly different sound. It's gonna be a lot of fun, and I think my fans will be really happy," Rucker says. But for anyone new to his music, what can they expect?
"These days I play country music, and my guitar playing is simple and straightforward. I'm a rhythm guitar player, so I'm all about fitting into the band where I'm supposed to be."
Dust and Darlin
Although Rucker's music sits well within the country realm - with Hello Darlin by Conway Twitty being the first country song that ever affected him - he says that he grew up listening to pretty much everything.
"Probably the first artist I remember hearing in my life was Al Green. When I was a kid I would listen to a lot of AM radio so I heard guys like Kenny Rogers and Buck Owens. I also watched a lot of Hee Haw [an American TV variety show that ran for 25 series] when I was a kid so country music has always been around for me."
However, it was Dust in The Wind by Kansas that made him want to reach out for the guitar. "That opening guitar was what really made me want to pick up the instrument and start playing."
Learning the guitar at the age of 19 and teaching himself how to play, Rucker says that he learned to play songs in a few months, picking up the basics pretty quickly. The first ever guitar he bought was a Yamaha he found at a pawn shop, which he unfortunately gave away. Which guitarists were his idols in those early days of his guitar playing?
"I didn't really start looking up to musical idols until I was older and really getting into guitar, but definitely Peter Buck and James Taylor; those are the two guys for me."
Go-to Gibsons
Rucker has been long acquainted with his 1942 Gibson J-45, along with a number of other Gibsons his guitar collection boasts, using it for all of his live performances and song-writing. He talks me through some of the other guitars in his collection.
"I've got a lot of guitars," he admits. "My Gibsons are really special to me and I have a National too. I collect 0018 Martins because of an old Nanci Griffith song called Listen to the Radio, so I have like five or six of those. Pre-54 is the oldest one.
"My National sounds like heaven, so I love that one as well; Edward McCain gave it to me for my 50th birthday. It's an old, old guitar that sounds like an old guitar and sounds so full."
Taking only four acoustics out on tour with him, Rucker tells me a bit about the Darius Signature guitar, which is one that'll be joining him on the road.
"It's a Gibson, and I love it because it sounds so good live. I can beat it up and it never loses its tune. It's me - it's what I like to play live. There is a custom pick guard that's garnet to match the colour of my South Carolina Gamecocks [a college basketball team]. I love it; it's my guitar."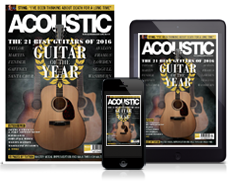 We're the UK's only print publication devoted to acoustic guitar.
Subscribe for star interviews, essential gear reviews and killer tuition!