Camo & Krooked: 10 records that blew our minds
Reitsch & Wagner
Since finding each other in 2007, Austria's Camo & Krooked (Reinhard Reitsch and Markus Wagner) have been a steady presence on the drum and bass scene, first collaborating on Play It from the Camo single Drop It.
Future releases showcased their high-energy production style, culminating in the debut Camo & Krooked album Above & Beyond in 2010, which led to them being championed as Best Newcomers at the Drum and Bass Arena Awards later that year.
Spreading releases across a maelstrom of labels, the duo briefly operated under the minimal techno/house alias Chrome, although the project was discontinued in 2011 as Camo & Krooked returned with a second album, Cross the Line, for Hospital Records. Video game work beckoned and the releases and remixes continued to flow, developing their meticulous arrangements by incorporating elements of disco, techno, soul and funk.
Alongside the recent creation of their own Mosaik Music, Reitsch and Wagner have recently co-signed to the infamous drum and bass label RAM Records and are due to drop their fourth album, Mosaik, on 23rd June.
Click through the gallery to find out the 10 records that have most influenced Camo & Krooked...
1. Nathan Fake - The Sky Was Pink (James Holden Remix)
"We remember exactly when we heard this tune for the first time. We were sitting in the back seat of a car on the way back from a gig in 2007, with Rob from Body & Soul driving and playing some random tunes.
"Suddenly this track came on. Needless to say we needed to hear it a few times on repeat. While the original is an amazing tune by itself, James Holden managed to take it to another level with this remix.
"It was probably the first time we'd heard white noise being used in such a creative and musical way. The melodies and percussion that open up throughout its 10 minutes truly make this a progressive masterpiece.
"This tune definitely kicked off a new trend when it came out, inspiring producers around the globe to take their spin on Holden's sound: Oxia, Stephan Bodzin, Popof, and definitely Camo & Krooked as well!"
2. High Contrast - Return Of Forever
"Literally every track High Contrast released around this era is a classic in the DnB realm nowadays, but Return Of Forever has a special place in our hearts.
"Sometimes it just takes 10 seconds to know that a track is going to be a 'future classic'. We still play it in almost every set and we're pretty sure some kids think it's a brand new, unreleased piece of music that we're playing, but no, it's 15 years old!
"Around that time, DnB was trending more towards gritty, dark sounds, so hearing something house-influenced was quite refreshing - and the arpeggiated bassline still sounds recent.
"High Contrast is the master of sampling. His knowledge in music and movies always makes him come up with some crazy-good samples that nobody has ever heard before. It's amazing to be able to call Lincoln a good friend of ours nowadays.
"He is one of the humblest people in the music scene and always has a clear vision of how he wants to represent himself as a musician."
3. Gang Starr - Above The Clouds
"In our teenage years, we both grew up skateboarding and did it on a daily base. There was always some skater cranking hip hop tunes out of the ghetto blaster in the skate park, so we were always exposed to new stuff that was coming out of the States.
"On top of that, the skate videos helped us stay up to date with the 'who is who' on the hip hop scene, from Nas to Big L, Mobb Deep and Noreaga.
"Above The Clouds was featured in Shorty's skate movie Fufill The Dream, which was everyone's favourite at that time.
"DJ Premier was always our favourite producer. He came up with the best beats and made innovative use of chopped-up funk and soul samples. That was during the golden hip hop years, when rap wasn't all about money, cars and bitches!"
4. Justice - Cross
"What fascinates us the most about Cross is the huge amount of samples on this album. Justice somehow managed to redefine the sampling game by not just using a long loop but chopping up dozens of samples and creating new, complex melodic structures and adding a ridiculous amount of funk to it.
"Genesis alone contains over 100 microsamples, from Queen to Michael Jackson. Cross is pop culture history put into a blender, with the most twisted and groovy outcome possible."
5. DJ Fresh & Pendulum - Kingston Vampires
"Adam F and Fresh's label 'Breakbeat Chaos' was releasing one hit after another at that time and, with the upcoming Pendulum under their belt, they were an unstoppable force.
"Dancefloor DnB made huge steps and evolved into that big, fat, rocky stadium sound that still fills up the clubs to this very day. Pendulum changed the game with a lot of attention to detail, crazy edits and excellent mix downs.
"We remember playing those tunes in a club from Discmans connected to the mixer with only a cinch cable. At the time, we'd already got our first gigs but didn't know a lot about DJing, but whenever we played one of those crazy tunes the crowd went completely mad!
6. Tame Impala - Let It Happen
"When it comes to great songwriting and arrangements, Tame Impala is probably our favourite band. Somehow they manage to put so much stuff into one tune, make some crazy edits and still keep it quite easy listening.
"When we heard the premiere of Let It Happen it was a weird mixture of euphoria and confusion - in the best possible way. The loop that comes in out of the blue four minutes into the track and suddenly switches up the whole thing is a prime example of their borderless creativity.
"They show no fear when it comes to recording real instruments and mangling them in the digital realm."
7. Trentemöller - Take Me Into Your Skin
"The Trentemöller BBC Radio1 Essential Mix from 2006 is what got us into his music. After listening to that, we acquired his album The Last Resort.
"There is an incredible amount of subtle musical layers in all of his music, which always brings us back to listening to this record and exploring the soundscapes.
"Take Me Into Your Skin was the main inspiration for writing our track 'All Night'. We love euphoric build ups that lead into stripped back, subtle drops that are very focused on sound design, and that is something Trentemöller mastered on this track."
8. Air - All I Need
"There is not much to say about this except everybody who likes good music should have the album Moon Safari in their record collection.
"We remember hearing it in a TV advertisement before the 2000s and freaking out because we didn't know who it was but it was so good and catchy.
"We didn't find out the track name for another five years and we're still listening to it 15 years later. It's hard to replicate the style and sonics of the 'golden era' of acoustic recordings, but Moon Safari sounds like it is out of that very time for us.
"It creates a nostalgic feeling that we only know from old records, like Pink Floyd's Dark Side Of The Moon or Fleetwood Mac LPs."
9. Daft Punk - Discovery
"This album creates history, not just in dance music but also pop music.
"While Homework was revolutionary within the dance music scene, for us, Discovery is the zenith of the Daft Punk sound, breaking out of the electronic realm into something way wider and creating their own genre. And yes, we are guilty of some DnB bootlegs of Daft Punk songs!"
10. Stephan Bodzin - Vendetta
"The master of the Moog and probably one of our biggest inspirations when it comes to the playful use of synthesisers and effects in a track.
"His album 'Liebe Ist', which came out in 2007, was a real game changer for us in the studio. It made us rethink a lot of our production approaches. We started analysing loads of his sounds and tried to make his style work in the drum and bass realm.
"Even now, we listen to Vendetta and ask ourselves 'How did he make some of those sounds?' Without Stephan Bodzin, there would probably be no 'Turn Up The Music' by yours truly.
"He manages to cover a wide range of emotions with a very restricted use of sounds, which is something that not many artists manage to do."
Check out the latest single by Camo & Krooked 'Good Times Bad Times/Honesty' out now on RAM Records/Mosaik Music. For more information, visit their Facebook and Twitter pages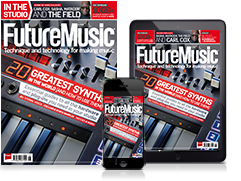 All-access artist interviews, in-depth gear reviews, essential production tutorials and much more.
Get the latest issue now!