Aaron Dessner on The National's new album Sleep Well Beast, their studio and selected songs' personal origins
Introduction
By now we think we know what a National song sounds like. The frenetic drums, the softly honed pianos and fuzzy, line-drawn guitars, all framed in Matt Berninger's throat-catching vignettes of domestic calamity. Now the band's seventh studio effort Sleep Well Beast, four years in production, has seen them purposefully twist their template: incorporating synths, guitar solos and spacious arrangements - even building their own studio - in order to widen that definition.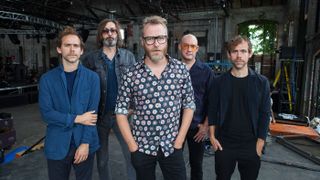 Four years
You took four years to make this record and experimented heavily. There's clearly an element of very conscious change occurring. Why now?
"Well, we'd made four - what I consider to be great - records in a row in Alligator, Boxer, High Violet and Trouble Will Find Me. Each one felt like a distillation of the past, like it was becoming more focussed and more graceful. With Trouble Will Find Me it felt like we had arrived somewhere that was a more beautiful, more relaxed place, articulated in a baroque sound. Then we just wanted to throw it all to the wind and be more reckless.
A space to call home
Some people believe tension very much benefits a recording…
"Yeah and I think that there's a natural tension in certain songs. You hear it in Turtleneck or the Day I Day, which was recorded live in the room. But in my garage, it didn't help us. The actual live room was like 250 square-feet and at some point, where we were as a band, it stopped being a space where we could comfortably be creative…
Solos and synths
What new discoveries did you make? Either in terms of the production process, or tools of the trade?
"I definitely went very deep with the OP-1 from Teenage Engineering, just as far as using the sampler and the synth engine and the drum machines and stuff. It's a very mixable, transparent kind of sound and it really works, at least how we were using it. So you hear it a lot in the vocal samples and the drum textures.
Lullabies and goodbyes
The National are a band that have made a success of channelling vulnerability into cathartic songwriting. Mostly though, as the lyricist, we hear about Matt's vulnerabilities. Where do you think we hear yours?