Why Chris Cornell was an unsung guitar genius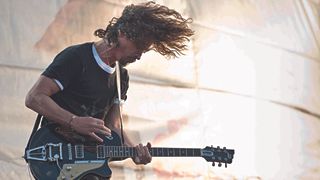 There can now be no doubt that in the roll call of rock, Chris Cornell's legacy will stand proudly alongside the all-time great vocalists. But his incredibly emotive range that could reach from soul to metal is only part of what made him one of the key artists of a generation.
Even next to Nirvana, Pearl Jam, Alice In Chains, Screaming Trees, Melvins and Mudhoney in the fascinating hotbed of alternative rock talent that emerged from the North West of the US in the early 90s, Soundgarden covered the widest musical breadth. In many ways they are the only band to ever successfully bridge the sonic worlds between The Beatles' fierce and relentless creativity with Black Sabbath's bluesy weight.
It yielded a deep, engaging diversity in their sound that was epitomised by their masterwork, 1994's sprawlingly ambitious Superunknown - the album that would host Cornell's universally-acclaimed masterpiece, Black Hole Sun.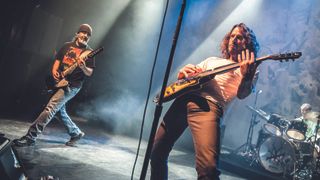 Burden in my hand
For those who had been introduced to Cornell in his role as Audioslave's frontman in the first five years of this century, his role in Soundgarden was a very different animal. And even for the singer, returning with new album King Animal in his old band after a few years touring their back catalogue, it presented challenges to him.
"There was some of the complexity of the new Soundgarden album… having to play and sing on it," he reflected. "[Playing acoustic shows] definitely helped me with the sudoku of guitar playing, I think. It's helped me to increase my capacity to understand it because I don't think I'm a natural guitar player."
That might sound like modesty - and Thayil had noted to us that the singer was a "tighter, improved" player on his return to Soundgarden - but it was a telling admission. Cornell approached the instrument from a different direction to his peers and it became a huge part of Soundgarden's unique chemistry.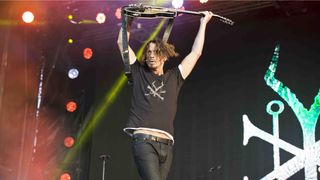 Rhythm king
Soundgarden were not your typical American rock 4/4 cruisers when it came to their rhythms.
There was a fearlessness from the beginning, and it drove later songs like Rusty Cage, Fell On Black Days and King Animal's By Crooked Steps in ways that would rattle most singing guitarists. Not so with Cornell, who worked hard to deliver their odd metered grooves on stage.
"The vocal melody is still in 4/4 while the guitars are in 5… something!" he told us of the latter song [it's actually 5/4].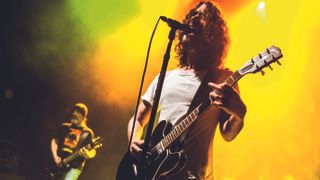 Alternate rock
All four songwriting members of the band - completed by drummer Matt Cameron and Hiro Yamamoto's eventual replacement, Ben Shepherd - were as creative with their use of tunings, too. It helped Soundgarden sound other-worldy at times, and somewhere to the left-field of everyone else.
By the Superunknown tour in 1994, their guitar racks were brimming out of necessity, and it seemed tunings drove their songwriting in much the same way as U2's Edge uses effects. But Cornell revealed that the truth wasn't so calculated; more often a case of being in the right place, with the right guitar.
"It's a little bit more about proximity to the tuning as opposed to picking up a guitar, putting it into a weird tuning and then trying to create something out of it," he explained to us.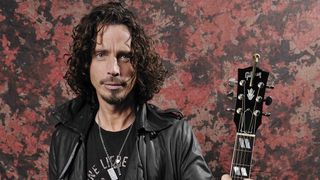 Searching for truth
Cornell's solo acoustic tours would develop another side to his playing. Outside of Soundgarden, acoustics had always played a part in his work - from his leadership of Temple Of The Dog with Cameron and most of Pearl Jam, to 1992's Singles soundtrack with the solo song Seasons, Audioslave's countrified I Am The Highway and the unusual progressions found in 1999 solo debut Euphoria Morning.
His last solo album, 2015's Higher Truth, had been directly informed not just by his solo Songbook shows, but by a conscious shift in how he allowed his influences to manifest in his guitar playing.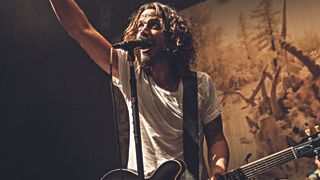 A different world
Higher Truth was another illustration of the breadth Cornell could cover with his voice and guitar - and he was still on a conscious journey in this regard.
"I wrote songs with lots of chords that are not necessarily easy even for me to play," he reflected on his past work.
"I write songs, sometimes, with real challenging vocal parts to sing. But I wanted to make sure that there are some songs in there [on Higher Truth] that somebody could learn and post themselves on YouTube singing, and it's easy. It's just something that you can learn after a couple of listens - maybe you don't even have to know what key I'm playing it in."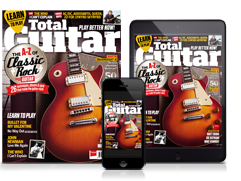 Stay up to date with the latest gear and tuition.
Subscribe and save today!