Wes Borland talks guitar gear, soundtracks and solo debut Crystal Machete
Introduction
Wes Borland is a man of many guises. Before you even get to his atmospheric industrial indulgences in Black Light Burns or more recent endeavours in alt-rock outfit Queen Kwong, his stage antics in Limp Bizkit have seen the guitarist reinvent himself time and again with all sorts of odd alter-egos.
His countless collaborations over the years have been the mark of a musician existing to create and creating to exist.
Perhaps, of all his works, last summer's solo debut, Crystal Machete, feels like our biggest glimpse yet at what the real man behind the mask may be like - its 11 tracks calmly drifting through sleepy trip-hop shuffles into syncopated dance beats and back round for good measure.
It's a departure that demands further discussion and we find the guitarist sipping coffee in his East London hotel, a few days ahead of Queen Kwong's set at this year's Camden Rocks Festival.
Crystal Machete seems like your most experimental offering yet. What were the reasons behind that?
"I've not liked heavy music for a long time, and moved further away from it as I've gotten older. I've been less interested in the 'band' thing. I found myself not really listening to bands anymore, but soundtracks instead. So this was an album made of irritation, to be honest.
"Being irritated with music that's so in your face and invasive, with loud guitars and loud vocals. Things that demand your attention. When I'm painting or being creative, I don't want to listen to music that like that. And as an artist, I don't want to be an angry kid going, 'Me me me!' I stopped listening to music like that, and whenever I do get the bug, I find it doesn't last long…"
Don't Miss
Post-apocalyptic music industry
So what influences do you hear in it?
"Godspeed You! Black Emperor are a band that I've listened to for a long time and have been a big guide to me. Aphex Twin's Selected Ambient Works 2 is one of my favourite albums of all time, it's also a big tent pole in me wanting to move in this direction. Even earlier stuff by The Cure, like Disintegration, Kiss Me, Kiss Me, Kiss Me with really long building intros, for five or six minutes, before vocals come in and everything begins.
"It's that sense of taking your time. I think we're living in the post-apocalyptic music industry, in a lot of ways… I'm really lucky because I get to play in Limp Bizkit, who collected a lot of cans and I get to eat from those cans. But right now, if you don't have many cans in the shelter, there's no food for you. And no one's really figuring out how to grow their own food.
"We're making records like the guys on the Titanic who played their instruments while the ship was sinking. So I just want to enjoy music before it all disappears. I think this is the end time for musicians, things aren't gonna get better. The future of entertainment will not include artists, the job of the musician is not gonna be there any more."
Though it's largely an instrumental album, you included effected vocal snippets, too…
"I set myself certain parameters, not allowing myself to use any guitars with distortion or vocals that sounded human, or like someone talking to you in the same room. I just made the record I wanted to hear, similar to the things I listen to.
"The vocals had to sound like an instrument. I actually tried to have no vocals, but in the end I wanted to say some things with an alternate, non-human voice. There's a vocoder and other processes going on there, a lot of the speech was done with Apple Speech Victoria in high quality… I just cut her voice up, pulling it, stretching it, typing words in the wrong way to make her sound interesting."
Similarly, your delayed clean guitars feel quite vocal, almost in a David Gilmour way at points…
"My guitar is like a voice in many ways. I've never thought of myself as a lead guitar player, I've always ignored that kinda stuff. I didn't want this album to be a, 'Look at me, pay attention!' kinda thing. I'm not that obtrusive show-off, you know, the dog at the dinner table… I wanted to compose something moving and calm, and not play more than what was necessary. The more simple something is, the less it does, the easier it is for people to grasp."
Tangerine dreams
The synth leads on White Stallion sound quite close to tapped arpeggios in delivery. Would you ever have played it on guitar?
"I could probably play it on guitar, but it would sound corny to me, and would lose the John Carpenter vibe I was after. A lot of my influences with this album were composers for movies, like Blade Runner, Tangerine Dream's Sorcerer and all those different synth and heavy soundtracks from the late 70s and 80s.
"I was researching what Moogs they were using to make those sounds and would try to either borrow or buy them. If anything was too expensive, like the Yamaha CS-80s from Blade Runner are impossible to find and go for $10,000, which is a lot to spend on anything.
"I figured I'd get the software version from Arturia, who make an awesome sounding plug-in for $200. The software stuff is so good these days, there's no reason to spend all that money."
As for your tone, it really couldn't be any more different to your sound in Limp Bizkit…
"There wasn't a Jackson in sight. I still use the EVH 5150s with Bizkit, but this was a very different rig. I used one amp for the whole record - a 1960 Sears Silvertone. The one where the head slides into the back.
"As for effects, I stuck to an Echoplex, a Strymon BigSky and TimeLine… those were my main sounds. I used my BilT guitars, I have two of them. I had both loaded with Lollar Wide Range pickups. On top of that, I used my Telecaster and 60s Rickenbacker."
And the bass sound is almost reminiscent of Rush at points…
"What unified the entire record was the Moog Taurus bass pedal, which has that classic Geddy Lee sound. And I put that on everything, regardless of whether the songs were more acoustic or really electronic. I used a Fender Jazz bass with flatwounds, which I've sworn by for a fair while, and foam under the strings by the bridge to deaden it.
"It was the deadest bass sound I could get, going through a reissue Fender 4x10 amp with some Electro- Harmonix Holy Grail reverb in between. I really don't like that active bass sound, I want it more like a kick drum and filling that space."
Influencers
Looking back on your career as a guitarist, which players have inspired you most?
"Obviously, I was influenced by guys like James Hetfield from Metallica, Max Cavalera from Sepultura and Page Hamilton who was in Helmet - they're the building blocks of heavy guitar playing.
"Then I was really into Primus and Les Claypool, which got me into tapping for a while. It's important to listen to as much as possible, across a diverse collection of music. Cherry-pick what you like from everything, mix it up and put it through your own filter."
Speaking of filters, you definitely seem more like a pedal collector than a digital modeller/profiler…
"With Queen Kwong [Wes is engaged to band leader, Carré Callaway], I toured with [alt-rock legends] Failure last year and saw they all used the Axe-Fx - which recreated sounds exactly as they were on those records, and really well. But personally, I can't play guitar through that stuff, I just want a tube head and my pedalboard."
You both recently moved from Los Angeles to Detroit. How much did relocating affect this album?
"Carré and I had grown so tired of LA, we'd been there for a really long time. Mostly, I think it was the traffic that did us in. It's busy in London, but at least here you have good transport systems. In LA, you don't - if you want to go anywhere, you have to drive your car and pick certain times of the day to do it.
"You're supposed to get used to it, except I never did… It just really started to wear on me. That coupled with the weather always being the same, there's no landmark or passage of time. The years go by and the weather's always the same, the traffic's always horrible.
"A lot of friends felt like life was just going round and round in loops, and I felt the same. Nothing was changing, everything was the same. So we thought let's get out of there. For me, it had been 15 years!"
Detroit, rock city
And what was it about Detroit specifically that made you want to move there?
"Carré actually came up with Detroit while we were looking at places we could move to… because we could go anywhere. And it just seemed exciting. The city went bankrupt and they'd recovered from that. Artists were getting priced out of Manhattan and Brooklyn or Chicago, a lot of young interesting minds have gone to Detroit.
"There's a lot going on right now. I think you can find opportunity there that's different. It's a city that people are starting to pay attention to again, with new industries and change. So we bought a big house and I made a studio there as fast I could in January this year, when I knew I had to make this record. I knew exactly what I needed to do. I was writing, mixing and suddenly it was all finished!"
How many guitars do you own these days?
"I probably own about 45 or 50. I sold all of my old Limp Bizkit guitars, all the Ibanez and PRS ones are gone. If I haven't touched a guitar in a year or so, I'll just sell it. I've acquired way too much equipment over the years, so instead of trying to find more, I try to get rid and be frugal. Even after we moved, I found there was a lot I just didn't need. And I realised I don't want to do that again. It felt like time to scale down my gear and try not to hang onto stuff for sentimental reasons."
What tips do you have for those hoping to understand your approach to the guitar?
"All I know is use real gear, don't use emulators or anything like that. A lot of the Limp Bizkit stuff is playing the guitar like a trombone, using the bar to actually bend before you play a note and then back up. You get this weird suction, push and pull within your riff. I focus more on the feeling of something than the technical impressiveness of it. People should listen to music that isn't guitar music, hear how other instruments voice things and try learn how to do that or play around that on guitar. Transpose other things onto the instrument."
Would it be fair to say the 'guitar hero' tag is something that you're not hugely comfortable with?
"I've never really even felt like a guitar player. Like, I've always admired other guys, but I've never felt like one myself. It's weird when people think I'm one of the master architects of something I really didn't listen to at all. That sounds like I'm being negative, but I've never felt comfortable seeing myself in that way. I prefer being more of a collage artist - a jack of all trades, master of none type of person."
For Queen and country
Wes talks us through the guitars he brought over for Queen Kwong's European shows this summer…
"These are my primary guitars for Queen Kwong. Though I used BilT guitars for the record, I've been with Fender/Jackson for a while. They're fitted with Mastery bridges and tremolo arms, and the same Lollar pickups.
"I wanted to use Fenders live, but also tour with guitars that weren't too expensive. They reissued the 70s Starcaster, which was Fender's version of the Gibson 335. It wasn't a success, and more of a sleeper guitar that people got into recently, over the last 10 years or so. I think [Radiohead's] Jonny Greenwood using them perpetuated the cool factor there.
"The pickups really react, mine can have all three on or just one of them. Now I've got about five of them set up this way, I really prefer the Jaguar-style tremolo instead of the reissue stoptail. It's not like a Floyd Rose, you really have to go wild on it for it do a lot. Or it can be really subtle, and I think Mastery make the best bridges going. They make a huge difference."
Wes Borland's first solo album, Crystal Machete, is available now.
Don't Miss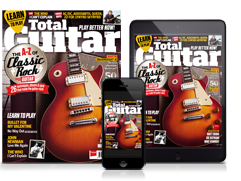 Stay up to date with the latest gear and tuition.
Subscribe and save today!