Warpaint talk essential gear, inspirational players and borrowing guitars from John Frusciante
Introduction
We get the lowdown as LA's primo four-piece, firmly on their feet and with a tour underway, reach for musical highs and break new ground following the release of their essential third album, Heads Up.
Conceived on Valentine's Day 2004, Warpaint as a band is now in its teenage years. For the most part, the first four years were spent carefully defining and redefining their sound through persistent hours of boundless jamming - a practice that naturally allowed them the collective freedom to originate and articulate an expansive yet distinctive song-scape.
Radiantly dark, graceful and broodingly intense, their debut EP, Exquisite Corpse, initially surfaced from the LA underground in 2008 with additional teamwork from Red Hot Chili Peppers guitarists John Frusciante and Josh Klinghoffer, and the band rapidly gained attention over the pond from UK-based label Rough Trade, releasing their first studio album, The Fool, in autumn 2010.
Since then, Warpaint have steadily evolved and distilled their aesthetic of ethereal guitar-driven, beat-laden art-rock and have subsequently released a further two studio albums, the eponymous Warpaint (2014) and most recently, last year's Heads Up.
Guitarist catches up with the band at their Oxford O2 Academy gig for a backstage chat with founding members, guitarists Emily Kokal and Theresa Wayman, along with bass guitarist Jenny Lee Lindberg.
Jags vs Strats
Emily, you play some really interesting vintage guitars - what are they?
Emily Kokal: "I've got a '66 Fender Jaguar fitted with a Mastery Bridge. There is something cool about the original sound, but you really have to work with it. There would be places on the neck where it was like a rodeo; I was always trying to wrangle this guitar and it would just change all over the place.
"I got these extra overtones and it had this kind of ping-y quality to it. We were opening for Sonic Youth and I was telling Thurston Moore about my problem and he was like, 'I dunno, man - that sounds pretty cool to me!'"
Have you recorded with the Jaguar, as well as using it to play live?
Emily: "I didn't actually record with the Jaguar on Exquisite Corpse and The Fool; I recorded all of that on a '55 Strat. It's the same year as one of John Frusciante's Strats. He got me that guitar and the '66 Jaguar. He's a very generous guitar-giver! Some people think the Jag is his because he used it on the cover of a magazine. He borrowed it, then we borrowed it back!
"He also gave me an old Martin acoustic of his. It's really beautiful. I was always more of an acoustic guitar player and I didn't have an electric guitar until I met John. When I first started playing electric guitar live, he always thought that I was reminding him of Bernard Sumner or Robert Smith.
"I still really love the Strat, but I've just gotten really used to the Jaguar. I love the warmth of the Jag and I feel that it's a little bit harder to detect. That's kind of my vibe a little bit more. I'm not quite as top-end or as loud as Theresa, and I also play it almost more like a melodic six-string bass or something - it works to sit somewhere kinda deep."
No tone left unturned
Theresa, what can you tell us about your main Warpaint guitar?
Theresa Wayman: "It's a '66 Fender Mustang with Seymour Duncan pickups. Everything I played on the EP [Exquisite Corpse] was done using the Jaguar that Emily normally plays on stage.
"My own guitar, a Fender Musicmaster, that I'd always been playing before, got stolen. I actually bought the Mustang online because of the price point and the fact that it's a decent guitar. I got really lucky and it's just been great.
"Mustangs can have issues, like they're notorious for going out of tune a lot, although mine doesn't do that and it's been set up well. I love the small neck, the low action - it really works for me. I didn't realise until I got it how much I love the feel of a Mustang.
"They're really smooth and somewhat easy to play. They feel buttery, but they don't necessarily sound buttery. I've had to get a little bit creative; the tone isn't easy and it can be hard to get them to sustain. I have to be somewhat melodic as well, so using modulation has helped a lot for making the less distorted tones sound a bit nicer and rounder."
What effects pedals do you like to use?
Theresa: "For modulation, I have a Catalinbread Adineko. I use it like a chorus, but with a bit more vibe. It's got a 'Viscosity' control - you feel like you're taking the sound and really pulling at it. I really love that pedal a lot.
"I use two distortions so I can have one that's always on, that's a bit more mellow, and then one that's for harsher moments. Using reverb is important, too. I just don't like pokey guitar; pokey, dry guitar is not my thing.
"I kind of mess with the amounts of the Adineko that I put on in different songs so that there's variation during the show, but I like to keep it pretty simple. I like how our band stays pretty organic and simple - just plug in and play."
Emily: "Sometimes with pedals it's really hard to just dial in a subtle amount of overdrive and still feel like it gives you body. I've got a Tube Screamer and it's the best thing ever that I've found. I keep it on the whole set. It thickens the guitar sound, but you can still hear it - tightens it up."
Jenny, you've become synonymous with your Rickenbacker bass - do you also like to use any other guitars?
Jenny Lee Lindberg: "It's a '78 Rickenbacker 4001 and I mainly play that, but there's definitely other basses that I play. When we record I like to change it up a little bit; it's nice to explore. When we're touring, it's easier to just take one backup bass if I need it.
"On this run, I've taken a late-'50s Kay bass. It's a hollowbody - it's really nice. It has a different tone to the Rickenbacker. It has flatwound strings on it and it's also very sub-y, which is why I brought it. I play it on a few songs on the new record [Heads Up]."
Multiple personalities
You have a distinctive sound and style of playing bass - how did that come about?
Jenny Lee: "Movement is the connection that I have to my instrument. That's why I was drawn to playing bass in the first place. I feel like its always been that: to make myself move somehow, even if it's a sad or slow song. I think that's where I've found my thing. Bass isn't the hardest - it's a pretty easy instrument to learn how to play - but I think it's very hard to get really good at.
"My two favourite bass players are Jah Wobble and Bernard Edwards. They're so different from each other, but it's just a dream to be able to combine them somehow. Jah was dirty and kind of repetitive, but still kind of funky and punchy - I love it! Just doing one bassline the whole time and never changing it. Bernard Edwards is the complete opposite of that and it's so rhythmic; it's almost like he's playing percussion - it's so sexy!"
Has being in Warpaint enabled you to strengthen your identity as guitarists and musicians, personally and/or collectively?
Theresa: "Yes, but in some ways it's hard to get your own identity established within a band that's as collaborative as we are. Each of our roles is ambiguous in a way and it's taken us time. There's no lead guitarist and there's no lead singer, so to act like a lead guitarist or singer would feel weird.
"I want to carry on practising guitar a lot more, because I want to feel more fluid on the guitar. I'm always pushing myself to be more productive with my time and be more diligent - just because I do want to be more prolific and I do want to get into a groove where I'm making things and finishing them and moving on and creating things all the time."
Jenny Lee: "At the same time as being limited, it's also limitless. Everything kind of feels new, and it's exciting. It's nice to feel that - anything that feels different than what you're used to playing. People ask, 'Who are your biggest influences?' but I've never approached music being like, 'I wanna sound like this!'
"If anything, if it does sound like anything and it's too obvious then it's kind of like, 'Okay, that's too close - let's try and change it up.' When I listen to other music, when I'm inspired by it, I just wanna evoke the same feelings - when I write a song I want to feel the same way. That's what the inspiration is."
Electronic sound
How do you like to approach writing when you're on tour?
Jenny Lee: "We all have recording devices or we have little baby amps where we warm up and we're just kinda jamming around. We've actually written a few jams in soundchecks where we've turned them into songs."
Emily: "On tour, we have those little Vox amPlugs that we use. Sometimes, on days off, we'll take those to our rooms and just enjoy playing - it's nice to be able to play the things that we want to. It's always fun, when you've been on tour for a while, to take a break from writing so you start to fill up the well of inspiration and ideas.
"Usually, the thing that makes me write music is silence! Just being quiet for a long amount of time and then I'll hear a melody. I find myself not listening to music a lot and then hearing music."
Theresa: "I'll bring my Apogee Duet on tour so that I can record guitar ideas. We're making a lot of music in the box while we're on tour. Like, 'What do you have to work with?' Well, you can program drum beats and you can easily plug your guitar in through a Duet and use that.
"Our music can be very drone-y and repetitive in the same way that a lot of hip-hop music and electronic music is, in a sense. We'll kind of meditate on one thing and then we'll change. I like writing in the same way that hip-hop and trip-hop producers might - finding loops and repeating those and then finding what the next layer is."
Has trip-hop or electronic music been a major inspiration for you, musically?
Emily: "I love how Portishead and Massive Attack have used guitars and strings and beats and electronics. That music had a huge impact on me and was a revelation 'cos I was raised in the Bay Area on Joni Mitchell, Neil Young and Grateful Dead. Bristol is my music! I love it."
Jenny Lee: "Those bands are still really great. They still hold up - they never get old. It's still just as rich, if not richer, after so many years. Dummy [1994 Portishead debut album] still sounds fucking amazing. And nothing is beating it."
Theresa: "I would consider those bands electronic, but they're still organic in nature. They were big influences on all of us growing up, so I guess it's engrained in us, but we don't want to ditch our instruments. By the end of my life, I want to be an incredible guitar player and play all types of guitar. I just want to be able to express myself musically all-round."
Heads Up is available now on Rough Trade.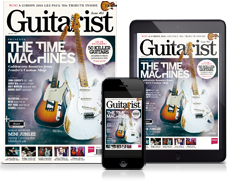 The magazine for serious players
Subscribe and save today!