Thunder bassist Chris Childs talks pushing the boundaries with new album Rip It Up
Introduction
Ace Brit-rockers Thunder return with an excellent new album, loaded with bass goodness from Chris Childs...
Following up 2015's highly acclaimed Wonder Days album was always going to be a challenging task, but with 2017's Rip It Up primed and ready for unveiling, it sounds like the chaps from Thunder have cracked it. But as we found out when we caught up with their suave bass lord, Mr Chris Childs, the album went down smooth and by the numbers.
"Apart from the actual time involved, it was very much like we released Wonder Days and went straight back into the studio the next day and carried on writing and recording," he explains. "Luke [Morley, guitar] started writing songs as soon as Wonder Days was finished and we went back to Rockfield Studios with the same engineer and gear."
He continues: "I'm very proud of it: it's enough of a departure from Wonder Days but it maintains what made that album so good. The brief to everyone for this album was to stretch ourselves a bit: that was an internal brief among ourselves, to push the boundaries, which, as it turns out, is totally in keeping with the artwork too. You look at something from the outside and it appears to be one thing, but look slightly deeper and it's something completely different from what you were expecting."
As Childs has been with the band for 20 years, he, Morley, singer Danny Bowes, guitarist/ keyboardist Ben Matthews and drummer Harry James have a way of working together that keeps all parties happy.
"Luke's demos come to us completely fully formed, and then it's my job to play the bass-lines. On some of the songs, because he approaches them from a guitarist's point of view, some of the lines are really hard to play.
"I'll try a couple of things, and if it works, it stays - but if it doesn't, then his idea stays. He's a flexible producer: we've made so many records together over the last 20 years that it now works very quickly. Harry and I have always played well together, it's like putting on an old pair of slippers!"
Live lasts
Looking back at Childs' stints with Go West and Then Jerico in the late 80s and early 90s, his path towards a two-decade career so far with Thunder wasn't an obvious one, as he's quick to acknowledge.
"To be honest, I didn't know very much about Thunder when I joined them," he recalls. "They weren't on my radar, and I'd never heard one of their songs before I learned the material for the audition. As a gigging bassist, you look at most things on a short-term basis, not 20 years into the future. I never expected it to last this long - and I'm overjoyed that it has."
Which brings us to Thunder's new album, Rip It Up, an album that takes the best elements of Wonder Days and, with Luke hitting a purple patch in his songwriting, pushes the band forward - something Childs is quick to reinforce.
"We've never rested on our laurels," he says. "Every show and every recording is the very best that we can do, there's never any 'second best'. I think the fact that we can still sell out venues is because we've maintained such a high standard, certainly of live performance. The albums have ebbed and flowed with musical changes, but the people that come to see us know that they will see the very best that we have to offer at the time."
With a keen eye (and an even keener ear) for new gear and different sounds, it comes as no surprise that Childs' bass arsenal has changed since we last caught up with him. He runs us through the gear we can expect to see and hear on the new albums by Thunder and his other project, Tyketto, as well as on the road with both outfits.
"For recording, I used an Orange Terror Bass head and a Fender Neo 4x10 cab, which work very well together, along with a Sansamp Bass Driver pedal and the Ampeg Scrambler unit. However, for the tours, I'm now endorsing Fender gear, specifically a Bassman 800 amp and 6x10 Neo cabinets. The Bassman amp is absolutely stonking - you can pick it up with one finger, it's ridiculous!"
Hitting the Big time
He continues: "On Wonder Days, I used my Rickenbacker and a Höfner Electromatic, which sounds great - although it's difficult to use live because it feeds back even at low volume.
"In the studio it has a great sound. On the new Tyketto and Thunder albums, aside from one or two tracks, I used my Sandberg Forty Eight and California TM basses exclusively.
"The TM bass is a 'Hardcore Aged' model: I picked it up at Synergy Distribution's warehouse and it was head and shoulders above any bass I've ever played in my life. I had to have it, it's just unbelievable! Regardless how much top end you put on it or how hard you play it with a pick, it's always got meat in the middle of the note - every note sings. This one does not leave my grasp, it will only ever get used in the studio."
The Thunder back catalogue has a number of songs with dropped tunings, so it's unsurprising that five-string basses and Hipshot-equipped four-string instruments are called upon from time to time. As Childs explains,
"I've got Hipshots on my Rickenbacker and two other basses. A lot of the Thunder songs with drop D tuning are much easier to play with an open D string rather than a fretted low B string, because that's the way Luke has written them."
After all these years, Childs is still excited about the instrument, mixing with the occasional bass-playing heavyweight and what lies ahead.
"I love playing, and I get just as big a thrill from picking up a bass guitar now as the very first time I picked one up," he says with tangible excitement.
"Tyketto recently performed on a rock cruise with Mr Big and the Winery Dogs, who knocked my socks off - they were unbelievable. I went backstage to meet the guys. I never get starstruck, but I shook Billy Sheehan's hand and I said 'That was mind blowing!' I felt like a complete fan and it felt brilliant, especially when I've been playing as long as I have.
"You think you're doing well in your own little world and then, to be totally gobsmacked and in awe of them, it was fantastic. Thunder are off to Australia shortly. I've spent my whole career wanting to go. I'm 57 and I'm finally going - I can't wait!"
Rip It Up is out now on Edel Music.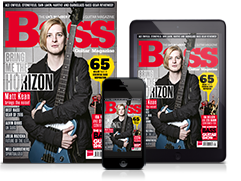 We're the UK's only print publication devoted to bass guitar.
Subscribe for star interviews, essential gear reviews and killer tuition!