The best new effects pedals of NAMM 2019
NAMM 2019: As with every year, it's simply impossible to cover the sheer wealth of stompboxes unveiled at NAMM, but we do our best to give you a rundown of the biggest movers and shakers.
2019 felt like the year of collaboration, with Ibanez and Vemuram, ThorpyFX and Dan Coggins, and Old Blood Noise Endeavors and Datachoir all joining forces for bold new endeavours.
Synths also took top billing this year, courtesy of Pigtronix and Electro-Harmonix, while there are plenty of pedals that sought inspiration from vintage classics, like Supro's analogue Delay, and Strymon's Volante.
Keep reading to find out what you'll be stomping on this year...
WINNER: Chase Bliss Audio Preamp mkII
Chase Bliss Audio's Preamp mkII has actual motorised faders. In a pedal! A collaboration with Benson Amps, it spans boost, overdrive and fuzz with a huge range of EQ and clipping options.
Since this is relatively uncharted territory, a release date and price are still to be determined, but the concept is sonically and mechanically jaw-dropping, making this a well-deserved winner.
Electro-Harmonix Mono Synth
EHX's latest synth pedal takes your guitar input and spits out your choice of 11 different synth sounds, spanning vintage sounds to lead and beyond.
The sensitivity control allows you to manipulate the point at which your playing dynamics trigger the synth, while you can balance the synth and guitar signal via the dry control. It's also available in bass format.
Mooer GE300
Touted as the company's new flagship model, the GE300 packs 108 digital amp models, as well as 164 effects, 43 optional factory cab sims and a fully featured IR loader.
There's also the Synth Engine, a new tri-voice polyphonic synthesis module with options for wave form, pitch, filters and arpeggiators - with no special pickup or guitar modifications required.
The Preamp Live's Tone Capture reappears here, too, but now offers three different modes: Amp Mode, to capture real-life amps; Guitar Mode, which models EQ characteristics; and Cab Mode, for sampling speaker cabs and creating IR files.
Ibanez Vemuram Overdrive Pro TSV808 Tube Screamer
A surprise announcement for the show was this collaboration between Ibanez and Japanese boutique co Vemuram.
The TSV808 promises to combine the TS808's iconic mid-boost with the Jan Ray's full-range tone and dynamic response.
Supro Delay
This all-analogue echo was designed by EHX Deluxe Memory Man and Pigtronix Echolution mastermind Howard Davis.
A pair of new-production MN3005 bucket brigade IC chips delivers times from 20ms up to 600ms, while a filter knob that provides low-pass and band-pass functions, promising BBD and tape echo sounds.
Fender Tre-Verb
The Tre-Verb combines reverbs based on Fender's spring units from 1963 and 1965, plus multiple tremolo modes to help players get closer to their desired sound.
The pedal includes a full suite of tone-shaping controls, including tap tempo to dial in the tremolo effect.
Pigtronix Resotron
The Resotron is an analog filter that aims to bring the sound of '70's keyboard synths to your pedalboard.
Built around the SSM2040 chip found in the influential Prophet 5 and Octave CAT synths, this 24db/octave, state-variable filter offers envelope filters in UP and DOWN sweeping modes, plus a sensitivity control to adjust how responsive the effect is to how hard you play.
Crucially, the Resotron can also deploy an analog pitch-tracking system to move the cutoff frequency of the filter based on the notes you play rather than how hard you play them.
Seymour Duncan Dark Sun
A collaboration with Periphery guitarist Mark Holcomb, the Dark Sun offers both delay and reverb, complete with high-pass and low-pass filters.
Modes include reverse, ping pong, reverse ping pong and pattern, while there's a comprehensive modulation section on hand, too.
Neunaber Audio Neuron
Neunaber's preamp packs a speaker simulator, compressor, noise gate, presets and MIDI into a compact pedal format.
Promising an ultra-versatile, "hyper-realistic" set of tones, spanning cleans to distortion and everything in between, the Neuron boasts a multi-stage, dynamic gain architecture and tilt EQ to adapt tone to different setups without changing presets.
Strymon Volante
Based on vintage tape delays, the Volante boasts magnetic drum echo, tape echo and reel-to-reel studio echo sounds, plus a looper and vintage spring reverb.
Strymon promises replication of every last magnetic delay system attribute, packing four onboard delay playback heads, with individual feedback, panning and level controls.
Laney Secret Path
A surprising venture into reverb from the storied British amp co, the Secret Path contains spring and plate reverbs, plus its namesake 'The Secret Path', which is a large hall sound described as a "deep, dark, mesmerising ambience".
There are knobs for Pre Delay, Size, Tone and Volume, plus a toggle switch for the three modes. There's also a stereo out, plus guitar and expression pedal inputs.
Two Notes Torpedo C.A.B. M
The Torpedo C.A.B. M Two Notes' superlative Torpedo cab-simulation technology and compacts it into an app-synced box that can be placed at the end of your pedalboard.
There's a choice of 32 virtual cabinets, eight mics and eight room simulations, plus power amp tube modelling.
Eventide Rose
Designed to combine analogue and digital delays, the Rose features invert phase and reverse delays, a Delay Multiplier, analogue lowpass filter and five different modulation sources.
There are also five presets, MIDI control and an assignable aux switch/expression pedal, with up to 10 seconds of delay at 200kHz, or even 50 seconds of delay at 8kHz.
Wampler Terraform
Wampler has turned its hand to multi-modulation with this all-encompassing stompbox, with rate, depth, blend, volume and wave shape controls.
Those effects are… Slow Gear style, U-Vibe, Phaser, Through Zero Flanger, Subtractive Flanger, Additive Flanger, Chorus, 3 Voice Chorus, Dimension Style Chorus, Tremolo and Harmonic Tremolo.
Danelectro The Breakdown
Apparently, this latest release from the budget guitar co is based on a pedal used by a certain guitar god to record his first album, back in 1968.
There's a six-position Break Up control, with three 'always-on' settings, while the other three offer more volatile fuzz.
Fuzzrocious Knob Jawn
We've seen some big knobs in our time, but Fuzzrocious's Knob Jawn octaver really takes the biscuit.
It packs analogue and digital circuits: a monophonic octave up, and polyphonic octave down. The monster knob controls the blend between the two.
Keeley DDR
The DDR bundles all the most-used guitar effects into a single enclosure - perfect for fly dates and last-minute gigs.
There are two choices of overdrive - crunch or lead - while there are modern and vintage options for the delay and reverb. A built-in effects loop allows your to insert effects between drive and wet, too.
Walrus Audio Lillian
Lillian is the phaser answer to Julia's chorus, drawing on an analogue, multi-stage design, with four- and six-stage options.
Best of all is the D-P-V knob, which blends between dry, phase-shifted and vibrato sounds.
Tsakalis Audio Works Six B.O.D.
The Six B.O.D. claims to combine sounds from three iconic boutique overdrives - the Timmy, Bluesbreaker and KOT - within a single enclosure.
Six modes are onboard: booster, two overdrives, two distortions, and the first overdrive into the second distortion, with control over volume, gain, mood (overall tone) and highs.
Beetronics Swarm
Another gorgeous stompbox from the boutique firm, the Swarm is perhaps its most innovative offering yet.
A combination of fuzz (Worker) with low (Queen) and high (Drone) harmonies makes for some seriously unique tones. One of the highlights of the show.
ThorpyFX Deep Oggin
ThorpyFX enlisted former Lovetone pedal designer Dan Coggins for the Deep Oggin chorus/vibrato, Coggins' first modulation design since his Lovetone days.
It's a fully analogue chorus/vibrato, and promises versatile, three-dimensional chorus sounds that span subtle to deep.
Old Blood Noise Endeavors Rêver
Another collaborative effort, the Rêver sees OBNE join forces with Datachoir for a modulated reverb, delay and reverse powerhouse.
Seven knobs, two toggles and two footswitches are onboard, and there's latching or momentary operation for the reverse feature.
Hotone Ampero
Hotone's wallet-friendly answer to the Helix boasts a touchscreen display and can handle up to nine simultaneous effects modules.
Onboard there are an impressive 64 amps, 60 cab simulations and over 100 stompbox models, all in 24-bit processing powered by a combination of Hotone's proprietary software and in a dual DSP platform.
There's also a built-in drum machine and a looper with 120 seconds recording time.
MXR Dookie Drive
As teased by Billie Joe Armstrong himself, the Dookie Drive mimics the frontman's tone from the iconic Green Day album, in honour of its 25th anniversary.
MXR says that it was able to borrow the actual modded Marshall Plexis used in the sessions for the R&D process, before reproducing them in a pedal circuit.
Ernie Ball VPJR Tuner
The VPJR a new space-saving volume pedal and tuner with a built-in touch-screen display.
The combo unit features a chromatic tuner, which appears in the embedded display on the top of the expression pedal itself.
Handily, it automatically switches from volume to tuner once the signal drops to a requisite level, though this can be adjusted and preset to either mode via the touch screen controls, as can the tuner calibration.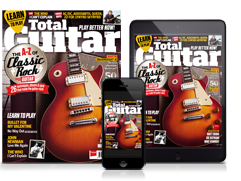 Stay up to date with the latest gear and tuition.
Subscribe and save today!