Steve Earle talks So You Wanna Be An Outlaw, Martins and mandolins
Introduction
As another quality Steve Earle and The Dukes album hits the shops, we decided it was a more-than-good excuse for a chat with the iconic guitarist, singer-songwriter, record producer, author and actor
So You Wanna Be An Outlaw is everything you would hope a Steve Earle record would be: strong songs that cover a range of emotions and styles, and a cracking band which never puts a foot wrong over the 12 tracks (or 16, if you're deluxe). He must be happy with this one. "I love it, it's just what I wanted it to be," he says.
The title of Earle's new album is a reference to the 1970s movement of country music, coined 'outlaw', which was a response by artists like Willie Nelson, Waylon Jennings, and Kris Kristofferson to the polished country sounds emerging from studios.
"That was another term people came up with afterwards," he states. "Willie started all of that stuff, but he and Waylon were pretty much best friends, and Jennings made Honky Tonk Heroes the same year as Willie made Phases and Stages. It just didn't get released until '73.
"I pretty much patterned this record after Honky Tonk Heroes; it's all Billy Joe Shaver songs, who was an unknown songwriter in Nashville. I just about knew who he was when it came out, which was a year before I moved to Nashville. On the deluxe version of my album I cover a Jennings song by Shaver called 'Ain't no God in Mexico', which is on Honky Tonk Heroes."
While there's plenty of classic Fender Telecaster on the album, an Earle record wouldn't be the same without some Martin action. So what is it about the king of acoustic builders that does it for him?
"I brought all of the small bodied double-0 Martins that I usually use for recording. But right before I recorded this album, I acquired a 1937 Martin D-28 and I used it for everything acoustic that I played on there," he explains.
"Some other acoustics from my collection are on there too, but with either Chris Masterson or Chris Clarke playing them. I think I also used a Paul McGill gut string on one of the four covers too. I tend to use the small bodied Martins a lot for finger-picking, because they're really well balanced and they go onto tape really well, or whatever you're recording on."
The great American guitar
Earle has an incredible knowledge of the American guitar - and it doesn't take much to get him talking on the subject.
"All of these American guitars are based on the Size 1 Martin, which is the first one they built," he tells us. "People would call that a parlour guitar now, but the term 'parlour guitar' is like rockabilly - it's something that didn't exist when the thing it refers to was invented, so it's a post-reference. Now that most guitars are bigger, the old standard guitar is now a parlour."
He stops a moment to chuckle at his own little detour, so we ask about the current quality of Martin guitars, him being a connoisseur and all.
"I think that Martin are building the best guitars they've ever built right now," he answers without pause. "Computers help sometimes, you know? A big misconception is that a luthier working by himself making one or two at a time can make a better flat-top guitar than Martin or even Gibson can, and I don't think that's ever really been true. That guitar [Martin's first flat-top] was from three or four people in New York City, who came up with the Martin guitar design.
"There were other builders around, mostly German, and they were all looking for something that, for that time, around the 1830s, 40s and 50s, they could mass-produce. Martins were designed to be mass-produced; it has always been a factory, and Gibsons were just less expensive Martin copies, essentially.
"There's no original design in a Gibson flat-top; their archtop is something different, because it's based around their violin knowledge and technology, but the flat-tops are just copies. So, anyway, it's arguable that a hand-builder can do that better," he says.
"I know that Steven Gilchrist builds the best mandolins in the world - I have two of them and one of his guitars. There's usually only a few people who can carve a top and turn it into something stunning, and I have the last New Yorker mandolin that Jimmy D'Aquisto built, which is a monster, so I know of what I speak," he laughs. "With flat-top guitars, you know, Collings, Taylor, Gibson, Santa Cruz, they're good guitars, but they're all Martin copies."
Martins and mandolins
With Earle owning instruments that have been built with tools ranging from hundred year old chisels to modern CNC machinery, we wonder which he chooses to take on the road.
"I don't tend to carry vintage instruments," he answers. "I carry two new, well ten-year-old, M size Martins, which are an M-21 Steve Earle [signature model] with a two-tone brown shaded top, and an M-36, which I could replace tomorrow, to be honest, if it breaks. It's a great guitar, but it's a production guitar.
"I don't bring the '21 to Europe anymore, because I have to check them to get over there, so I take the '36 and an M-38, both of which I can make a call to Martin and replace. I've pretty much cut things down to two or maybe three acoustics, two electrics, two electric mandolins and two acoustic mandolins."
It sounds like a hefty weight, but for Earle it's scaling back somewhat. "The main acoustic mandolin [I take] is a Gilchrist A model with a K&K pickup in," he tells us. "But I've recently gotten an F Junior Gilchrist too with a sunburst and some fancy inlay. It's just stunning, the best mandolin I've ever played and I won't put a pickup in it; it's the one I used for 'You Broke my Heart' on this record. I can't imagine what that mandolin will sound like in ten years."
Another thing hard to imagine in ten years is what this country stalwart will be up to, being about as busy and prolific as possible. At the time of making Outlaw, Earle was also writing songs with T-Bone Burnett for the hit television show Nashville, as well as working on a duets album with Shawn Colvin, Colvin and Earle, which was released last year.
Considering Earle is also writing a memoir, it's surprising another album has appeared so swiftly. "Well, as I was writing the memoir, I thought it was good to look at where I came from," he smiles.
"We were also doing a Guitar Town anniversary tour and I wrote a lot of this record while we were doing that, rehearsing a lot of it during sound checks before we got into the studio. I'm always looking for what the next record is; I have to have some kind of handle or theme going on."
Song writers and readers
To be such a musical veteran and still have the energy to challenge constantly is an impressive achievement. But what of the emerging artists?
"Well, I run a singer-songwriting camp every summer in New York, and you get older players who are hobbyists and interested, but you also get a few young people come along who are pursuing it," Earle says.
"Roseanne Reid hasn't made a record yet, but she's really good. She came the first year and we bring her back from Edinburgh as an assistant every year. She was 21 when we found her! Colter Wall's 21 and he's a bad-ass - the best young singer-songwriter I've seen in a long time.
"Also Chris Stapleton: I heard his new album the other day and it's incredible. People say it's not very country, but it sounds pretty fucking country to me! Country music has always been about what it needs to be about, but I like a bit of guilt attached to my drinking songs." He stops and laughs. "Although that's a bit old fashioned."
We finish by going full circle and considering influences, as Outlaw is a record that wears its own on its sleeve. "I think everything influences everybody," Earle states. "I'm a post-Bob Dylan singer-songwriter, so for me that means writing songs that qualify as literature. I think it's always been as much about what you read, the plays and movies you see and all the other art, as everything else.
"It's all about consuming art if you want to make art. If you want to just write commercial songs that you don't really care about singing, then there's nothing wrong with that, it's just not as much work." He stops and smiles. "I always try to persuade these younger guys to read Shakespeare. If you wanna keep up with me, you better fucking read!"
So You Wanna be an Outlaw is out now on Warner Bros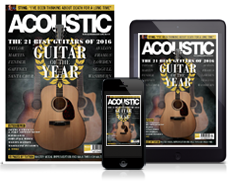 We're the UK's only print publication devoted to acoustic guitar.
Subscribe for star interviews, essential gear reviews and killer tuition!