GEAR EXPO 2022: Rewind to the year 1984. The Apple Macintosh is hitting shelves, Band Aid is rehearsing, DNA profiling is taking form, and the first untethered spacewalk is underway. A leap year is fitting for events that echo through time like the questionable lyrics of a catchy Christmas song.
Capturing a polyphonic icon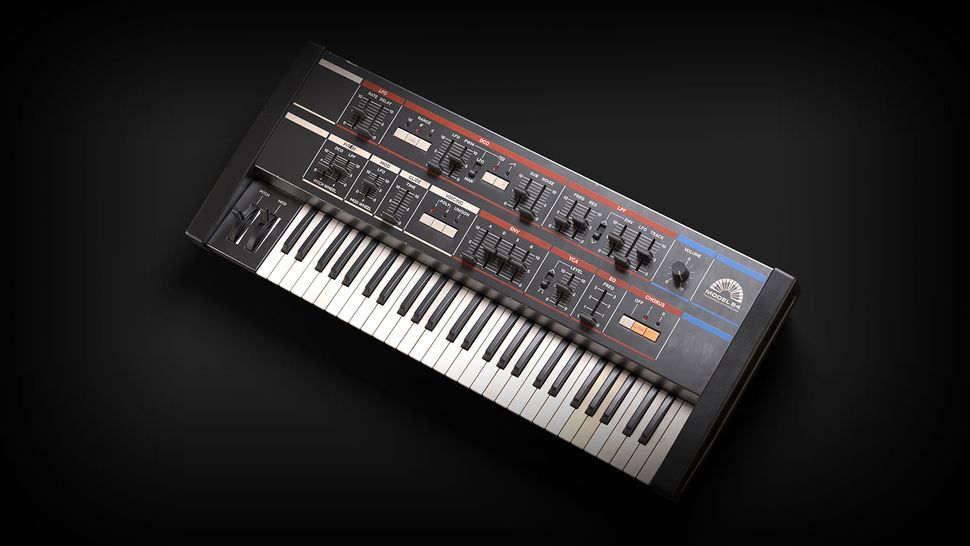 Nineteen eighty-four shaped the present as much as the past. And fresh on the scene that year was a six-voice synth whose sound would define the decade—and beyond. Over thirty years later, we are still feeling the Synthwave reverberations this polyphonic paragon can produce.
Employing its acclaimed Rock & Roll Science, Softube created the Model 84 Polyphonic Synthesizer plug-in with all the quirks and non-linearities of the original hardware. The company applied its modeling expertise to a fully-serviced and calibrated 1984 unit, and the result is an exacting facsimile of the polyphonic icon.
Flawless accuracy, ideal workflow
Softube Model 84 Polyphonic Synthesizer offers the sound of the '80s with expertly modeled voice allocation modes, unison phase, and an EQ section that mirrors the original hardware. While the expanded control panel—with added velocity and aftertouch parameters—makes fine-tuning sound and behavior pain-free. Original and artist presets quickly recall everything from authentic patches to the Synth Pop heard in the 1980s and today.
Softube knows that a synthesizer is more than simply gear. It is a sonic universe unto itself. A synthesizer—this synthesizer—has a soul. Softube believes that approximating the sound and function of renowned hardware in software form is insufficient. The company strives for flawless accuracy, ideal workflow, and perfect sound: Rock & Roll Science—with heart and soul.
About Softube
Since 2003, Softube has collaborated with brands like Marshall, Weiss Engineering, Chandler Limited®, Empirical Labs, Summit Audio, and Tube-Tech to create industry-leading pro audio tools. It has done so while developing its range of Softube Originals gear, like Model 72 Synthesizer System and Model 84 Polyphonic Synthesizer. Featuring cutting-edge component modeling technology and obsessive attention to sound quality, Softube's software and hardware solutions win hearts as well as awards.
Its passion and creative instincts have made Softube one of the most respected contemporary brands in pro audio. Designers of the greatest analog gear ever know that Softube is Swedish for sound quality. Solid State Logic, Drawmer, Doepfer, Trident, Buchla, and Abbey Road Studios trust the Rock and Roll Scientists from Linköping with official software versions of their most legendary products.
Continuing to lead the industry with highly reviewed and award-winning plug-ins, platforms, and mixing systems, Softube makes computer-based studios efficient and inspiring. Model 72 Synthesizer System and Model 84 Polyphonic Synthesizer demonstrate Softube's focus on attaining perfect sound quality, modeling, and workflow—no matter how far afield in aural time the company travels.
The influential sound of Softube Model 84 Polyphonic Synthesizer is available not only as a native plug-in but for the Eurorack platform Softube Modular and the pro audio guitar & bass platform Softube Amp Room. The retro-future is here—again.
For more information, head to the Softube official site.