Juno-X
Vintage heart. Modern muscle.
SYNTH WEEK 2022: Standing among the greatest analog synthesizers ever created, Roland's iconic JUNO lineup has had a massive impact on music for over four decades.
The warm, organic sounds of the JUNO-60 and JUNO-106 defined countless '80s pop hits and played a huge role in the emergence of techno, house, synthwave, and other electronic styles. Distinctive and timeless, the classic JUNO voice continues to inspire leading music creators everywhere.
JUNO-X brings the best of the past together with Roland's latest technologies, reimagining the vintage JUNO experience with vastly expanded sound possibilities and free-flowing tools tuned for today's music.
It delivers the full capabilities of the native ZEN-Core engine, along with genuine recreations of JUNO synths and other legacy Roland instruments.
Key features include:
• The legendary JUNO synthesizer experience reimagined with the power of the ZEN-Core Synthesis System
• Newly developed JUNO-X Model with Super Saw oscillator, velocity sensitivity, Chorus III effect, and more
• Authentic Models of the JUNO-60 and JUNO-106 synths from the 1980s
• Versatile sounds from the XV-5080, RD-series pianos, and Roland's classic vocoder
• User slot for loading Model Expansions such as the JUPITER-8, JD-800, Vocal Designer, and others from Roland Cloud
• Fast and intuitive workflow based on Scenes
• Instant sound creation with a hands-on panel inspired by historic JUNO synths
• High-resolution knobs and sliders for precision control
• Traditional arpeggiator and advanced I-Arpeggio driven by intelligent algorithms
• Expressive 61-note keyboard with aftertouch
• Onboard stereo speakers and Bluetooth® audio support
• USB audio/MIDI interface and USB Memory port for data backup to a flash drive
• Free JUNO-X Editor software for macOS and Windows
• Browse and load Model Expansions, Sound Packs, and more over Wi-Fi via Roland Cloud Connect
• 10 free Sound Packs available from Roland Cloud with purchase

Find out more about Juno-X at roland.com >>
Fantom-0 Series
Unify your creative vision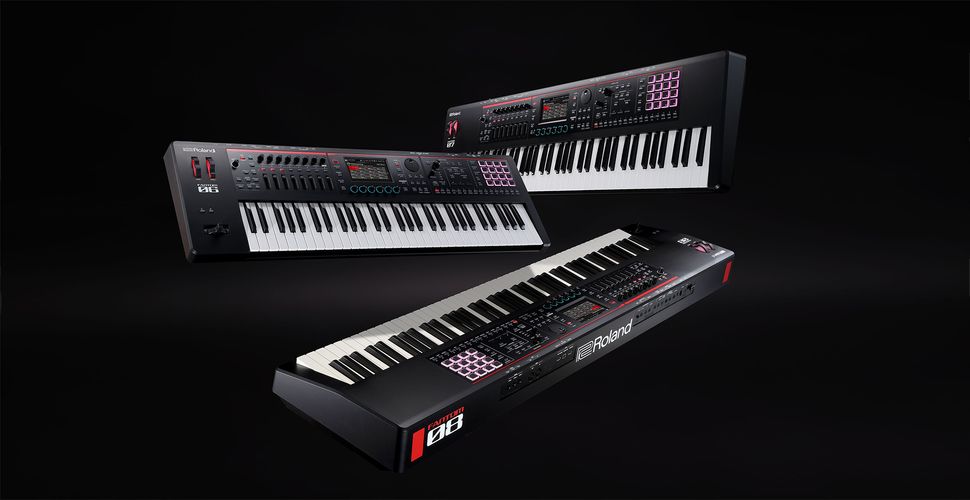 FANTOM-0 brings your creative world together, combining the sonic power and fluid workflow of the top-of-the-line FANTOM series in streamlined instruments that go everywhere your inspiration takes you.
Combining everything you need to create and perform at the highest level. And with its interactive design and expansive I/O, it blends into every workflow with ease. It includes thousands of professional sounds from Roland's immense, trendsetting library, with further expansion available through Roland Cloud.
Create with synthesizers and rhythm sounds that have defined entire musical genres. Build organic compositions with pianos and other acoustic instruments. Or shape sounds of the future with FANTOM-0's deep array of modern synthesis tools.
Every FANTOM-0 model feels fantastic under your fingers with responsive custom keyboards and loads of high-res controls. Choose from the 61-note FANTOM-06 or 76-note FANTOM-07 and their synth-action keyboards. Or go for a weighted-action experience with the FANTOM-08 and its 88 ultra-responsive keys
Designed for non-stop music creation, FANTOM-0 lets you shape sounds and make music without interrupting the flow. With the hands-on knobs and sliders, color touchscreen, quick sampling features, and clip-based sequencer, every session with FANTOM-0 is inspiring, productive, and fun.
Key features include:
• Sounds and features inherited from the flagship FANTOM series
• Seamless workflow with no confusing modes
• Light and durable molded body designs for easy transport
• Play and produce with thousands of electronic and acoustic sounds powered by Roland's advanced ZEN-Core and SuperNATURAL technologies
• New SuperNATURAL pianos with authentic acoustic grand sound and response
• Virtual ToneWheel Organ with harmonic bar control and quick-fire playability
• Deep onboard sampling features
• Scenes contain settings for all 16 layers plus effects and patterns
• Clip-based sequencing with instant pattern recording and triggering
• TR-REC sequencer inspired by classic Roland drum machines
• Color touchscreen, high-resolution knobs, sliders, RGB performance pads, and dedicated synth control section
• Pitch/mod lever and illuminated pitch and mod wheels
• Massive DSP power for plenty of polyphony and smooth sound transitions
• 4x32 USB audio interface and native integration with Logic Pro, MainStage, and Ableton Live
• Mic input and powerful onboard vocoder
• Support for Model Expansions, Sound Packs, Sample Packs, and more from Roland Cloud
• Comes with 15 Wave Expansions and 10 Sound Packs, available for download from Roland Cloud
• Compatible with FANTOM Scenes that use ZEN-Core, SuperNATURAL, and Virtual ToneWheel Organ sounds
Read more about Fantom-0 at roland.com >>