Rig tour: Emma Ruth Rundle
Introduction
Throughout her storied career - which has included stints with post-rock supergroup Red Sparowes, alt-rockers Marriages and drone-metal legend Dylan Carlson - Emma Ruth Rundle has proven herself a dreamweaver of expansive guitar textures.
Her third solo album, On Dark Horses, however, finds her waves of celestial sound lapping against altogether heavier, darker shores. Yet although Emma writes on an acoustic, her rig always informs the direction the material takes.
"It's like relying on reverb if you're a singer, and you know there's going to be that extra dimension to it," she explains. "I don't like dry guitar sounds; I have lots of reverb and delay."
As you'll see from the gear ahead, she ain't kidding...
Gibson SG
"I've had that SG since 2011. I don't think I've made any modifications. I sort of became obsessed with the SG. I'd been playing Strats and Teles and those were too heavy for me; they were hurting my shoulders.
"I worked in a guitar shop in LA called McCabe's, and this young person came in - they wanted a new cellphone and they brought in that SG and the case, and I think I got it for like three or four hundred bucks. It was an upgrade from what I had been playing, which were these Japanese knock offs, and they were just totally fucked-up above the 12th fret, and there was nothing that could be done to fi x it.
"I like the SG's scale length; I like the dark tone and the grit of it. I love the lack of a radius; the Fender guitars I kind of grew up playing - my first guitar was a Mustang - have such an extreme radius, I find that the flatter fretboards are easier to play.
"I just love that guitar. It's tuned to C, and I use D'Addario 12s. It's very easy to wield, if you will - unlike the baritone, which is very heavy."
Fender Jaguar Baritone Special HH
"They only made it for a little while. I discovered that guitar because I was playing in a band with a friend who had one, and it just didn't sound like anything I'd ever heard before, so I just had to have one.
"And I play in really extremely dropped tunings, so it made sense to have a baritone guitar. It's tuned to G# - I think the heaviest string on it is a 0.062, and the top is a 0.014.
"That guitar just has a special sound, so I have two of them now: one here and one in the States. It's stock, but I'd like to change the pickups; I think they're just a little on the weak side."
Tunings
"They're all organised around an open major tuning, like a DADGAD kind of thing [tuned down to C or G# standard depending on the guitar]. What alternates the most is the third string. So, a very common tuning that I would play in would be like DADF#AD since it's an open major tuning. The root is always on the fifth or sixth string; it makes the guitar very simplistic, in my opinion. So if you're barre-ing, it's a major chord.
"The other tunings I play in would be the DADGAD one, so you'd raise the third string up a half-step, and then if you take it down a half-step from the major it becomes an open-minor tuning, and then if you take it down another half-step that's a tuning a lot of the songs on this new record are in.
"Rather than having a million different guitars, I'm getting by with a capo and some tuning in-between the songs."
Roland JC-160 Jazz Chorus
"I was a little surprised when we pulled that [rental] out of the case. I've never seen that before. It doesn't quite have the same beautiful clear low-end that the regular Jazz Chorus, the 120, has but it's cool nonetheless.
"There's something that's just very compatible with the extreme low tunings and that solid-state amp. I like that it doesn't break up; the low tunings translate very well through that amp. I like to have that amp and a more traditional tube amp, because it adds the warmth and the break-up sound back into it, so it's not too sterile."
Fender Hot Rod Deville 410
"I've been using that one here in Europe, and I like it.
"I haven't really figured out what my tube amp is going to be in the long run; I have an amp at home that I don't really like very much, but I can't remember what it is. It's smaller, and it just breaks up too fast. Although inevitably with the pedals the Fender breaks up a little."
Pedalboard
"Everything runs through the same path until it reaches the M9, and then I've got the left side, which is the Jazz Chorus, going through a DD-6 and then an RV-5, so the Boss delay and reverb and the right side, which is to the Fender amp, is going through a Red Panda Context. So they split off to have diff erent reverbs."
Electro-Harmonix Stereo Memory Man with Hazarai
"That's a centrepiece of my sound. I only use one setting, the reverse setting - it's probably set to about a second, but I set it so long ago, I don't even know. I have it just programmed in there, and somewhere, in some universe, there's a photo of the original settings that I need, in case I ever need them. I mean, I've gone through four of those pedals. It's just there to add some ambience to certain parts. I don't have it on all the time; it would be too chaotic."
Boss RV-5
"I use the modulated reverb - it's on all the time. Both of my reverbs are always on."
Red Panda Context
"It's on a hall setting. It's not too overwhelming. I go more effects-heavy with the Roland and a little bit drier with the Fender."
Boss DD-6
"That's on the Jazz Chorus side. That's on all the time, too, just in a very subtle way to add a little bit of delay to the sound. It's such a slight setting, such a minimal amount that's in there. It's just another step away from having a completely direct tone."
EarthQuaker Devices Black Eye
"That's always on, too. It just adds a brightness and an edge. That's going through both amps. Because of the drop tunings, it's hard to get the clarity with those tunings and all of the reverbs and stuff , so having the boost on all the time helps."
EarthQuaker Devices Palisades
"They started out building that pedal to be like a Tube Screamer. The channel that I'm using is supposed to be slightly softer than the second one; I don't use the second one, but I do use the boost. And they have these bandwidth EQs; I use them set to the fattest sound, because it gets super-thin if you go all the way across to the other side. That's my main distortion, and then for the super-heavy parts, I kick on the boost."
Pedalboard (continued)
Digitech Whammy (5th Gen)
"It's literally just an octave-up - that's all I'm using it for in this."
Korg Pitchblack Advance
"I think it was my second tuner. I had the Boss one, and I just never liked that. I think it's a horrible pedal. And then the Pitchblack… working in the guitar store we must have just started carrying it and so I got a discount on it and I liked it. And I've now gone through four or five of those.
"I've thought about getting a different tuner. But I also recognise that what I'm doing is imperfect, and it's never going to be perfect. The amount of tuning changes and capoing around, the guitars themselves aren't designed to even really be playing these kinds of tunings!"
Line 6 M9
"I have two delays on that going. I have just a digital delay, and then I have a ping-pong delay. And I use it for looping also. That's also been a pedal I've consistently had on my pedalboard for many, many years.
"A lot of the ways that I come into using these things is either by chance or because somebody's gifted one of the pedals to me, which is how I got into the M9. It was a gift from somebody that worked there many years ago, and now I've had like six or seven of them. I've tried to get away from it, to find another pedal that takes up less real estate - it's so massive, but it does so much."
Violin bow
"It does sound much better than an EBow; I like an EBow, it's cool, but the actual bow sounds better. I'm only using it for a little bit of the song Light Song.
"I used it a lot on the Jesse Draxler score I did recently, and on Dylan Carlson's record [Conquistador] - I did a lot of bowed guitars on that. You just get an entirely different sound out of your instrument."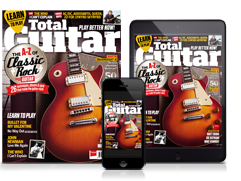 Stay up to date with the latest gear and tuition.
Subscribe and save today!