Rig tour: Dream Theater's John Petrucci
Introduction
John Petrucci welcomes us onstage at Hammersmith Apollo for the Images And Words 25th anniversary tour.
"There are no nicks on any of my guitars!" notes John Petrucci before tonight's sell-out show. And, yes, under close inspection, we can confirm these instruments are as immaculate as the technique of the man playing them.
On the current run, the band are performing their 1992 album in its entirety - sandwiched in between two other sets - and, as one would expect, the guitarist is in total control of every aspect of his signal flow. Welcome to the precision-led world of Dream Theater…
Ernie Ball Music Man Majesty
"This pink/purple sparkly guitar is used for pretty much the entire Images And Words set. Though, occasionally, I might use the blue Majesty, which is the backup, for a couple of songs.
"I have a backup guitar for each one I need, which is why there are so many. For example, there's the main standard tuning, plus a back up, same for the main seven-string in standard, then E-flat six and seven-strings. I also drop tune for another song... so you can see how they build!"
Ernie Ball Music Man Nomac Majesty
"For our last album, The Astonishing, we had this guitar specially made - just a small run of 20 were made for NAMM.
"It was modelled from the album cover, there's a creature called the NOMAC, which has black diamonds surrounded by white gold, three rubies and LEDs behind them that shine through. There's stainless steel, a two-piece abalone inlay for the symbol… it's unbelievable and a very special guitar to me. I'll use it for Our New World and as it's a $20,000 guitar, I have to be pretty careful with it!"
Ernie Ball Music Man JP-15
"The JP-15 is a bolt-on, seven-string version with a beautiful teal quilt finish and a roasted maple neck… it's really beautiful.
All my guitars are fitted with signature pickups, these have the Illuminators and piezo system."
Ernie Ball Music Man Majesty
"We've come out with all sorts of different series for the Majesties.
"If we did a precious metal series, there'd be gold, copper, silver... this white colour one was the first and the exact colour combination is modelled off a BMW M6! That car had a carbon fibre top, frozen white paint, black chrome rims... These are all neck-through and super, super light."
Ernie Ball Music Man Monarchy Majesty
"This is the latest series for 2017. Instead of the flat paint, we did a high gloss finish on the front and instead of carbon fibre in the middle, we used figured maple top. They laser-etch the maple, then stain it… you can really see it under a magnifying glass. That's how talented the luthiers are!"
MESA/Boogie JP-2C
"The Mk IIC+ is one of those holy grail amps revered in the highest regard by collectors. This was the first time they'd made a reissue, so I took it a step further by modernising it with all the features I wanted.
"The original Mk IIC+ had one row of controls. There were basically two channels sharing controls and one EQ. I wanted three channels of sound - a clean and two lead channels. Unique to this amp is the two graphic EQs.
"You have the flexibility of shaping each channel exactly the way you want it to be. The originals couldn't really do that, you'd need two or three of them with an amp switcher. It's the first Boogie to have MIDI built into it, which was actually my tech Matt 'Maddi' Schieferstein's idea."
MESA/Boogie 1X12 Cabinets
"The main cabinets and heads onstage are not on. They are there just to show people what I'm using because everything is mic'd in a corner at the back.
"Actually, sometimes we have MIDI controlling these heads as well, so you'd see the amps change channels even though they're not being fed!
"So as I have no sound coming off stage and I use in-ear monitors, it doesn't really feel like I'm playing guitar, unless there's some thump. These little 1X12s resonate with the floor and give me feedback when I need it. Plus, I get to put my foot on it, that's the number one thing ha ha!"
Pedalboard
Jim Dunlop JP95 Cry Baby Wah [in rack]
"I'm not being a salesman… my wah is fuckin' badass! The sound comes from the rack wah, which we had made into a pedal.
"When I went to develop it, they had sent me all the other signature ones… I tried them all and took notes about the things I'd liked about each one. In the end, I realised the rack wah sound was my favourite. It's a throaty, aggressive wah that sounds like a monster!"
TC Electronic Dreamscape
"My pedals tend to change a bit over the years. Right now, it's primarily TC stuff - and this is signature Dreamscape modulation pedal, which does chorus, flanger and vibrato… If I ever need to switch, we go old school and do it all by hand on the fly."
TC Electronic Helix Phaser
"I love the Phase 90 too, I like the Boss phaser and the MXR one… but I'm a big fan of TC Electronic stuff. They're really consistent, true bypass. The Helix phaser will come on for a short lead in The Bigger Picture and I might use it a little on Take The Time. There are little clean guitar breaks here and there, rather than the long, arpeggiated song intros, which have a more of a chorus thing going on."
Strymon Sunset
"This is my newest pedal, I got it pretty recently. It has six different modes for all these different overdrives, which you can mix together at the same time. The overdrives probably change the most in my rig.
"Sometimes there'll be a Keeley Red Dirt here or a modded Tubescreamer or a Boogie model. With all the features of my Boogie, I don't really need an overdrive pedal. The Majesties also have a 20dB boost on the volume control! So we really don't need these, but in the spirit of fun, we thought we'd include a little something extra."
TC Electronic Hyper Gravity
"This is a compressor used for just my clean sounds, like on Take The Time. I'm a big fan of that big compressed sound, where you can hear the strings ringing out with a bell-like quality and with sustain. It helps tame those peaks, but you can do without it - the clean sound of the Boogie is so beautiful, you don't need much compression."
TC Electronic Corona Chorus+
"Here's a limited edition version of a similar pedal called the Corona Chorus+, it's just like the original TC SCF pedal. I can have this covering most chorus modulation if I want and use the Dreamscape as a flanger."
TC Electronic Vicious Vibe
"This is TC's answer to a 'Uni-Vibe' kind of sound. The TonePrint ability is awesome, you can just beam things off your phone. Usually, I'll be in the mood to get a David Gilmour or trippy Robin Trower vibe, or old school Rush. It's mainly used for clean parts - it will get used on Hell's Kitchen. It almost sounds like a phaser but more distinct."
Fractal Audio Axe-Fx II XL
"The Fractal is so powerful because it can do so many things at once. At any given time, I'm able to access six different delays that are really complex with multiple engines. There's three different modulation chorus sounds.
"A lot of people use it for the amp modelling because it can do everything, but I only use it as a multi-effects processor. I'll program my clean sound with chorus and what I call the Eric Johnson delay, then something different for rhythm or lead channels. I'm only using the Boogie for the amp sound."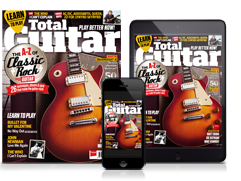 Stay up to date with the latest gear and tuition.
Subscribe and save today!