Rig tour: Dinosaur Jr's J Mascis
Introduction
Alt-rock legend and Dinosaur Jr fuzz king J Mascis invites us for a walk through his guitars, amps and that pedalboard…
How many fuzz pedals is enough? For a guitarist such as J Mascis, there will never be enough free space on the 'board. Each of his stompboxes brings its own chemistry and colour, unlocking new worlds of tone.
And then, of course, there are the ones that didn't fit but simply had to come along for the ride anyway - to shuttle the Dinosaur Jr founder even further into an ecstasy of screaming distortion and kaleidoscopic 60s psychedelia.
We track down one of the original pioneers of alt-rock and true legends of fuzz to look at the equipment responsible for his unfathomably overdriven wall of sound…
Fender Jazzmaster [pictured above]
"I once had all my guitars stolen on tour and needed to buy new ones. This happened to be at the local guitar shop, which I'd never really been interested in going inside before. It came from a local guy who bought it new in 1963 or whatever. I spotted it, tried it and thought it worked out pretty good.
"I like playing Jazzmasters, my whole style is almost built around it. Originally I wanted a Strat but didn't have enough to get one, so had to settle for the Jazzmaster. The neck felt right and it's what I learned to play on… so I've just stuck with them ever since."
Don't Miss
J Mascis on Fender Jazzmasters, fuzz pedals and I Bet On Sky
J Mascis on Jazz-y paintjobs and getting bottled by a soundman
Fender Jazzmaster
"This is my main backup. I don't use it much… it does sound different to my main guitar.
"The pickups are from 1964 or '65, so they sound a little stronger than the other '63s I use… A friend of mine worked at a guitar shop quite close to where I live and told me it was going pretty cheap. I bought it without even seeing it and was happy with what I got."
"I got this guitar very recently because there's some 12-string guitar parts on the new album.
"The one I had at home didn't seem to work, I tried a Vox Phantom but it wouldn't stay in tune. Then I tried a Rickenbacker hollowbody but the pickups were just too loud and it fed back a lot. So a friend lent me one of his guitars, and it just seemed to work really well. I found the exact same model online and bought it right there and then. It worked out."
Danelectro Electric Sitar
"I first used an original one in the studio and really liked the sound of it. Then a few years later Jerry Jones started making copies of them, so I started using those.
"We use it on the first song on the new album, Goin Down, and it's also played on The Wagon. This one is really cheap, I bought in the States specifically to tour with."
Fender Thinline Telecaster
"I got this from Fender… it was a Squier thinline but they had some pre-made necks with jumbo frets, because I didn't like the original neck.
"Then I put some Custom Shop Seymour Duncans in there and somehow it all came together. They're somewhere in between a P-90 and a Filter'Tron.
"I use this guitar on Goin Down, Start Choppin and I Walk For Miles. If definitely sounds heavier than the Jazzmaster because of the pickups. It does feedback but I can control it.
"To be honest, everything is going to feedback once that Big Muff is on! It's like it sounds different night after night. Sometimes I can't sustain any notes over all the feedback, it actually makes me play faster and keep going."
Pedalboard
ZVex Lo-Fi Loop Junky
"I got this before an acoustic show in New York. I thought it would be good to get a loop to jam with myself a little bit. I thought this was cool because it was all-analogue and very easy to use.
"It seems to cut off a lot of the high frequencies; it just can't reproduce them because of the chip in there. They make you sound a lot darker, so it's like having two separate tones. You can even make your guitar warble as it plays back. Then I started using it for the electric shows for those noisy jamming parts or even in between songs so no one has to hear silence!"
Moog MF Delay & Ibanez Analog Delay Mini
"I started using the Moog for recording, I just liked the sound of it. They brought out the smaller version that fits on my pedalboard. It has an expression pedal which I've been using to turn the speed up and down to get the wacky sounds I like.
"I use it on Gargoyle - which we usually play last - Watch The Corners, sometimes on Get Me… whenever I feel inspired to switch it on. I really like the short echo on the Ibanez. I've been using it for the solo on Heaven, it's a bit of a different sound to the Moog, but they're both analogue. Plus it's pink…"
Boss RV-5 Reverb
"I've had this for a while. I always try to check out different reverb pedals, but this is the one I keep coming back to. Usually, I prefer not to use a Boss pedal if I can, but this one works better than anything else I've tried."
Custom Audio Japan Twin Tremolo
"I really like the square wave sound of this pedal… you can get it going really choppy and super fast. I used to have the rack-mounted version, but Custom Audio told me about this Japanese pedal version and I had to get one!"
Tube Works Real Tube Overdrive
"This is responsible for my main clean sound… it only has a little bit of drive dialled into it. I can turn down the volume and it still sounds really good. I like doing that so when I turn on the Big Muff it gets louder... though with four amps, it's always loud!"
KR Musical Mega Vibe
"At first I used to use a Roger Mayer Supervibe, which was a rack-mounted vibe unit. The Mega Vibe is closest I've heard to that thing in a pedal version. I'll use it on Knocked Around, Gargoyle, Freak Scene with the flanger added for colour and volume."
MC-FX Super-Fuzz Copy
"These were made in Australia, I'm not sure if they're in production anymore. I have original Super-Fuzzes, but I love the sound of this one and, again, it fits on my 'board. I kick it in for solos and extra fuzz when things get super crazy."
Rangemaster/Tone Bender MK1 Copy
"One side is a Rangemaster copy and the other is a Tone Bender Mk1 copy. This was made by Jim Roth from [American indie-rockers] Built To Spill, he gave me a Tone Bender copy a while ago. I really liked it but had it remade with a Rangemaster to save space."
ZVex Double Rock
"I actually asked them to build two overdrives into one pedal. They made it for me and now they've started producing them commercially. I'm usually pretty set on which distortion I'll use from song to song, but sometimes during solos I'll switch on different ones when I feel like it."
Electro-Harmonix Electric Mistress Flanger/Boss TU3-S
"This was the first flanger I ever bought and I guess I love it because it sounds more extreme than most of the others I've heard. We use it on Freak Scene, Forget The Swan, Does It Float…
"There was no room for the tuner so we put it on the Electric Mistress. The tuner is a new smaller version that I saw in a shop and thought it was perfect for my needs. You don't have to turn it on and off, it's just always on and I like that."
Electro-Harmonix Big Muff
"This one was made in 1976. I don't know how much it's worth, they've probably come down since the internet… maybe up to $1,000.
"It's probably the most important pedal on my board because it's where my distorted sound starts. I might add stuff on top of it but the Big Muff is always in there.
"I got this on our first American tour in 1987, from a pawn shop in Arizona. Before that, I was using a Deluxe Big Muff, and for a while I used both - but as it turns out I liked this one better so stuck with it alone. I've had it fixed a few times but it's still going…"
Homebrew Electronics Germania 44 Treble Booster
"That's another Rangemaster copy I got when my main one was broken. Luckily I found this one on tour somewhere in Belgium and I didn't miss a show without that Rangemaster sound I use for a lot of my solos.
"I'll use this for I Want You To Know to give my sound a bit of a treble boost and an extra kick. It's probably the one I use most randomly, whenever I feel like it."
Fender Twin Reverb Reissue
"At home I use a 1966 Twin Reverb, I wish I had one over in England. But for this tour I'm using the reissue… it gives a little more top-end to my sound, so I'll try to use more of it for my solos. It's another ingredient in the soup. A pinch of Fender, some Marshall, a bit of Hiwatt…"
Hiwatt DR-103 Custom 100-watt head
"I think I got this about six years ago or something like that. I'd never used Hiwatts before that, but I found the combination with Marshall made for a cleaner, more treble-y sound.
"It's equally as loud, probably louder actually. It's always on, all my amps are always on and dialled in fairly clean. They sound pretty lame without any pedals, they're just super clean."
Marshall 1968 Super Bass & Marshall Plexi Reissue
"The purple Superbass Plexi [rear, pictured above] came from a friend of mine, who bought me it when I was last over in England and it's from the early 90s.
"I'm a big fan of purple! It has that classic heavy Marshall sound. The black one I've borrowed from Marshall, it's a new Plexi reissue. It sounds good to me.
"At home I have a Plexi Super PA from 1968, but I can't bring everything with me when I come over and Marshall are kind enough to lend me what I need. The cabs are borrowed, too, new ones that they're just bringing out.
"At home I use older cabs, I figure if it worked well back then, why shouldn't it work well right now? Believe it or not, I actually use full stacks at home, too."
Don't Miss
J Mascis on Fender Jazzmasters, fuzz pedals and I Bet On Sky
J Mascis on Jazz-y paintjobs and getting bottled by a soundman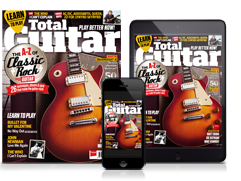 Stay up to date with the latest gear and tuition.
Subscribe and save today!