Rig tour: Corrosion Of Conformity
Corrosion Of Conformity guitarists Woody Weatherman and Pepper Keenan think similarly when touring overseas. Afraid of damaging their favourite instruments,they bring along what they call "the weekenders" - doublecut electrics from LTD and the ESP custom shop that have seen more than their fair share of aggressive playing.
While Keenan uses a lot more effects than Weatherman's rustic-ly simple board, both lean hard on their amps for tone. For Weatherman, that means Mesa Boogie's Rectifier series, minus a few cables ripped out, while Keenan is now and forever a devotee of Orange Amplifiers' discontinued Thunderverb 50.
But it's their guitars that take the beating. Keenan strings his with a wound G for extra purchase and uses a bass pick. As Weatherman says as somewhat of an understatement: they attack their guitars - "we beat the hell out of them" is far more accurate. It's just as well then that ESP built them tough.
ESP Custom
Woody: "I've always played an SG-style guitar, but I've had these ESPs for, shit, 20-something years. Angus Young, Tony Iommi, you can't go wrong! Those were early influences - plus the look of the SG, you can't beat it.
"Pepper and I both used to have Gibsons. I've still got several at the house, but it got to where some of the tunings we were using and just the way we were playing, attacking the guitar, we were having trouble keeping those old things in tune. We really needed something that was a thru-body neck, that was as solid as a rock, and ESP came through for us. You can beat the hell out of 'em, and they pretty much stay in tune.
"I've got one of my customs with me and one regular Viper. It was a total custom shop. They made me three of them and gave Keenan three of them. I have a '72 Gibson SG, and I sent that to them and was like, 'Make something kind of like this, but make it tough as hell and stay in tune.' And they did! And it was fucking awesome.
"I reckon it's all mahogany. Pickups-wise, Seymour Duncans - the Invaders, man! In the neck I keep a Pearly Gates, just for whenever you need a little warmth, I kick it on there. I've just got one knob, no tone, none of that shit. Just the pickup switch and one knob, volume - that's it.
"A long time ago, I was fucking with one of my guitars and I was like, 'Man, these knobs are in the way.' So I hit a chord, and clipped the little wire that went into the tone knob, and it got brighter and sounded better. When they made the customs, I was like, 'Don't put anything there; just one knob and that's all I want.'"
Mesa/Boogie Triple Rectifier
Woody: "I use the old Rectifiers; they give you a shit-ton of gain without a lot of the top-end noise. They really work well for that. I use the Dual Rectifiers. Tonight I've got a couple of Triples but really it's the same thing, you get a similar tone.
"When they first came out with the damned Rectifiers, they sent us a couple of test models they were working on, to try out and see what we thought. It was like '91, '92. We used the 50 Cals, but they sent them and whoa! They wanted feedback, we gave them a little, and then they had them out everywhere. I've been using one ever since. I still use them at home.
"I think the quality of those old ones is just a little different, a diode here and there. I use the 6L6s, I've never switched over. I just liked the tone of those so never fucked with it, and I pulled the Rectifier tubes out. I don't use that selection, and it was recommended to me by my amp guy to just yank them out. So they don't cause any trouble - they're not even in there. I'm running it through the silicon diode. I never did use the Rectifiers; it was warm, but it just didn't have the crunch I was looking for."
Orange 4x12 cabinets
Woody: "I love my Orange cabs: Vintage 30s, we always use those. Even when we had Marshalls or whatever, it was always with the Vintage 30s. But the Orange cabs are just fucking thick, and they sound real beefy and warm."
Jim Dunlop Cry Baby Wah
Woody: "I've just got a Cry Baby down there, but all bets are thrown out the window in the studio. Y'know, we'll use all kinds of shit. We've used some stuff, a lot of the classic shit, the Phase 90, an old Boss flanger. [This is] just a regular old, crappy, no brand-name - it's a Dunlop, but it's the simplest one. Right off the shelf. I don't fuck with them. [No noise pedal?]
"It stays pretty clean, believe it or not, even with all that fucking gain. You've just got to make sure you've got some decent cables, and you're good. If I've got too many fucking pedals in front of me, I'm tripping on them, and I don't know if they're turned on and shit. I just make it work as simple as I can."
LTD Deluxe Viper 1000
Pepper: "I got a little nervous bringing my main guitars over on an airplane, so ESP gave us a couple of guitars. Me and Woody call them the weekenders. They're just off-the-shelf things, y'know. One of them we call a Lexus [left] 'cos it's white with gold hardware.
"Either one of them are my number ones. It depends which one my tech hands me, I guess. I think he's been using a .054 [sixth string] on me and a wound G. We're tuned to D but, for me, if you rake a G chord on that shit, it sounds 'RRRAAAANNGGGG!' None of your noodley bullshit.
"I use [Seymour Duncan SH8] Invaders, just 'cos they're so brutal, and they really have great tone, man. It fucking blows my mind when you roll the volume back and it's as clean as a fucking whistle, man. It's not like a dirty pickup; it's just got a giant fucking magnet sitting in it. On my one back home, I've got a P-90 in the front on one of them and the other is just a cavity. I ripped it out. That's a fucking battle-axe for sure. "We've both got three of [the custom models]. The actual story was we were going on tour with Metallica, and we were playing those shitty SGs. [James] Hetfield was like, 'Man, those things ain't gonna fucking make it!' We were playing in fucking stadiums and shit, and so Hetfield made a phone call to ESP."
Orange Thunderverb 50
Pepper: "I got a reverb on the Thunderverb 50, which is fucking the best reverb on the planet, I think. I can't go past 2 on it. You put it on 5 or 6 it sounds like you're on top of a mountain. I was in Down, with Kirk [Weinstein], and we were at a NAMM show in California, just raising hell.
"We went to the Orange booth, and we went through a bunch of them and plugged into the Thunderbird 50, and I hit channel B - it was just volume, shape and gain, that's it, but it's got an attenuator - with a pedal! So you can release the attenuator so it's kind of like a Dinosaur Jr power-soak thing that you can just cut off and it will boost the volume when you want it to. But it's not a harsh tone. It's not like a Marshall, where it's tearing your fucking head off. It sounds like it is handwired. It sounds like a Class A, fuckin'-smooth amp.
[EL34s in the back?] "Fucked if I know! Probably. They've been trying to get me to switch to other amps, but the shape knob is what was so genius about this amp. I don't know what the fuck it is. The only way I can explain it is if you turn it this way it's Master Of Puppets, and if you turn it this way it's Tom Petty. They don't make the Thunderverb 50 anymore. They quit fuckin' making it, so I've been screaming at them. I like shit to sound real. I want solos to sound like the fucking pick hitting the string. That's the way those Orange amps are: they just sound like the real fucking thing."
Pepper's pedalboard
Jim Dunlop Cry Baby Wah
Pepper: "It's Dunlop. You just step on it and it goes."
Ibanez TS-808 Tube Screamer
"I just crank the level at 9 o'clock and set the drive at 3 o'clock. It's on all the time but not with a lot of drive, just the level."
Electro Harmonix Pitch Fork Polyphonic Pitch Shifter
"Lately I've been blending it with the octave down, but the blend knob is really fucking accurate. You can do chords and it holds it; it doesn't warble. So for super-simple heavy shit, I'll put that on; the blend just barely adds that octave right underneath it, and it just sounds thick."
Boss DD-3 Delay
"I had a TC Electronics delay pedal that I loved, but it fucking broke!"
MXR Phase 90
"It's pretty good for me."
Keeley 30MS Automatic Double Tracker
"It sounds like a Cooper Time Cube; it's just a nice doubler, like a 30ms delay thing but the delay is a little darker. I use it on solos. It really does sound like it's doubled. And you can detune the doubled signal and it sounds like tape. It's fucking cool."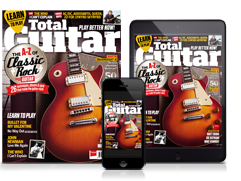 Stay up to date with the latest gear and tuition.
Subscribe and save today!