Rig tour: Blood Red Shoes
Introduction
The fact that Brighton-born rockers Blood Red Shoes were conceived as a two-piece band has shaped the way electric guitarist/vocalist Laura-Mary Carter approaches tone.
With fellow bandmate Steven Ansell holding it down on drums, Laura-Mary fills the band's distinctive alt-rock sound with some judicious and, frankly, iconoclastic gear choices.
Augmenting her Telecaster's innate twang with a suite of pedals? Taking a mass-production no name electric and placing it at the heart of her setup? Well, this girl will take whatever works.
The pièce de résistance, however, is a backline that sees Marshall's flagship 1980s rock amp, the JCM800, running in tandem with a five-watt Fender Champ combo - it's a Transatlantic tone cocktail that'll knock you for six.
We caught up with the experimentally-inclined musician to get the lowdown on her favourite gear in the studio and onstage.
Fender American Standard Telecaster 2007
"I try to use all kinds of guitars when I'm recording but, live, I just think a Tele is what I'm comfortable with. It's an all-rounder. I know I can make it sound good with my pedals. It's my comfort guitar.
"I got it brand-new, out of the factory. This was my first guitar! [Before] I just borrowed guitars to teach myself. When we got signed in 2007, I bought my first guitar in New York and it was this Tele. I have tried others since but there is something about this one that's just really comfortable.
"I had another one that I loved, but I think it was in Denmark, or maybe it was Sweden, where I had a bad show and I smashed my guitar and the neck broke off. I had to replace the neck, and once I had replaced the neck it didn't ever feel the same and I sold it. But the black Tele is... I dunno, it's magic.
"It's got a bit more low-end than other Teles. I'd love to say it was vintage because I love vintage guitars. I feel like I don't use a Tele in a normal way. I think I use it much more as a rock instrument. I've also managed to make the Tele really bassy with pedals."
Teisco E-100 (model unconfirmed)
"My other favourite guitar, and I don't think I could ever replace it (I don't think I could ever find one!) is this guitar I bought off eBay for £100, and I literally knew nothing about it, only that it had gold-foil pickups.
"I always thought it was a Teisco from the 60s. It's the unknown guitar. It's got no name on it. For me, it's a Teisco. For five years I've called it a Teisco. When I got that it was before our previous [self-titled] album, and I remember I got that guitar out the box and wrote An Animal, straight away. It's one of our most popular songs; you can hear on the recording that it's got a very specific sound. I plugged it in, wrote the riff, wrote the whole song, and I was like, 'Wow! This guitar is completely magic.'
"I can't play that song on any other guitar. If anything happens to this guitar I just won't be able to play that song. It's got incredible low-end. It doesn't sound like anything else. It's completely trash but I love it so much. I always call it my trash guitar."
Gibson SG Standard
"I never really liked SGs because I always thought they looked a bit ugly, haha. When I was younger, I saw it as a really male-looking instrument and I wasn't interested in it. I just thought it looked too macho! I've changed my opinion. I love it. And I love AC/DC but it just didn't appeal to me back then.
"I wish I had one in black. I got it in Dallas and I think it's a 2000 model. I never stop [playing onstage], and I am singing, and I am changing pedals as much as I can, so if [the guitar] doesn't feel comfortable for me then it's going to be a pain."
Marshall JCM800
"It's always been that amp. It's a magic amp. It was originally owned by Mia Clarke from a band called Electralane from Brighton. I've tried so many other amps and nothing compares.
"I've tried all different kinds of combinations, and I am always looking to try something new because, to be honest, I would like to play something smaller - it just makes practical sense for touring, but I don't know... it's so loud. I've also got vintage tubes in it, which probably has made the difference.
"There is something about that amp. I think the amp is the most important thing. When we were hiring gear, people were like, 'Can't you use something else?' And I'm like, 'No, you don't understand. I can't.' It's part of the sound. It needs to be right. The cab is a vintage 4x12."
Fender '57 Custom Tweed Champ
"I think I am analogue in all aspects of my life! I'm really bad with my phone, all these things. I've got to get with the times. I split the amps but I keep them on both at the same time so I'm not switching between them I put them through a splitter but they are on continuously.
"The Champ is amazing. I take that with me everywhere. I take that on the plane, I travel everywhere with it. It's handwired. It's my midrange and the low-end is my Marshall.
"The Champ is only fivewatts but it is amazing. Everyone who does our sound says that amp sounds incredible. But it's that combination between the two. I think Slaves copied me on this. This is my trademark."
Pedalboard
MXR Analog Chorus
"I wanted a chorus for The Perfect Mess and I actually used a really old pedal that I borrowed off a friend for the sound on the record - but I wanted something a bit more compact and easy so I got this. Now I use it for all other bits and pieces. It's pretty handy. Some people say it sounds like a helicopter when I put it through my other effects."
MXR Carbon Copy Delay
"I just saw a lot of other bands using MXR, and one of my friends, he had loads of their pedals and I was like, 'They're pretty cool.' I just really liked the delay."
Bright Onion Pedals Dual AB Looper
"That is a switcher. I control my clean and my distorted tone... although my clean is not really clean."
Fulltone OCD Overdrive and Crowther Audio Hotcake Distortion
"My OCD and my Hotcake are on at all times and the [Bright Onion] just controls them both, which makes my life a lot easier because I have to switch a lot. I don't need a MIDI switcher for my pedals.
"Sometimes I feel like it's cheating if I'm not involved in the switching. This is probably quite controversial, but I guess I come from the punk scene and it is not that punk. And, you know, I wouldn't understand if something went wrong. That scares me: the fact that I wouldn't be able to just fix it myself."
Boss DM-2W Waza Craft Delay
"I've just been given this and I put it in recently because I needed something for the new record. It's quite synthy, and this is quite cool because you can make it sound like some of the parts I made on the album. I've just been fiddling around with it. I'm not completely used to it. It's got something a bit more modern [to its tone]."
Electro-Harmonix Micro Synthesizer
"I used to use it for so much stuff. I'd use it on its own with the MXR delay, or I'd use it with the Hot Cake distortion - and that is mega. Combined? That's like a full-on bass sound, and that's on more of the old songs. I use it on a lot of the new stuff on its own through the OCD's slight crunch sound. But this gives it the sub.
"This is actually my most crucial pedal. It's just really versatile, although, I have to admit that I keep it on these settings most of the time. I have to keep tweaking my pedalboard just to make it an all-rounder that'll work for everything."
VI Reverb
"You know what? I have absolutely no idea what this is but a guy in Russia gave it to me. We played a show in Moscow, and all our equipment got stuck. He lent me these pedals for soundcheck and I really liked this one, and he was like, 'You can have it!' I'm pretty sure he said he made it. It's a nice reverb. I run it full but on a couple of songs I need less so I'll manually change it."
Strymon BlueSky Reverberator
"They can be a little bit difficult on the road because they are fragile. It sounds like a choir. My old guitar tech, Reuben - he techs for Robert Plant at the moment - introduced me to this pedal and I got it for the third album. It's all over [In Time To Voices].
"I have a preset that I use for Colours Fade. I'll turn that preset on but I'll keep it where those markers are and use that as my main shimmery reverb sound. I'm using it a lot more on this new record."
Fulltone Octafuzz OF-2 Tychobrahe Octave-Up Clone
"I only just added that in three days ago because there were a couple of parts on the record where I played a lead and then I doubled it an octave up, and I really wanted to create that effect live."
Boss OC-3 Super Octave
"It doesn't have much tone but I use it as the low-end with the Hot Cake distortion. This has got that pure low-end that you can build a tone with."
MXR MC403 Power System
"This power brick is amazing because I can change the voltage for the States. I have had many others, like the [T-Rex] Fuel Tank power bricks. This is the best I've ever had."
Boss TU-3 Chromatic Tuner
"It's the classic Boss tuner! [Laughs] I use this to stop [the sound] when we stop the song. I am not one for feedback. I love the little gap in sound."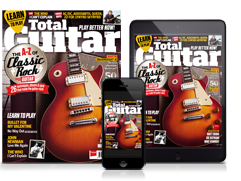 Stay up to date with the latest gear and tuition.
Subscribe and save today!